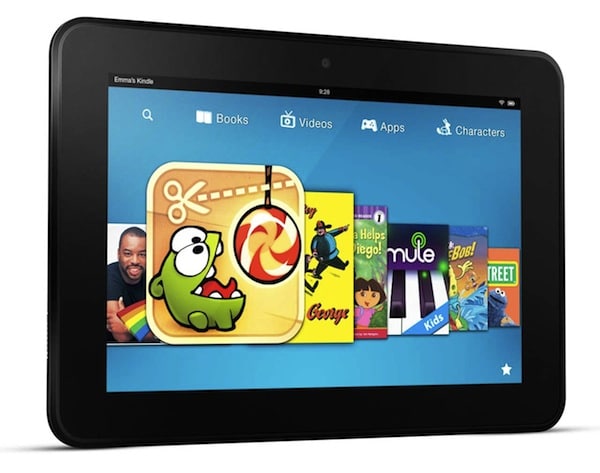 Kindle Fire HD is a small and compact tablet based on a dual-core ARM Cortex A9 1.2 Ghz, on a RAM of 1 GB on a customized version of Android and an internal memory of 16 GB or 32 not expandable. It also has a 7-inch touch screen display with IPS Panel, Corning Gorilla Glass and a resolution of 1280×800 pixels, Wi-Fi dual-band, microHDMI port, 3.5 mm audio jack, high autonomy, front camera, and of course, e-book reader. All with an interface designed specially for quick access to content from Amazon.
Kindle Fire HD: Design
The Kindle Fire HD tablet is a small and compact, made entirely of plastic and with a good grip. The front is dominated by the touch screen display, with a diagonal of 7 inches, a resolution of 1,280×800 pixels, 10 contact points, anti-glare technology and glass Gorilla Glass.
The weight is 395 grams while the dimensions are 193 mm in width, 137 mm depth and 10.3 mm in height. On the front, there is a webcam on the right-side audio jack and power and volume buttons, on the left, the microUSB port and the microHDMI.
Kindle Fire HD: Features and Functionality
The Kindle Fire HD tablet is one of the most discussed among all those launched in the past year. Proposed by Amazon, with the intent to proselytize in the middle segment of the industry, thanks to a very affordable price, it differs from the basic model, the Kindle Fire, not so much the design as per the technical specifications and functions available, certainly the best in HD model.
But by degrees, and analyzing in detail all the technical data, the tablet is based on a dual-core 1.2 Ghz with Imagination PowerVR 3D graphics core, a memory of 1 GB RAM, operating system, Android 4.0. 3 and an internal memory of 16 GB or 32 GB, but unfortunately not expandable.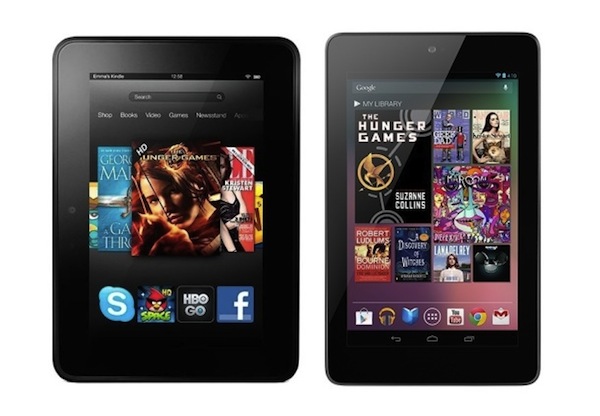 Speaking now of the features and other interesting aspects of the Kindle Fire HD is certainly praised the handling and comfortable grip, although it must be said that the materials used to do not give a feeling of high quality, since the body was made almost everything plastic, and aluminum, this is a good choice to keep the price down. Also the size and weight are not really reduced.
As for connectivity, the Fire HD is the first tablet in the world with dual-antenna Wi-Fi dual band, so perfect for downloading and streaming video. Internet browsing is fast and you can easily access Facebook and Twitter, as well as e-mail applications like Gmail or Microsoft Exchange. The applications allow TGCOM4 VideoMediaset and instead of watching TV programs. Thanks to Bluetooth's technology and microUSB port, you can easily share files with other devices, and also supports the HDMI interface devices in high definition.
As for the multimedia department, the Kindle Fire HD is equipped with an HD front-facing camera but no rear camera. One aspect to be taken into great consideration is the display, touch screen quality, with IPS panel, anti-glare technology, protected by glass Gorilla Glass and a resolution of 1,280×720 pixels. It's perfect for e-book reading or surfing the Internet.
Amazon has also completely renovated the Android interface, trying to lighten the load of users lives by putting in home applications deemed most important or most frequently used. The home is divided into the main menu with links and display different items if you use the tablet in portrait or landscape mode. Finally, the very large list of supported file formats, which include audio books among others. Remarkable then the battery life, as many as 11 hours, with a complete charging time to 4 hours.
Conclusion
The Kindle Fire HD is a tablet by the excellent relationship between quality and price. His strengths are maneuverability, internal memory, processor power and quality on the screen, which makes it perfect for reading e-books. Sin for the absence of the rear camera, even if this is the frontal one. Extensive also the provision of software and good connectivity.
Where to Buy Kindle Fire HD
---

---
PROS : Corning Gorilla glass, dual Bluetooth and Wi-fi; Memory; microHDMI port, dual-core processor; handling; Price; Front Camera.
CONS :
Memory is not expandable, No rear camera.