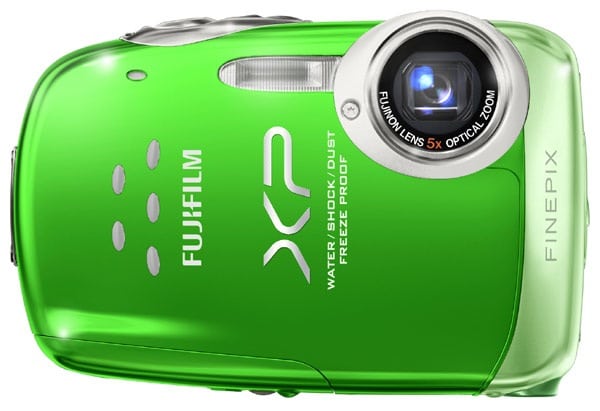 The Fujifilm FinePix XP10 is a compact digital camera indestructible being shock resistant, frost, water and dust. It should be emphasized that, although it is a so-called rugged camera presents a beautiful and elegant design.
As to the technical specifications, the camera features a 12.2 mega pixel CCD sensor, a Fujinon 5x optical zoom, digital image stabilizer, video recording HD video, advanced Face Detection with red-eye correction. The easy loading on YouTube, the automatic recognition of the scene, a 2.7-inch LCD display with a resolution of 230,000 pixels and the rechargeable lithium-ion battery.
Fujifilm FinePix XP10: Design
The Fujifilm FinePix XP10 is a compact digital camera with metal housing and protective glass for the lens. It is a model resistant. The camera has a 2.7-inch TFT LCD display with a resolution of 230,000 pixels and a coverage of 96%. The size, finally, are of a width of 95.6 mm, 63.8 mm in height and 23.2 mm in thickness. The weight is 135 grams excluding battery and memory card.
Fujifilm FinePix XP10: Features and Functionality
The Fujifilm FinePix XP10 is a digital camera made by the manufacturer this year, just in the month of February, and is the first product of a new series P. It is a model virtually indestructible, which follows in the wake of Fujifilm FinePix Z33WP regarding its capacity resistance.
Its main feature is that it is resistant to almost all, it is water resistant up to 3 meters deep, the bumps, drops from 1 meter high and even frost and dust. In a nutshell, you can take it anywhere with a guarantee that it will always work great, even in adverse weather conditions.
Speaking of technical specifications, the Fujifilm FinePix XP10 has a CCD image sensor, 1/2, 3 inches in size and an effective resolution of 12.2 mega pixels effective resolution. This sensor can ensure good-quality photos and with a maximum resolution of 4,000×3,000 pixels.
It has, then, a Fujinon lens that has a focal length equivalent to 36-180 mm on a traditional 35 mm. As regards, the ability to shoot subjects, in the distance, this model is equipped with a 5x optical zoom and a digital zoom 6,3 x, is referred to as a discrete value, slightly above average.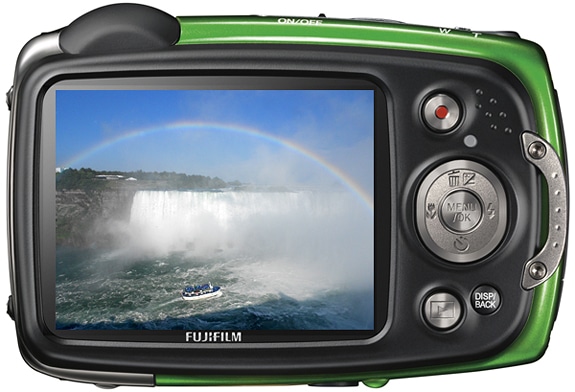 Arriving at the description of the functions offered by the Fujifilm FinePix XP10, aside from his extreme strength, it is important to underline the Digital Image Stabilisation, a system of digital stabilization to help reduced blur in images and ensures sharp images. Other cool features include face detection technology with automatic red-eye removal, which detects faces in a frame and optimizes the focus and exposure, and the Scene Recognition Auto, namely the automatic scene selection, which identifies the shooting mode to best suit your circumstances.
The Fujifilm FinePix XP10 is also equipped with features Targeting AF, when you need to follow a moving subject, the possibility of recording video clips in HD, with resolution 1280×720 pixels, Movie edited function, touch-up video clips directly on the camera mode Blog, to add to movie special effects, and a new feature of easy loading of photos and videos to YouTube and Facebook.
As for saving photos and videos, the camera is equipped with an internal memory of about 13 MB, so very poor expandable via Secure Digital or SDHC card. The package purchase, finally, includes charger, USB cable, A / V cable, strap and manual.
Conclusion
The Fujifilm FinePix XP10 is a compact digital camera resistant to practically everything, water, frost, dust, bumps and falls. It also has a high-resolution sensor, HD video recording, image stabilizer, although digital, automatic scene recognition, face detection and easy loading on YouTube and Facebook.
Where to Buy Fujifilm FinePix XP10
---

---
PROS : Loading videos on YouTube; Automatic scene recognition, advanced Face Detection; Resistant to water, frost, shock and dust.
CONS :
Digital image stabilizer; Memory.
Product prices and availability are subject to change. Any price and availablility information displayed on Amazon at the time of purchase will apply to the purchase of any products.