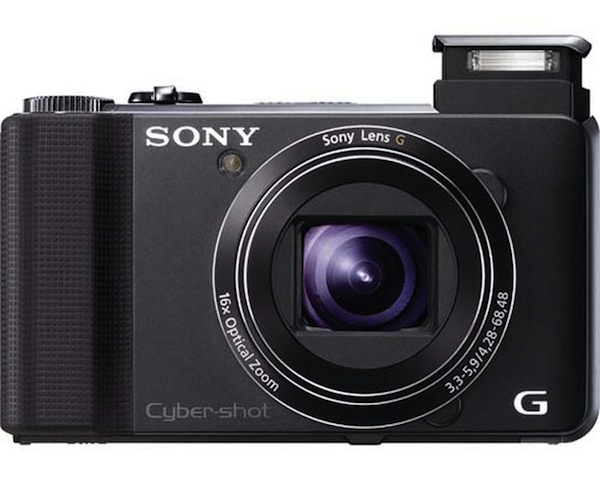 The Sony Cyber-Shot DSC-HX9V is a compact digital camera with advanced Exmor R 16.2 MP, 24mm 16x/grandangolo zoom, Full HD resolution, the possibility to create and display 3D photo 7.5cm LCD XtraFine TruBlack.
This camera also incorporates an excellent level of an internal GPS system that allows you to geo-tag your photos, and your position displayed on the LCD of the camera during the trip. The Sony Cyber-Shot DSC-HX9V also has the anti-vibration system BIONZ processor and Optical SteadyShot with Active Mode. It is also a very modern camera being available in different colors: black, gold, white, red and blue.
Sony Cyber-Shot DSC-HX9V: Design
The Sony Cyber-Shot DSC-HX9V is one of the new compact cameras from Sony that incorporated an extremely simple and robust to a machine body of high-quality giving the end user a feeling of strength and pleasant handling.
On the back at the camera is placed a 7.5 cm LCD screen with a resolution of 921600 points. From the compact camera to a good standard, this device has a weight of 215 grams, which make transport more than in virtually any condition of travel.
Sony Cyber-Shot DSC-HX9V: Features and Functionality
The Sony Cyber-Shot DSC-HX9V is a camera of excellent quality and counts among its features high technical ability. To start him lay not mention the Exmor R CMOS Sensor 16.2 MP actual type 1/2, 3 inch high efficiency, which increases sensitivity while reducing image noise, ensuring great results even in low-light conditions ( as most of the latest generation of CMOS sensors).
The optical zoom of the camera is equal to 16x / wide-angle 24 mm with high-quality Sony G Lens that, thanks to the good zoom range allow you to bring distant subjects and use the wide angle for group shots or landscapes.
The camera is also able to perform an intelligent overview automatically combining a burst of images and then create extra-wide panoramic pictures even if you are framing moving subjects, this option is actually extremely comfortable and functional, especially if you are lovers of wide.
And to stay with the topic panoramic view you will also run a 3D overview (the device also allows the creation of 3D pictures) and a high-resolution panoramic (you can make panoramic photos super-detailed 42.9 MP).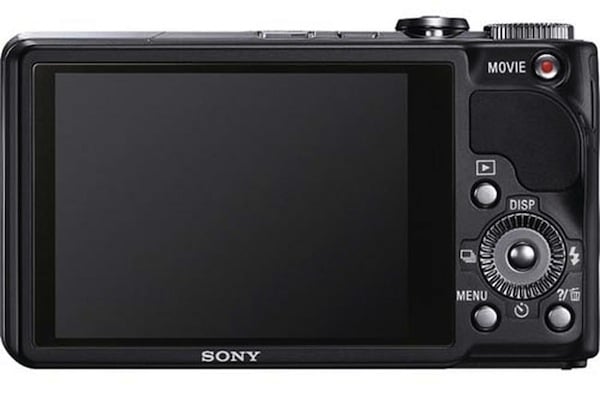 The Sony Cyber-Shot DSC-HX9V offers several ways to customize and intervention on the fire and also on the blur of the image, using, for example, the background blur function that lets you create professional-looking images with a crisp foreground subject against a background intentionally blurred uniformly, as can be done through the use of a digital SLR.
As it previously mentioned this Sony also allows us to act on fire the same images using the option of auto focus and smooth high-speed and continuous focus. The automatic mode allows you to reach the top instead DSLR with good quality easily: settings are adjusted automatically for stunning images with low noise and HDR (High Dynamic Range).
To further expand the already high performance from the device will also find the high-speed continuous shooting mode that, by pressing the shutter button allows you to freeze the action with a burst of images up to 10 fps. Obviously, this camera allows you to create the latest generation of Full HD movies in AVCHD format (1,920 x 1,080i) with many HD playback options.
To view photos and movies of course, the camera is equipped with an LCD screen 3-inch TruBlack XtraFine high contrast and with a resolution of 921600 points at the back to the camera body. Excellent anti-vibration system with optical SteadyShoot active mode which compensates for camera shake when you're running a recording without a tripod or when you are moving.
In addition to the technical features of the latest generation, the Sony Cyber-Shot DSC-HX9V is also equipped with GPS and compass, allowing the end user to geo-tag your photos and your position displayed in the screen while you are traveling. The engine that allows the camera to do everything it can do, lies in the excellent BIONZ processor.
Conclusion
The Sony Cyber-Shot DSC-HX9V is a compact camera of the latest generation with some of the most modern technical features of the market. Among other includes everything from GPS and the compass that allows you to geo-locate your own photos and not only.
The Exmor R CMOS Sensor 16.2 MP sensor is one of the most efficient of recent times and allows, together with optical and various features of the device, to obtain photographs worthy of the name. The 16x optical zoom is almost perfect and will help you capture any subject, even the most distant.
Where to Buy Sony Cyber-Shot DSC-HX9V
---

---

---
PROS : 16x optical zoom, Exmor R ™ CMOS sensor with 16.2 effective megapixels, 1080i Full HD movie, GPS and compass; XtraFine TruBlack LCD, 3D Sweep Panorama.
CONS :
Battery Pack and Price.
Product prices and availability are subject to change. Any price and availablility information displayed on Amazon at the time of purchase will apply to the purchase of any products.