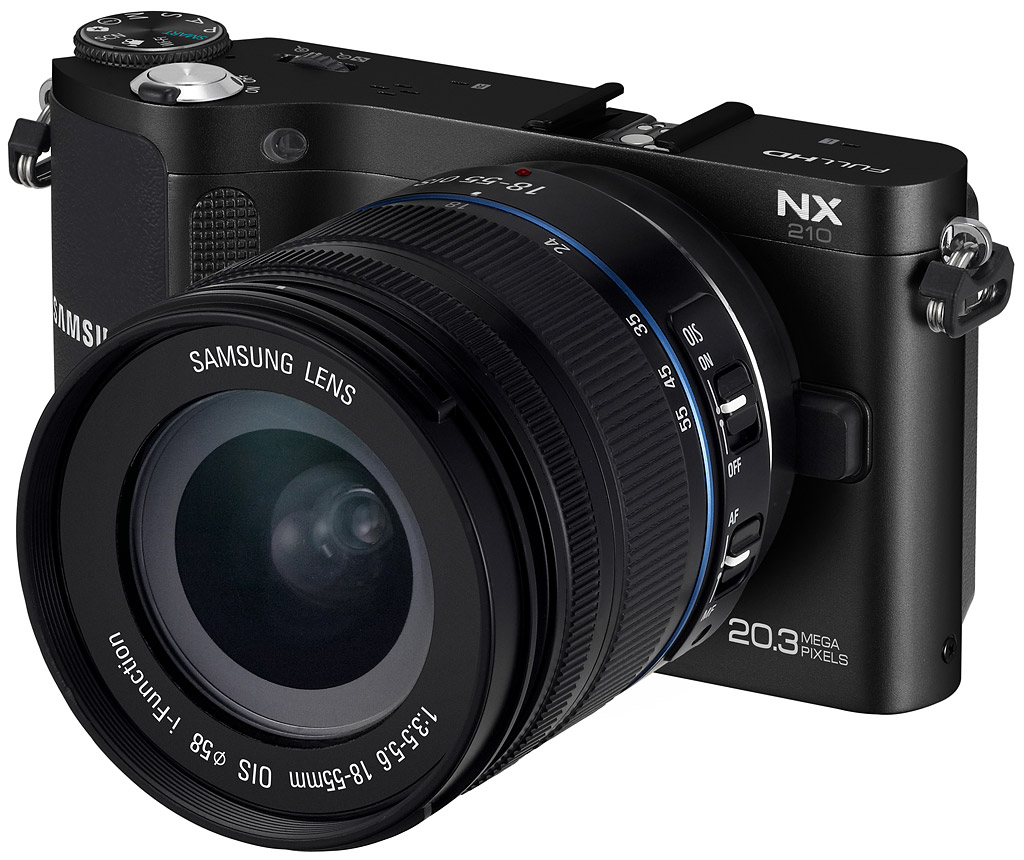 The Samsung NX210 is one of the latest Samsung Smart Camera with the interchangeable lens system with NX outputs on the market. The device is equipped with a CMOS sensor APS-C 20.3 MP with RGB primary color filter. The camera, in addition to being equipped with WiFi connectivity that enables quick sharing of photos and Full HD video, has many mode's automatic (i-Scene, i-Zoom, Smart Filter) and manuals.
The Samsung NX210 has a very sleek design and solid, and the back of the camera body incorporates a 3-inch AMOLED display with a field of view of approximately 100% and VGA resolution (640×480) 614,000 dots (PenTile technology).
Samsung NX210: Design
The Samsung NX210 is a compact camera with interchangeable lenses equipped with the now famous  NX System. The design of the camera classic and retro flavor, is extremely elegant and functional, going to combine excellent quality finishes ergonomics difficult to find in this market segment. On the top side of the camera body is a very comfortable place dial in the right corner (handle side).
Despite excellent robustness, the camera is characterized by a lightweight body, allowing the end user to use it at any occasion. On the back of the Samsung NX210 is a beautiful 3-inch AMOLED display with a VGA resolution (640×480) with a number of points equal to 614,000  and a field of view of approximately 100%.
Samsung NX210: Features and Functionality
The Samsung NX210 is a Smart Camera features the now famous and tested Samsung NX System (interchangeable lens) and a CMOS sensor APS-C 20.3 MP custom and performance guarantee excellent images with low noise levels, a range more dynamic and precise color definition. The  high sensitivity of this new sensor allows you to get shots in all situations, including low light.
In addition to an extremely beautiful design, compact and light (thanks to the materials used in the camera body is very light) the camera has a feature that will definitely not go unnoticed: the built-in WiFi. Thanks to the built-in WiFi, this camera is a real smart camera with interchangeable lenses, allowing you to instantly share   their shots with our friends and acquaintances (even on major social networks or via e-mail).
In addition, thanks to the smart button link you can run the quick rescue of the pictures you have just taken with any compatible smartphone, Smart greatly expanding the capabilities of this camera last generation. In addition to being the smart camera is also technologically advanced-level  photo and allows you to create stereo movies in Full HD 1080p at 30 fps with the preferred angle, thanks to the availability of different angles of vision and ability to zoom.
In addition, thanks to the CMOS sensor mirrorless focus is extremely accurate even when using the zoom or when lighting conditions are critical environment. On the top side of the camera body is a very convenient mode dial that allows the user to not ever remove the frame from the subject, thanks to the functionality, i-Function 2.0, you can adjust basic settings by pressing a button located in the  center of the dial. The i-Function feature consists of the following features: i-Effect, i-Scene (depends on the lens, Smart Filter (vignetting, miniature, fish-eye, sketch, defog and dimples), i-Zoom (x1, 2, 1.4, 1.7, 2.0).
The Samsung NX210 is a compact camera only in size addition to having a wide range of interchangeable lenses (including a special goal from 18-200 mm for the realization of full HD video), is also equipped with features that connect directly to the world of higher level, namely the SLR world. Among these features, we cannot  appoint and especially do not appreciate the wide-range  ISO (up to 12,800 with increment 1 EV or 1/3 EV).
Obviously, the camera has many manual modes (eg for white balance, shooting mode, exposure), but also the numerous and highly efficient mode automatic including Smart Auto 2.0 automatically analyzes the scene and automatically selects from its 16 4 video and photo mode, in which mode best suits best way to get the best shot possible.
To complete the technical equipment of the camera we find, besides the aforementioned and outstanding 3-inch LCD display with high resolution, the possibility of Panoramic photographs in both 2D and 3D. Last aspect to be highlighted, but not the least important, is the beautiful 3-inch AMOLED display with a VGA resolution and 614000 points with PenTile technology that many criticize, but personally, I find it very good, the display you will see (and of course,  photo and video) another information,  including the grid (4 types), the histogram and the icons: on / off, distance: ft / m / Off and the electronic level.
Conclusion
The Samsung NX210 is a wonderful compact camera with interchangeable lenses with NX System and integrated WiFi technology for fast and easy sharing of content (Handy key rapid share, Smart Link). Excellent the photographic and multimedia features of the device, as it is practically perfect 3-inch AMOLED display with PenTile technology.
In addition, the series also the eye wants its part, we cannot fail to mention the design of the camera extremely robust and elegant but with a retro charm worthy of note. All contained in a light weight of about 222 grams without battery and memory card.
Where to Buy Samsung NX210
---

---
Samsung NX200/ NX210 Mirrorless Wi-Fi Digital Camera Body Only (Black)
20.3MP APS-C Sensor, 23.5 x 15.7mm Sensor Size
Samsung NX Mount, 3.0 inch display
Intelli-studio 3.0, Samsung RAW Converter 4, PC Auto BackUp, Adobe Reader
OIS Mode1 / Mode2 / OFF, LDC On / Off (Depends on Lens)
I-Effect: i-Scene (depends on Lens), Smart Filter (Vignetting, Minature,...
PROS : Built-in WiFi (Smart Link), and 3D Panorama, Selective Color, AMOLED display with PenTile technology, wide range ISO (12800, 7 steps); Exmor HD CMOS sensor APS-C 20.3 MP, Full HD 1080p Movies stereo; smart panel , Smart Filter 2.0.
CONS :
Price, GPS module for geo-tagging option.
Product prices and availability are subject to change. Any price and availablility information displayed on Amazon at the time of purchase will apply to the purchase of any products.