The Fujifilm FinePix HS50EXR Digital Camera bridge is a top of the range characterized by an ergonomic body and advanced features. Features a 16 megapixel CMOS EXR sensor with detection of phase contrast and an amazing lens with 42x optical zoom Fujinon manual. Other specifications include the optical image stabilizer, manual controls include an ultra-fast focusing, a 3-inch vari-angle LCD with a resolution of 920,000 pixels. Several artistic filters advanced movie shooting Full HD video and support RAW format.
Fujifilm FinePix HS50EXR: Design
The Fujifilm FinePix HS50EXR is a compact camera-type bridge which has a machine body very similar to that of a reflex but with dimensions much smaller. Very particular is the 3-inch swivel LCD display that shows the excellent resolution of 920,000 dots, combined with an electronic viewfinder with the same resolution. As for size, the camera measures 134.9 mm wide, 101.3 mm in height and 145.9 mm in thickness, while the weight is about 808 grams, including battery and memory card and 758 vacuum.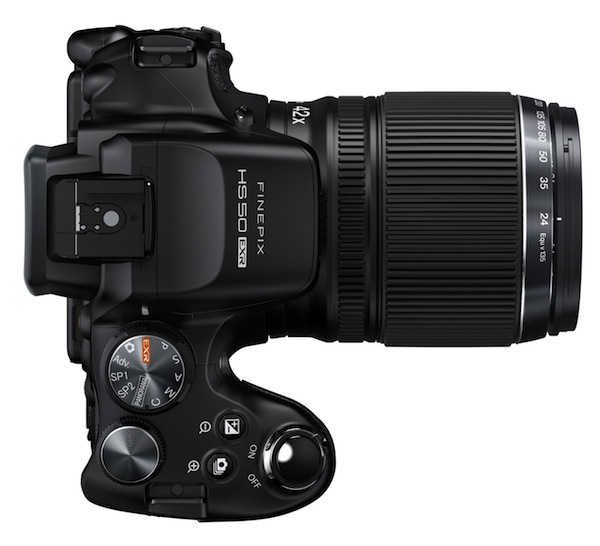 Fujifilm FinePix HS50EXR: Features and Functionality
Presented this year along with the Fujifilm FinePix SL1000, belonging to the same family, the Fujifilm FinePix HS50EXR is a type of digital camera bridge top of the range dedicated to photography enthusiasts who need a versatile and high quality in a compact and portable, all without any compromise.
As regards the specification purely technical, the most striking feature of this camera is definitely 42x optical zoom, which ensures high performance in any environment, from the pictures super macro, up to 1 cm from the subject, to those views. All this from a lens that has a focal length equivalent to 24 to 1400 mm in 35 mm format, and provides a versatility for which otherwise would serve different optics.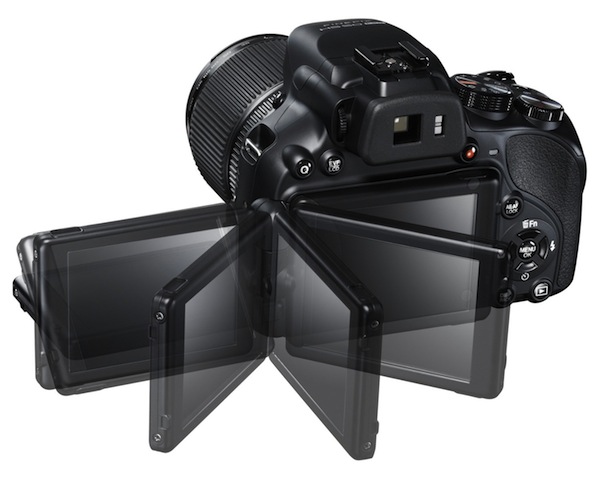 Continuing with the technical data, the Fujifilm FinePix HS50EXR also mounts an air-quality sensor, a CMOS EXR II 1/2 inch, 16 million pixels, which is based on the latest Fujifilm EXR technology and ensures faster processing speed and Focusing particularly high, the latter is equal to 0.05 seconds. In addition, activating the continuous shooting mode you can get a gust of 11 fps at full resolution, 16 MP or a continuous burst of 5.5 fps at a resolution of 8 MP.
Another factor, particularly relevant to this camera is its display, not only for its size, 3 inches, and its high resolution, 920,000 pixels, but also because it is adjustable in horizontal, which means that you can open from the side allowing all users to make shots and shots from difficult angles. I do not even miss the viewfinder, although electronic, provided with the same display resolution.
Like any bridge that respect, even the Fujifilm FinePix HS50EXR is fitted with manual controls very comfortable and easy to use, thanks to the convenient ring located at the top. To satisfy the most demanding photographers, the camera has a film simulation mode, which offers 10 shooting modes that simulate precisely the effects of the classic films.
Always remaining functionality, it is worth mentioning the various advanced filters, multiple exposure functions, which allows to unite in a single shot two different subjects, and the Focus Highlight Peak, a particular function that helps the photographer highlighting the areas with high contrast and then provides a guide in situations where it is difficult to know whether the subject is in focus.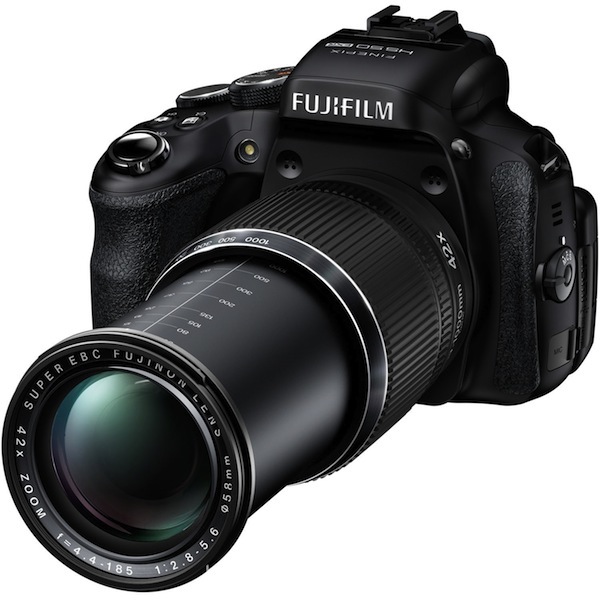 Another important element of the Fujifilm FinePix HS50EXR is then the optical image stabilizer that compensates for movements of the machine and ensures sharp images in any circumstances. Not to mention, of course, of the support to the uncompressed RAW format, as well as JPEG, very important because it allows to realize a complete picture, ie with all the information and without any compression.
With this camera, finally, you can create video clips with full HD resolution at 60 frames per second with stereo sound. It remains to mention other features such as a sensitivity up to 12,800 ISO, built-in flash red-eye removal, smile detection and face, but there are many others.
As for connectivity, the Fujifilm FinePix HS50EXR is equipped with USB port and HDMI interface, to connect to all kinds of devices. The camera is powered also by a rechargeable lithium-ion battery capable of providing up to 500 shots on a single charge. The photos and videos can be saved directly to a memory card with SD, SDHC or SDX, inserting it into the slot on the camera. Finally, the purchase package includes charger, USB cable, strap, lens cap with cord and manual.
Conclusions
The Fujifilm FinePix HS50EXR is an interesting bridge camera perfect for those who want to have full control over the commands but without spending too much for an SLR, and especially when they have a compact body. Stand the swiveling display high definition, excellent optical zoom, support for RAW format, Full HD movies, high processing speed and the amplitude of the lens.
Where to Buy Fujifilm FinePix HS50EXR?
---

---

---
Fujifilm FinePix HS50EXR 16MP Digital Camera with 3-Inch LCD (Black) (OLD MODEL)
Tilting 3.0-inch TFT color LCD monitor and electronic viewfinder with eye sensor
16 million effective pixels 1/2-inch EXR CMOS processor with primary color...
Fujinon 42x optical zoom lens with approx. 2.0x digital zoom (up to approx. 84x...
Focal Length: f/4.4mm-185mm; Full Aperture: f/2.8-f/11 (Wide), f/5.6-f/11...
Full HD Movie (1920x1080p/60fps) with stereo sound
PROS : Focus Ultrafast, OPTICAL ZOOM, Quality sensor, RAW format support, Manual controls, Connector HDMI, Full HD movies, Rotatable display with higher resolution.
CONS :
Electronic viewfinder.
Product prices and availability are subject to change. Any price and availablility information displayed on Amazon at the time of purchase will apply to the purchase of any products.