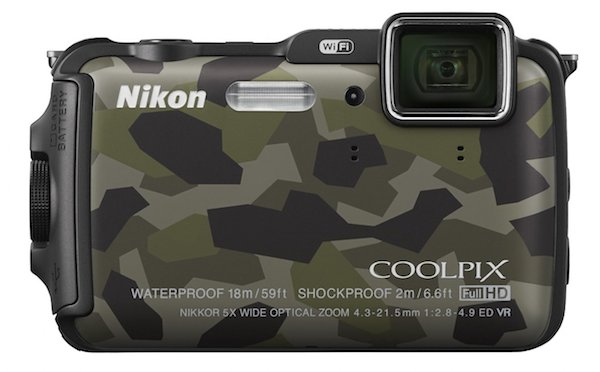 Nikon COOLPIX AW120 is a compact digital camera ideal for mountain lovers and scuba diving, thanks to its waterproof body up to 18 meters, shockproof from a height of 2 meters and frost down to -10 degrees. It also has advanced features such as built-in GPS with GLONASS, with maps of various countries of the world and compass, and Wi-Fi connectivity, to quickly share pictures and videos.
Other specifications include a 24mm wide-angle lens, 5x optical zoom, a 16 megapixel sensor, an OLED display with a resolution of 921,000 dots 7.5 mm, sensitivity up to ISO 6400, HDMI output, internal memory of 329 MB and slot SD, SDHC and SDXC.
Nikon COOLPIX AW120: Design
The Nikon COOLPIX AW120 is a compact camera type " rugged ", which is characterized precisely by its robust body and durable. The manufacturer has tried in every way to make it appealing to the eye anyway. Available in the colors black, red, blue and camouflage, the camera has an LCD display with a resolution of 7.5 mm OLED 921,000. As for size, measuring 110.1 mm in width, 66 mm in height and 25.8 mm thick and weighs 213 grams, including batteries and memory card.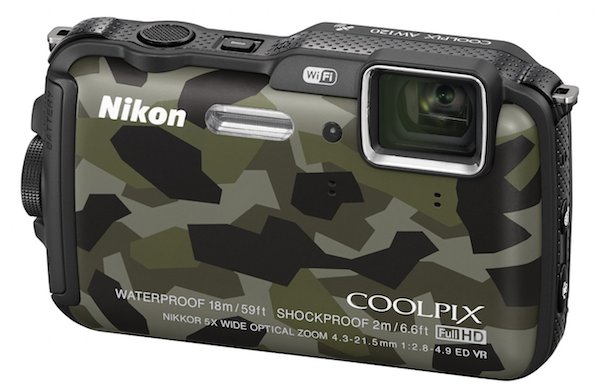 Nikon COOLPIX AW120: Features and Functionality
The Nikon COOLPIX AW120 is the perfect camera for those who love the outdoors and always have the opportunity to take photos and record video, even in adverse weather conditions. Launched in February of this year the Nikon COOLPIX AW120 is a compact digital camera type " rugged ", that is to say that it is equipped with an ultra-strong body that allows it to tackle any adverse situation.
Focusing for the moment, the technical data, the camera has an image sensor of type CMS 25.4 / 58.4 mm and with a total resolution of 16.76 megapixels to 16 megapixels and effective. Is also equipped with a 5x optical zoom NIKKOR lens, which has a fixed focal length equivalent to about 480 mm in 35 mm format and a maximum aperture of F2.8-F4.9. Do not miss the digital zoom which offers a maximum of 4x.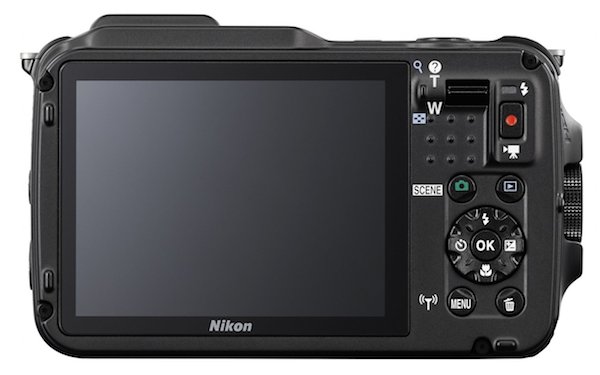 Returning to the functionality offered by the Nikon COOLPIX AW120, one cannot but from what is its main feature, namely the rugged body. The camera is resistant to almost all, is water resistant to 18 meters, shock resistant from a height of 2 meters and a maximum temperature of -10 degrees. The presence of GPS, altimeter, compass and world map makes it perfect for hiking and for walks in the woods, as they allow you to keep track of your path.
Another interesting feature of this camera, although to tell the truth is now present on many compact cameras, is the integrated Wi-Fi connectivity, thanks to which you can share your location and photos with friends. Among other things, allows you to connect the camera to a smart device, which can also act as a remote control to perform remote operations.

Speaking of features most closely related to photography, the Nikon COOLPIX AW120 are the lens-shift and electronic vibration reduction function elle, that work together to effectively combat camera shake and ensure sharp images. The sensor, then, is particularly bright and perfect results even in poor lighting, and the display is a high-resolution OLED.
Other features include the dedicated lighting modes, for perfect results in all circumstances, as the night landscape, night portrait or backlit, the high-speed continuous shooting, the panorama simplified, dynamic control and the way underwater photos. Also of note is the ability to quickly upload the camera by connecting it to a computer via the USB port. They do eventually forget a sensitivity of up to ISO 6400 and the ability to record Full HD movies, so with a maximum resolution of 1920×1080 pixels.
As for interfaces, the Nikon COOLPIX AW120 has, in addition to the USB port already mentioned, also the connector microHDMI, while the internal memory is around 329 MB and is expandable via Secure Digital, SDHC or SDXC. The integrated lithium battery provides an average of about 350 shots and 1 hours and 15 minutes of recording time on a single charge. Finally, the purchase package includes rechargeable battery, strap for use on land, the AC adapter / charger, USB cable and brush.
Conclusion
The Nikon COOLPIX AW120 is a compact camera very special, because it falls in the a category of " rugged " , being able to withstand the weather and adverse weather conditions. Perfect to carry around everywhere, hiking, hiking and sea, the body has a very robust and performs its job well, even if the aesthetic is obviously not his strong point.
The specifications are good. In particular, with regard to the features included, especially the Wi-Fi, GPS, compass, and those related to exploration. From the photographic point of view, has an optical stabilizer, a display of quality, Full HD movies and connector microHDMI. The only drawback is the goal that has a fixed focal length.
Where to Buy Nikon COOLPIX AW120
---

---

---
PROS : Display resolution, GPS with GLONASS; HDMI output, Compass, Wi-Fi connectivity, Body resistant to shock, water and freeze; OLED display; Vibration reduction, Maps included.
CONS :
Fixed lens.
Product prices and availability are subject to change. Any price and availablility information displayed on Amazon at the time of purchase will apply to the purchase of any products.