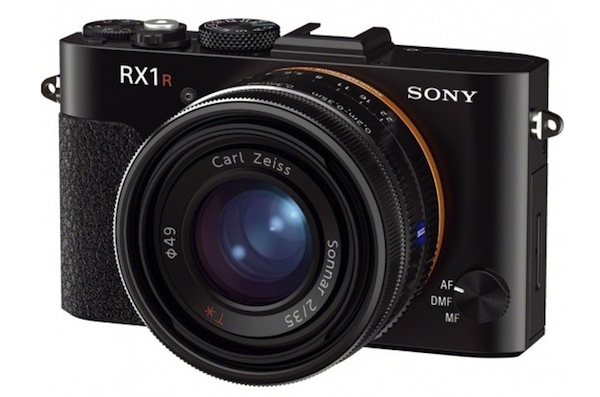 The Sony Cyber-shot DSC-RX1R is a compact digital camera characterized by a professional quality and design in a retro style. It has a full-frame  Exmor sensor 35 mm with a resolution of 24.3 megapixels. A  Carl Zeiss fixed focal length, BIONZ processor and no low-pass filter for optimized resolution.
It has a convenient ring for manual controls, electronic stabilization SteadyShot, 3-inch LCD display with a resolution of 1,228,800 points, built-in flash, including sensitivity up to 25,600 ISO, RAW format support, HDMI interface and recording video clips in Full HD.
Sony DSC RX1R: Overview
The Sony DSC RX1R is compact with Full-Frame  sensor in a new version that the Japanese company has presented today in Milan. After seeing his little sister Sony DSC-RX100, now we deal with this compact deluxe and niche whose price exceeds 3000 euro, which is really unimaginable in the world of compact.
The new Sony DSC RX1R presents the CMOS sensor Exmor ® full frame 24.3 mega pixel camera, is equipped with a Carl Zeiss Sonnar T * 35mm F2.0 and is equipped with the powerful BIONZ processor. As already seen in the Nikon D800E, Sony also eliminates the optical low-pass filter to a resolution of the images without compromise, for maximum clarity and precision, to remedy the removal of the filter OLPF, have been improved processing functions camera have been optimized.
The model is a special edition of RX1R designed for photographers who want to capture the purest details, just as they are perceived by the naked eye. Because this compact camera has no optical low-pass filter, the full-frame  sensor can achieve complete resolution in situations where it's the details that make the difference. Record smooth Full HD movies and high quality of the touch of a button. It adjusts focus and exposure while subtly registers, just like the professional filmmakers. Capture your subject with the high frame rate of 50p for smooth playback of 24p or more for a look.
The Sony DSC RX1R has no optical low-pass filter. This  means the 24.3 mega pixel full-frame sensor can achieve its full potential. With enhanced resolution, the detail, you see in landscape shots becomes sharper and clearer – check out each rock and crevice, they really stand out.
The Sony DSC RX1R has a dial to adjust aperture and focus as well as buttons to adjust the settings at your fingertips. There are also exposure settings and a customizable button that allows you to take as you like. With the macro lens to 14 mm from the surface of the sensor is like having two lenses in one. Complete camera with accessories due to multi-interface. Fixed with simple photographic accessories like electronic viewfinder, external flash or microphone stereo, to take an even more flexible.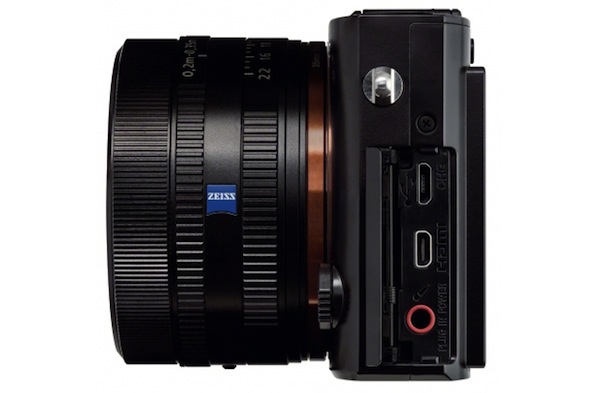 Sony DSC RX1R: Features
Shots from digital SLR – The full-frame  CMOS sensor Exmor ® 35 mm captures high-quality images 24.3 mega pixel camera with pure details.
Resolution improved in all your creations – Without the low-pass filter. The  full-frame  sensor can achieve maximum power and a higher resolution.
A clearer window on the world – With the opening F2, the bright 35 mm lens Carl Zeiss ® Sonnar ® T * reduces flare and ghosting.
Refine the details – The BIONZ image processor provides more power at high speed to quick clicks to a maximum of 10 fps, pure and natural.
Quickly find the right setting – Through a dial similar to that of a digital SLR can you easy access to common shooting modes or to your custom settings.
Customize your photo – Thanks to the various picture modes, you can choose the effect to be given to your photos, such as the effect posters, miniature or a softer look.
Complete camera with accessories due to multi-interface – Fixed simple photographic accessories like electronic viewfinder, external flash or microphone stereo. A touch of style – Make the most of a camera from strong but lightweight aluminum design.
Realize portraits faithful to the original – The macro lens of 12 cm to count from the sensor surface ensures sharp detail and rich portraits crystalline.
High speed for a sharper image – A burst of five frames at high speed creates a single image with reduced noise and blur minimum.
Movies at the touch of a button – Record high-quality AVCHD video with all frame's Full HD 1080 resolution. Choose quality 24p per clip-looking film.
HD connection – Send an HD signal to your TV, laptop or other device with HDMI ® to a compatible high-definition display.
Low light? No problem – The lens and the sensor work together to offer an exceptionally high level ISO for clear images even in low-light conditions.
Are you in one – When the light is scarce, Multi Frame NR mode allows you to create a single shot from a burst of six pictures.
Where to Buy Sony DSC RX1R
---

---

---
Product prices and availability are subject to change. Any price and availablility information displayed on Amazon at the time of purchase will apply to the purchase of any products.