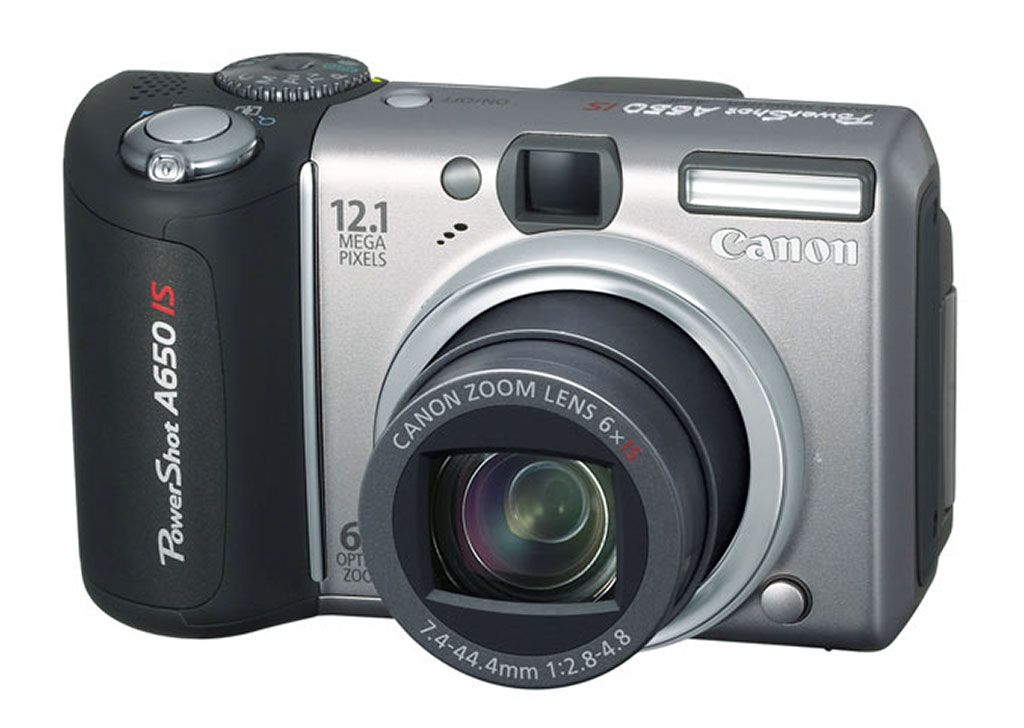 With a design very similar to that of the Canon Powershot A550, but even more appealing, Canon PowerShot A650IS is equipped with a high resolution of 12.1 megapixels. The 6X optical zoom allows you to create great photographs, thanks to Optical IS.
The ISO 1600 also allows you to shoot in low light and manual control offers the opportunity to learn a few tricks from professional. Canon PowerShot A650IS is compatible with three types of formats: JPEG for photos, AVI for sound, WAV for the video.
Canon PowerShot A650IS: Design
The Canon PowerShot A650IS has a body attractive and elegant, with a prominent grip for ease of lifting. It has a swivel screen 2.5-inch with a resolution of 173,000 pixels. It 's also an optical viewfinder for easy framing in strong light. The size, finally, are 112.1 mm in width, 67.8 mm in height and 56.2 mm in thickness, while the weight is about 300 grams excluding batteries and card.
Canon PowerShot A650IS: Features and Functionality
In August of the past year, the manufacturer has launched the new Canon compact digital camera Canon PowerShot A650 IS, along with another model with lower quality, namely the Canon Powershot A720IS. The A650IS is a camera that has features advancing and some manual controls that allow you to learn a few tricks from professional.
As regards the technical features, it is to note immediately the image sensor, CCD type, from 1/1, 7 inches in size and with an effective resolution of 12.1 megapixels. A similar sensor captures enough fine detail and takes photos with a maximum resolution of 4000×3000 pixels, from which to obtain informed outstanding prints also the poster. The mounted lens, Canon branded, has a focal length of 7.4 to 44.4 mm, equivalent to 35-210 mm on a traditional 35 mm, focal length and aperture of up to f2.8-f4.8.
The Canon PowerShot A650IS stands out from other compact digital for the presence of a 6x optical zoom, far above the average that stops on the maximum 3x or 4x. Optical zoom is also added to 4x digital zoom, for a total capacity of 24 magnifications. The Safety Zoom then offers extra zoom magnification without affecting image quality. For image processing, the camera uses the DIGIC III processors, which offer high-speed performance, better color rendition and cleaner images at high ISO speeds.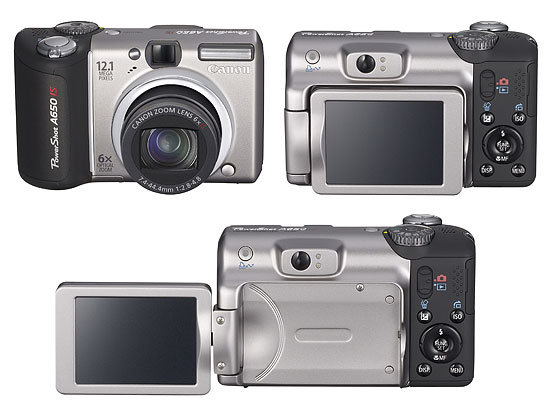 The iSAPS technology uses shooting scene data to optimize camera settings before shooting. Among the various functions, technology Face Detection AF / AE ensures superb close-ups, as it automatically detects up to nine faces in a frame and sets the focus, exposure and flash optimal. Eye correction also makes the natural look of the eyes.
The Canon PowerShot A650IS also features optical image stabilizer that compensates for the movement to the machine, avoiding the risk of blurry photos. The camera also offers the choice of 21 shooting modes, including a creative zone for manual control, with quick selection of options through the ring.
Various modes include Portrait, Night Snapshot, Kids Pets, Landscape, Fireworks, and many others. My Colors allows you to apply special color effects to images and movies. The camera, you can capture VGA movies with sound, even in Long Play mode (VGA 30fps), which allows a higher compression and stores twice as much data on the memory card.
With respect, therefore, the storage of photos and videos, the Canon PowerShot A650IS features a 32 MB memory card included, but it is advisable to buy more capacious, choosing from the Secure Digital, SDHC memory card, the MultiMediaCard or HC MMC. As for autonomy, the camera is powered by four AA alkaline batteries, which provide up to 300 shots to 1080 minutes of playback, a value that changes depending upon the type of batteries used. The USB cable and audio / video cable allow, finally connecting to the computer and the TV.
Conclusion
The Canon PowerShot A650IS is a powerful compact digital camera with a 12.1 MP sensor, image stabilizer, Red-eye Reduction technology and Face Detection. It has a large screen and optical viewfinder and high sensitivity values. The memory is, as usual, the negative note, as not abundant.
Where to Buy Canon PowerShot A650IS
---

---
Canon PowerShot A650IS 12.1MP Digital Camera with 6x Optical Image Stabilized Zoom
12.1-megapixel CCD captures enough detail for photo-quality poster-size prints
6x image-stabilized optical zoom; 2.5-inch vari-angle LCD display
Face Detection technology and in-camera red-eye fix
21 shooting modes, including 9 special scene modes; Print/Share button
Powered by 4 AA-size batteries (4 alkaline batteries included); stores images on...
PROS : Face detection; Zoom above average; Optical image stabilization, red-eye reduction; sensor with 12.1 MP.
CONS :
Memory is not abundant.
Product prices and availability are subject to change. Any price and availablility information displayed on Amazon at the time of purchase will apply to the purchase of any products.