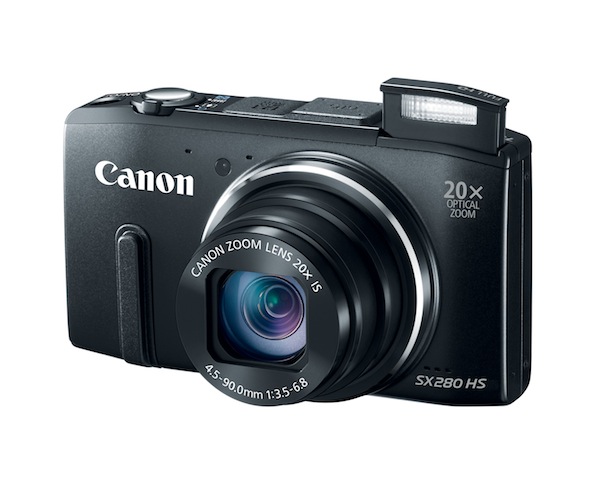 The Canon PowerShot SX280 HS digital camera is small and compact with interesting features such as the 20x optical zoom, the CMOS image sensor with 12.1 mega pixels, Wi-Fi, integrated GPS, video recording movie's Full HD at 30 frames per second, the processing engine DIGIC 6 and the image stabilizer.
It also has a 3-inch LCD display with a resolution of 461,000 dots, the Smart Auto mode, manual mode, shooting high-speed USB port and connector miniHDMI.
Canon PowerShot SX280: Design
The Canon PowerShot SX280 HS is a compact camera designed a bit special, with squared edges and a system of flash shooting. In the back are the Pure Color LCD II G 3 inches with a resolution of 461,000 dots, the dial to the manual controls and the various buttons to access the menu. As for size, the camera measures 106.4 mm wide, 62.8 mm high and 32.6 mm thick, while the weight is about 233 grams, including battery and memory card.
Canon PowerShot SX280: Features and Functionality
The Canon PowerShot SX280 HS is a compact digital camera feature by the manufacturer in march this year, along with another very similar compact, the Canon PowerShot SX270 HS, which has been very few compared to the more features, the most important of which is the integrated GPS receiver.
But going in order, and then starting from the specifications, the camera is equipped with a CMOS image sensor 1/2, 3-inch display with an effective resolution of 12.1 mega pixels, which may seem not particularly powerful, if you limited to numbers, but instead delivers excellent performance in all lighting conditions, a sign that this camera Canon wanted to focus more on quality than on the race for mega pixels.
As for the optics, the Canon PowerShot SX280 HS has a wide-angle lens with a focal of 4.5 to 90 mm, and equivalent to 25-500 mm on a traditional 35 mm and a maximum aperture of F3.5 – F6.8. Very interesting optical zoom, which reaches a maximum value of 20x but can reach up to 40x with digital zoom Zoom Plus is equal to about 4x instead.
Moving on to analyze the various features offered by this camera, and starting with those more details, we should mention. First of all, the integrated GPS receiver, which allows you to assign a tag to the place in which they were captured photos and videos, and Wi-Fi connectivity, which allows connection to portable devices such as smart phones and tablets for online sharing of images, or to wireless home networks and PCs.
Among the most closely related to photography, stands the optical image stabilizer Intelligent IS Canon PowerShot SX280 HS, thanks to which you can take photos and shoot consistently sharp, even when using the zoom at full capacity. Among other things, the IS automatically selects the mode of stabilization suitable among those available.
For true lovers and for all those who are already familiar with the field of photography, the camera has some manual controls, which allow you to choose the shutter speed and aperture, while those who do not want to commit too much or are fasting of photography, can leave it all to the machine and use the Smart Auto mode, which analyzes the scene and selects one of the 58 available modes. Interestingly, finally, the capture of images with the high-speed burst mode.
The Canon PowerShot SX280 HS also allows you to record video in Full HD, so with a maximum resolution of 1920×1080 pixels, up to 60 frames per second and with the ability to use the optical zoom during filming. Finally, we must mention the microHDMI connector and the USB port, allowing you to connect the camera to any digital device available. As for saving photos and videos, this is the slot for memory cards such as Secure Digital, SDHC and SDXC while, with regard to autonomy, including the lithium battery allows up to 260 shots, eco mode, or play back up to 210 minutes of video footage.
Conclusion
The Canon PowerShot SX280 HS is a digital camera with reduced size but with a little more compact than the classic, such as manual controls, Wi-Fi and integrated GPS receiver. Also of interest are the optical zoom, HDMI, Full HD movies, the optical stabilizer and high-speed burst.
Where to Buy Canon PowerShot SX280
---

---

---
PROS : Stabilizer, manual controls, GPS, Optical Zoom, Display resolution, Wi-Fi connectivity, Smart Auto, HDMI connector.
CONS :
Sensitivity is not high, Not high resolution sensor.
Product prices and availability are subject to change. Any price and availablility information displayed on Amazon at the time of purchase will apply to the purchase of any products.