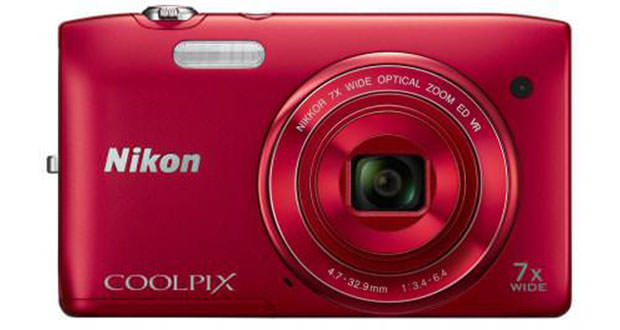 The Nikon COOLPIX S3500 is a compact digital camera available in many colors and ultra-easy to use. With regard to the technical specifications, is provided with a sensor of 20 megapixels of resolution, a 7x zoom NIKKOR lens with the system of lens-shift vibration reduction, movie recording HD video, a 2-inch LCD screen, 7-inch 230,000-dot, the function of Smart Portrait of various retouching functions and 18 scene modes and image processing system EXPEED C2.
Nikon COOLPIX S3500: Design
The Nikon COOLPIX S3500 is a compact camera from sleek and stylish, with a body designed with great attention to detail, and available in various attractive colors like blue, purple, orange, red and purple, which alongside the classic silver and black. It has a 2.7-inch TFT LCD display with a resolution of approximately 230,000 dots. The size of the camera, finally, are 96.8 mm wide, 57.8 mm in height and 20.5 mm in thickness. The weight is 129 grams empty.
Nikon COOLPIX S3500: Features and Capabilities
The Nikon COOLPIX S3500 is one of the newest compact digital cameras made by the manufacturer earlier this year, along with other models in the COOLPIX family. It is a machine with a colorful and elegant design, with slim body and very easy to use, allowing everyone to get perfect photos.
With regard to the technical specifications, the camera is accompanied by mounting a CCD image sensor, 1/2, 3 inches in size, with a total resolution of 20.1 effective megapixels. It is, therefore, a very high resolution, which lets you capture outstandingly detailed images, clippings make sharper and produce high-quality enlargements, even in poster size.
The Nikon COOLPIX S3500 also features a Nikkor lens that has a focal length of 4.7 to 32.9 mm, equivalent to 26-182 mm on a traditional 35 mm, focal length and aperture equal to F3.4-f6. 4. As for the possibility to shoot subjects in the distance, the camera is equipped with a 7x optical zoom supported by a digital zoom up to 4x.
There is no doubt that design is one of the main quality of this camera, which is designed precisely to meet the needs of those who are not very familiar with photography and want a reliable tool but also nice to see. The various colors available, some very fashionable like purple or orange, are able to meet all tastes.
Speaking of features, the Nikon COOLPIX S3500 offers first technology lens-shift vibration reduction, which allows to compensate for movement of the machine and obtain, therefore, perfectly crisp photos and movies in every circumstance. The 18 scene modes also allow you to achieve perfect results on all occasions, as the camera chooses the appropriate settings according to the scene.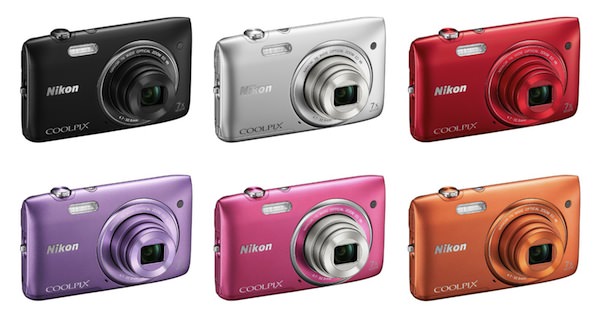 Very interesting also the function of Smart Portrait, which includes Smile Timer, which takes the photo when the subject smiles, the blink proof, skin softening, which regulates the skin tone of the subject, the automatic correction of red eyes, and the glamor retouching, which makes it even more beautiful portraits.
Not missing, then on the Nikon COOLPIX S3500 the retouch menu, with which you can act on photos already taken to improve them. Interestingly, finally, the subject tracking AF, which lets you keep the focus of a moving subject. It remains to mention HD movies with a resolution of 1270×820 pixels, and compatibility with Eye-Fi X2 cards.
The camera has, finally, audio / video output, USB port and rechargeable battery that provides up to 220 photos or up to 2 hours and 40 minutes of video, of course depending on the capacity of the card. Finally, for saving your photos and videos, the camera has an internal memory of 25 MB expandable via Secure Digital, SDHC or SDXC. The purchase package includes the lithium battery, charger, USB cable, the audio / video cable, strap and CD-ROM with the software.
Conclusion
The Nikon COOLPIX S3500 is the perfect camera for those who are beginners, especially designed to suit young, thanks to the vibrant colors in which it is available. As for functionality, does not have anything in particular to highlight, but has the bare minimum to get good pictures in all circumstances. Zoom is not very high and it lacks the HDMI output.
Where to Buy Nikon COOLPIX S3500
---

---

---
41%
PROS : Ease of Use, Colorful design, HD movies, feature portraits intelligent, sensor resolution; Various scene modes, lens-shift Vibration Reduction.
CONS :
Size and display resolution; Only automatic modes; Quality Sensor.
Product prices and availability are subject to change. Any price and availablility information displayed on Amazon at the time of purchase will apply to the purchase of any products.