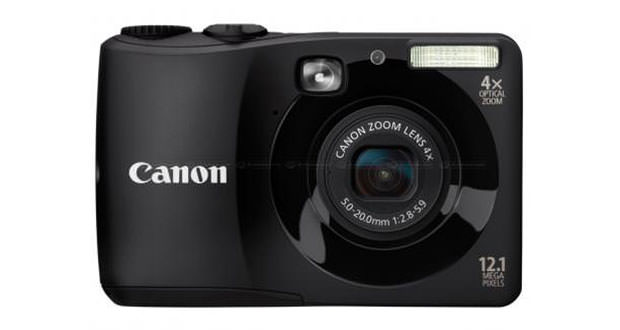 The Canon PowerShot A1200 is a compact digital camera with slim body and light weight making it perfect for moving around. The optical viewfinder in combination with 28mm wide-angle lens and 4x optical zoom guarantee shots and video quality.
Among the features of the Canon PowerShot A1200 we find a screen 2.7″ LCD, Face Detection mode, Smart Auto mode, automatic red-eye correction and image processor of the latest generation DIGIC 4. The camera also allows you to shoot HD movies to 720 pixels and the ability to use various modes including Smart Auto, Easy mode and Hints and reduce blurring. The Canon PowerShot A1200 uses AA batteries.
Canon PowerShot A1200: Design
The Canon PowerShot A1200 is a compact digital camera available in black, silver, red and blue. It has a 2.7-inch LCD display with a resolution of 230,000. As for size, the camera measures 97.5 mm wide, 62.5 mm high and 30.7 mm thick, while the net weight is around 185 grams at full, so including battery and memory cards. The camera in black color is nice though for size and weight could be slightly awkward. In silver color may look slightly old-fashioned.
Canon PowerShot A1200: Features and Capabilities
The Canon PowerShot A1200 is a compact digital camera made by the manufacturer earlier this year, along with her sister Canon Powershot A2200. It is a model that combines high image quality and creative features with a different design quite pleasant. With regard to the technical data, the main starting point for our review, it is the CCD image sensor, 1/2, 3 inches in size and with an effective resolution of 12.1 megapixels.
As can be seen, therefore, the resolution is high and allows to obtain photos up to 4,000 x 3,000 pixels. As for the optics, the Canon PowerShot A1200 is equipped with a lens made of 6 elements in 5 groups, including 1 aspherical lens front / back, including 1 UA lens and 1 single-sided aspherical lens, including 1 UA lens.
The focal length is equivalent to 28-112 mm on a traditional 35 mm and a maximum aperture of F2.8-F5.9. As regards the ability to shoot subjects in the distance, the A1200 has a 4x optical zoom and a digital zoom of about 4x, for a total capacity of 16x. Once the specifications, it is time to analyze in detail the camera, with all the features that it offers.
And now obvious that the image stabilizer is one of the most important and sought after, even if not always the one mounted on the compact is optical. Other interesting features offered by Canon PowerShot A1200 shooting modes include Smart Auto and Easy to use Scene Detection Technology to determine subject brightness, contrast, distance and overall hue.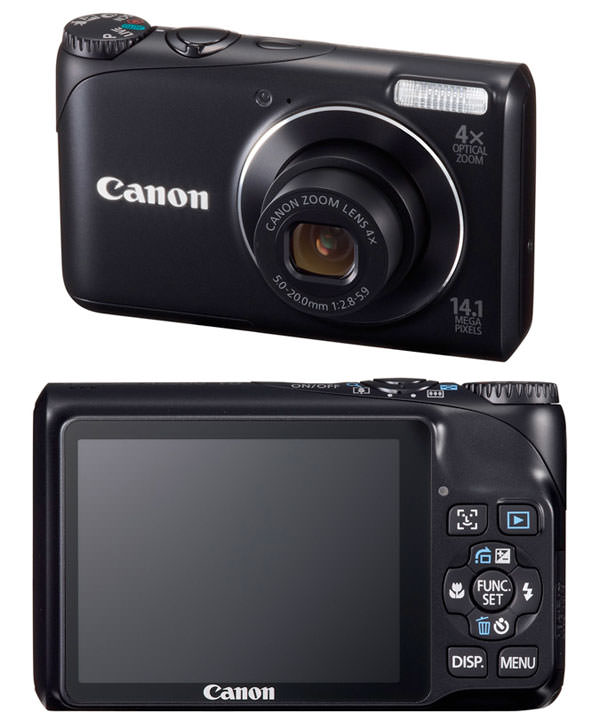 So, the camera selects the appropriate scene from 32 variables, applying the best settings, depending on the scene. The camera is equipped, in addition, Face Detection can detect up to 35 faces in a shot and automatically adjusts the focus, exposure, flash and white balance, and automatic correction of red eye. Live View Control allows you to easily adjust various camera settings while framing the shot.
There are, then, 6 creative filters to customize photos and videos. All this is handled by the DIGIC 4 processor, which offers an incredible responsive operation, superb image quality. Other features of the Canon PowerShot A1200 remain to mention the sensitivity from 80 to 1,600 ISO, macro mode, i-Contrast, which automatically adjusts the contrast, shutter speed equal to 1-1/6000 sec.
For all fans of video clips, the A1200 is the camera that does it for them because it allows you to capture HD video at 720 pixels with stereo sound and miniature effect in the movie. Finally, this model is equipped with a slot for memory cards such as SD, SDHC, SDXC, MMC, MMCplus and HCMMplus. As for autonomy, the Canon PowerShot A1200 uses two AA alkaline batteries can produce about 200 shots. As for the purchase package includes charger, USB cable and user manual.
Conclusion
The Canon PowerShot A1200 is a compact digital camera with nice design and available in two colors, silver and black. Among the features stand out the face detection and scene files and video clips in HD. The rest of the specifications is average, decent optical zoom, self-sufficient and not particularly high ISO. Excellent ways to customize and props, such as Smart Auto, the Easy and Feedback (provide a brief explanation of the functions of the camera).
Where to Buy Canon PowerShot A1200
---

---

---
31%
Canon Powershot A1200 12.1 MP Digital Camera with 4x Optical Zoom (Black)
12.1 megapixels, 4x wide-angle optical zoom (28mm), and optical viewfinder
Smart Auto intelligently selects settings from 32 predefined shooting situations
Record movies with 720p HD video
AA battery power enables you to easily power up on the go
Discreet Mode disables the sound, flash and AF beam for use in quiet areas
PROS : AA batteries; optical viewfinder; Blur Reduction Mode, Wide Angle Lens, Auto Correction red eye; Face detection.
CONS :
Image Stabilizer; Internal Memory.
Product prices and availability are subject to change. Any price and availablility information displayed on Amazon at the time of purchase will apply to the purchase of any products.