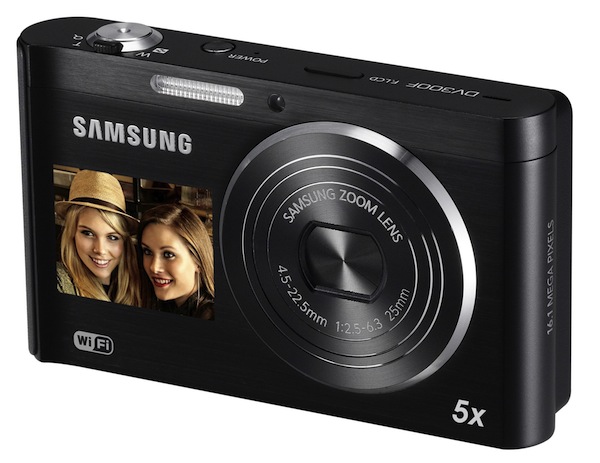 The Samsung DV300F finally introduces the world of photography the now-famous concept Smart: the brand new camera from Samsung presented to the PhotoShow 2012, is equipped with dual LCD display (front and rear), and integrated WiFi for direct sharing of their shots without wires.
The camera comes with a CCD sensor 1/2, 3 inches by 16.1 MP camera with a 5x optical zoom, TTL auto focus, optical image stabilizer and different ways of exposure control. On the back of the camera body will find a 3-inch TFT LCD display with a resolution of 460,000 points, while on the front side of the camera body is a 1.5-inch LCD display with a resolution of 61000 points: With this front display will be possible to click on your own all the photos you want.
Samsung DV300F: Design
The Samsung DV300F is a compact camera from modern minimalist design characterized by two displays (one rear and one front), giving the device a futuristic side, accentuated by the presence of built-in WiFi. Thanks to the presence of the front display are possible to realize self-portraits in a convenient and efficient.
The rear display has a size equal to 3 inches with a resolution of 460,000 points, while the face measuring 1.5 inches with a resolution of 61,000 points. The dimensions (9.52 x 5.65 x 1.83 cm) are very compact, and it can be used and transportation in virtually any situation, even if the weight is not exactly light (about 120 grams without battery and memory card) in the case of a compact camera.
Samsung DV300F: Features and Functionality
The Samsung DV300F features a 16.1 MP CCD sensor in combination with a wide-angle lens 25mm F2.5 Samsung Optical Zoom 5x. All allows you to get great photograph's thanks to the presence of an optical image stabilizer ( OIS) that makes it extremely efficient even in poor lighting conditions or zoom rather pushed.
One of the highlights of the device is definitely the presence of the front display (in addition to the rear of course): thanks to this small display 1.5 " (maybe too small) can be made self-portraits or group photos without ever losing sight of the subject.
Child also very efficient mode used for the realization of self-portraits in the presence of children: in practice will be displayed on the front display funny animations to capture the attention of children. This social side of the camera is more evident if one considers the presence of the built-in WiFi: we can share our shots directly on our favorite social networks or share with a Smart TV compatible or even load them into the Cloud to have them always at hand.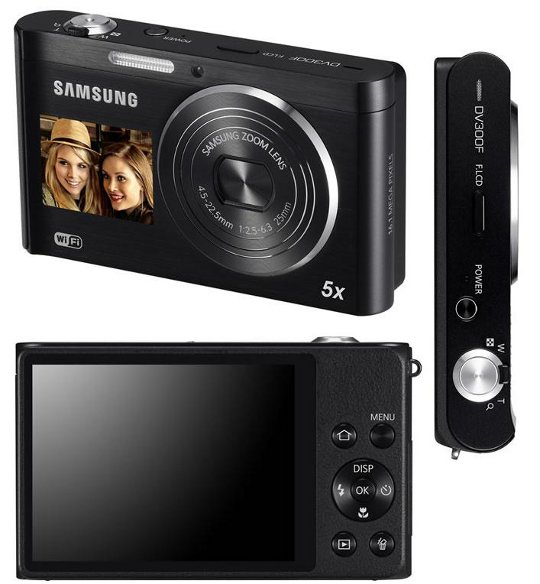 The Samsung DV300F is extremely simple to use and thanks to the Smart Auto 2.0 (available for both photos for movies). Any user will be able to produce great photos, even without a thorough knowledge of photography. In addition, the detection technology of the scene is able to identify up to 16 different shooting conditions, going to instantly analyze the key elements of your composition and automatically optimize settings for each of the different environmental situations. In the realization of many movies, like me, will find useful for the PIP (Picture in Picture) which allows you to show two images simultaneously: that the movie and the photography.
One of the most interesting creative and automatic modes is definitely the animated photo: in practice this mode, you can freeze time around a moving subject to create pictures fascinating and fun, all with a lot of originality and creativity. A complete rundown of the technical features of this device, we will find the aforementioned rear display with high resolution, high quality and the size of 3 inches with a resolution of 460,000 points with excellent contrast and extremely faithful to reality.
Conclusion
The Samsung DV300F camera is an excellent smart with integrated WiFi and dual display front and rear, through which you can make excellent self-portraits using the front display of 1.5 inches which in real life may be slightly smaller. Excellent automated features that enable creative and use automatic high quality and creativity. This device is definitely suitable for audience's young and dynamic social side of the camera is in its fundamental aspect, and that is certainly convenient and fun while on vacation.
Where to Buy Samsung DV300F
---

---

---
PROS : Smart Features; Animated Photo Mode, Built-in WiFi, Dual TFT LCD display; Ability to create self-portraits.
CONS :
Battery Pack.
Product prices and availability are subject to change. Any price and availablility information displayed on Amazon at the time of purchase will apply to the purchase of any products.