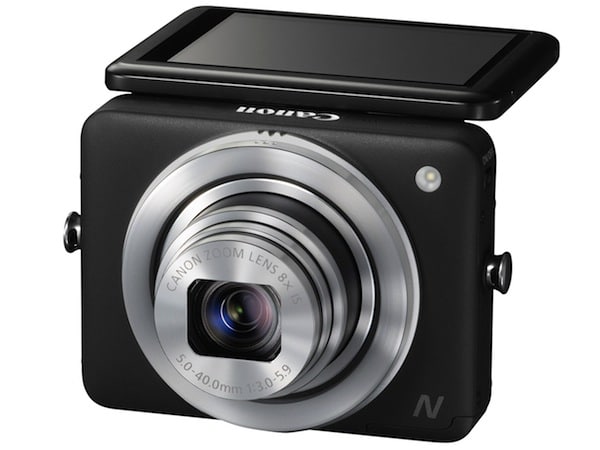 The Canon PowerShot N is a compact digital camera in the true sense to the word, because it has a symmetrical body, then square, with a minimalist style and maximum elegance. As for specifications, features 12.1-megapixel backlit CMOS sensor, DIGIC 5, wide-angle lens with 8x optical zoom, Wi-Fi, Full HD movie recording, Smart Auto mode with fewer than 58 scenes, practice ring of the lens to adjust shutter and zoom and 2.8-inch capacitive touch screen display with a resolution of 461,000 dots and can be tilted upwards.
Canon PowerShot N: Design
The Canon PowerShot N is a compact camera whose most striking feature is its innovative design and symmetrical, almost square in shape, which gives it a unique style. It also presents a touch screen display swiveling upward, by 2.8 inches and a resolution of 461,000 dots. Intone the lens, are also positioned the rings for adjusting the zoom and shooting. As for size, the camera measures 78.6 mm wide, 60.2 mm high and 29.3 mm thick, while the weight is about 195 grams, including battery and memory card.
Canon PowerShot N: Features and Functionality
Canon unveiled at the CES this year, a truly unique compact camera, the Canon PowerShot N, which is primarily characterized by its innovative design with swiveling display upward and nearly square dimensions. It is a point and shoot simple to use but equipped with the most advanced technology and connectivity features.
Starting from the specifications, this camera is equipped with a CMOS image sensor 1/2, 3 inches in size, backlit and with an effective resolution of 12.1 mega pixels. The goal has of 5-40 mm and a focal equivalent to 28-224 mm on a traditional 35 mm and a maximum aperture of F5.9-f3. It has, finally, of an 8x optical zoom with 16x Zoom Plus, and a digital zoom of 4x about.
Returning now to the more detailed description of the features of the Canon PowerShot N, one cannot say that the design is its strong point. It has a metal body symmetrical, almost square, modern and minimalist, which allows you to plug easily into a shirt pocket, even very small, due to the very small dimensions.
But the display is to be put in evidence particularly because, instead of being rotatable downwards, as the vast majority of the camera with adjustable display, is lifted, namely that bends upwards, which allows not only to shoot from impossible angles, then that is the goal of this kind of screens, but also acts as a support for the camera, once resting on a flat surface. Worth mentioning is also the fact that the display is touch screen.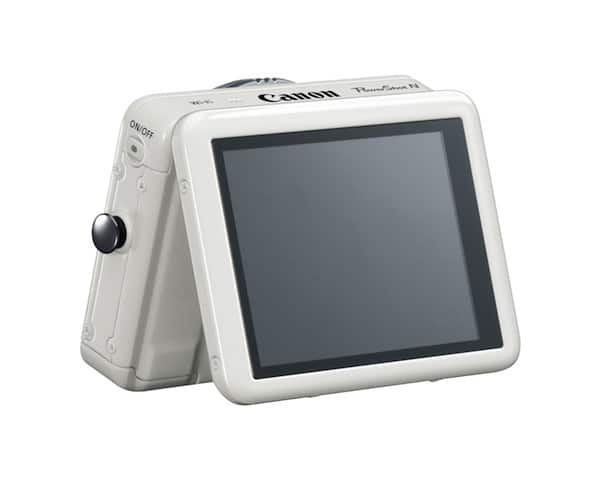 Even commands of Canon PowerShot N is decidedly unusual in that they not present the keys but the zoom, and the shutter will be directly control through two rings positioned around the lens, a course that can rotate in two directions and the other that uses just as a button. The rests of the functions are controlled using the touch screen already mentioned.
Among the various, features should be emphasized, certainly stand out the Wi-Fi connectivity, thanks to which it is easy to share your photos and videos you have just made on Facebook or on a computer or other compatible devices, and the GPS function, which allows instead to associate photos and video's information of the place in which they were made. It must be said that does not have an internal module but only the ability to use the GPS to a smart phone or tablet to connect.
Another feature of the Canon PowerShot N is the Creative Shot mode, which achieves by a single shot as many as 5 photos below, which will automatically apply different effects, even changing some settings. It is a function not important in terms of photography every day but can be attractive for those who love the creative shots.
There are the ability to create video clips in Full HD and Intelligent IS, which ensures steady shots. But the features of this camera are endless. For example, Smart Auto selects the best settings for the scene while Hybrid Auto allows you to capture short videos of 4 seconds before each picture and then combine them into an HD format. The movie function slowed slows down the action just too fast, while Super Slow Motion you can add an effect to a spectacular waterfall.
Finally, the Canon PowerShot N has a slot for memory cards such as Secure Digital, SDHC and SDXC while, with regard to autonomy, including the lithium battery allows up to 200 shots or play back up to 240 minutes.
Conclusion
The Canon PowerShot N is a compact camera very small, square in shape and characterized by an interesting display swivel upwards, which also acts as a support for the camera. Apart from the innovative design, we can highlight the Wi-Fi, Full HD movies, the creative mode and various automatic functions. Obviously, given the dimensions, optics suffer a bit, but then you would not expect anything different in a compact like that.
Where to Buy Canon PowerShot N
---

---

---
Canon PowerShot N 12.1 MP CMOS Digital Camera with 8x Optical Zoom and 28mm Wide-Angle Lens (Black)
Built in Wi-Fi for wireless transfer of images to social networking sites
Mobile Device Connect Button allows for a sharing connection to Android or iOS...
New Creative Shot mode uses composition, color and lighting from original image...
Newly designed 2.8-inch capacitive, tilt, touch panel LCD; lens shutter; and...
12.1 MP CMOS sensor, DIGIC 5 Processor, 8x Optical Image Stabilized zoom, 28mm...
PROS : Wi-Fi connectivity; tilting touchscreen display, display resolution, Smart Auto with 58 scenes; ring on the lens; Dimensions; Creative Mode.
CONS :
Effective Focal Length objective; resolution sensor is not very high; optical quality.
Product prices and availability are subject to change. Any price and availablility information displayed on Amazon at the time of purchase will apply to the purchase of any products.