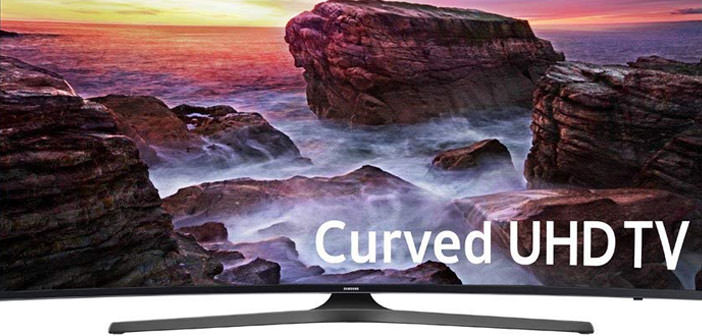 Have you seen a curved TV in the shop or online and were you fascinated? Know that this technology, before a niche, is now more and more widespread. In fact, many manufacturers have focused a lot on this technology. Prices have fallen compared to the past and make these TV appealing to all budgets.
Precisely for this reason, what we will do today is try to find the best curved TV currently available on the market. After a brief introduction, we will analyze the most interesting models that you can easily buy online. Are you ready to enter this world for many so unfamiliar?
Why choose a Curved TV
There is no doubt that curved-screen TV are decidedly unconventional products. Their design is very special and may not please everyone. If you have finished here though, it is very likely that you have already evaluated the purchase of such a product.
The first question we want to answer is the following: why choose a curved TV? For image purists, this is a kind of sacrilege and would hardly accept to have such a device in their homes. The analysis that we want to propose is a bit more objective. We will see what are, if any, the advantages of a curved TV.
Involvement : a curved TV, thanks to its form factor, is able to involve the spectators more. Of course, this effect will be more pronounced with the larger models, because they occupy a greater percentage of the field of vision. Even with the basic models, this effect is quite accentuated and will make you feel at the center of the scene.
Reflection : a curved surface, compared to a flat surface, certainly reflects less light. This can help a lot to increase the quality of the vision. At the same time, you did not expect miracles, especially in the presence of direct light sources, such as windows.
Viewing angle : one of the features that manufacturers have put a lot to advertise curved TV is their viewing angle. The particularity of this technology allows a better view if positioned at the center of the screen. Conversely, if you sit off-axis with respect to the screen, the vision gets slightly worse.
Design : this is a point on which we can all agree. The design of curved TV is truly wonderful. They have a futuristic feel compared to traditional devices, which makes them really an object to be desired.
Best Curved TV: Which one to buy
After this brief introduction, it's time to move on to the juiciest part of this guide. Are you curious to find out? What are the curved TV models we have selected for you? You will find them all in the next paragraphs.
Samsung UN49MU6500
Turning to a decidedly more respected manufacturer like Samsung, we find this Smart TV with a curved 49-inch screen. The UHD resolution immediately suggests that it is a superior product compared to what we have just left behind.
The equipment is really complete and includes integrated WiFi, proprietary operating system and USB ports and HDMI in abundance. There is also, in this case, the support for next-generation terrestrial digital.
Samsung UN55MU7000
Samsung Electronics UN55MU7000 55-Inch 4K Ultra HD Smart LED TV (2017 Model)
4K Color Drive Pro reveals a wider spectrum of realistic colors, creating a more...
See a wider range of color and contrast than full HD with 4K HDR Pro. Audio -...
One Remote automatically detects and controls all your connected devices and...
Smooth action on fast-moving content with Motion Rate 120
Product Size (W x H x D) Without Stand 48.6 x 28.2 x 2.2 (Inches); Product Size...
As you have certainly noticed, so far most of the Smart TV models with curved screen are produced by Samsung. This is because the Asian brand was the first to invest in this technology, little exploited by other producers.
This model brings with it a beautiful 55-inch screen with 4K resolution, ideal for watching your favorite movies comfortably seated in an armchair or on the sofa. High-level connectivity, which includes integrated WiFi, USB, HDMI and second-generation digital terrestrial.
Samsung UN55KS8500FXZA
Samsung UN55KS8500 Curved 55-Inch 4K Ultra HD Smart LED TV (2016 Model)
The Premium Curved 4K SUHD Picture with Quantum Dot Color Drive . Fires off a...
More than just pitch black, get the best shades of black with Triple Black...
HDR 1000 mirrors the high contrast and vividness the way movie makers intended
Get richer colors and deeper contrast with UHD Dimming
Smart 2016 - Use one universal remote to switch from Live TV to streaming...
Going up the level again, we meet this curved TV always made by Samsung. The first thing you will notice will definitely be the design. It is perhaps one of the most beautiful Smart TV you have ever seen, and luckily it does not end there.
The 55-inch panel has an SUHD resolution, the best you can currently want for home entertainment. Complete the equipment, which includes Audio Dolby Digital Plus, Picture Quality Index and DVB-T2, in addition to a connectivity that does not miss anything.
Samsung UN40JU7500
Do not you want to miss anything? This 40-inch model, in addition to ensuring a truly spectacular vision also integrates the 3D function. The display has a 4K resolution, the maximum you can currently get from these products.
Although slightly more " older " than other models, the guaranteed performance is really high. The DTS audio is really enveloping and will help even more to improve your experience. Unfortunately, the DVB-T2 is missing, also present in other less-expensive models.
Samsung UN78JS9500
Do you really want to exaggerate? This curved TV replicates all the features of the previous model and brings it back to a 78-inch panel with 4K resolution. Needless to make the list of features. Everything you want is on board, from 3D to a truly exceptional color and contrast control.
Product prices and availability are subject to change. Any price and availablility information displayed on Amazon at the time of purchase will apply to the purchase of any products.