Guide
Apple Watch Stand Dock: Which to Buy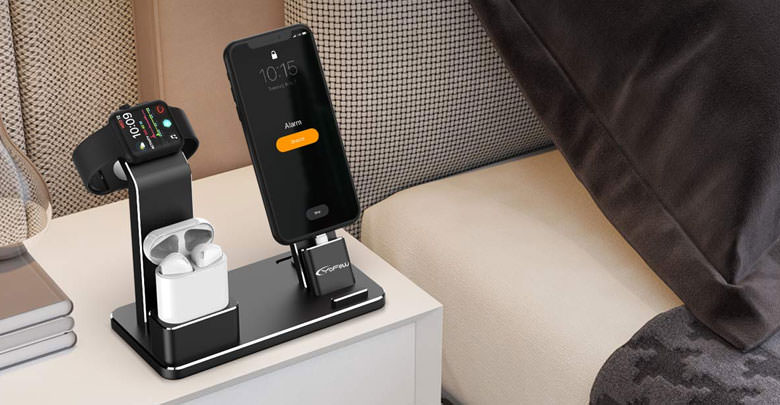 Apple watch stand dock is a handy item if we want to place our Apple Watch on our desk without making it look not nice. In addition, many stands also allow the smartwatch to be recharged by inserting the charging base into them and giving a touch of style to our desk. Let's see the best sellers.
Top-selling Apple Watch stand dock
Before seeing which Apple Watch Stand Dock to buy, let's take a quick look at the top sellers on Amazon! Specifically, below you can see a list, updated daily, of the 10 bestsellers on Amazon; be careful though, the fact that they are the best-sellers does not mean that they are the best to buy, or that they reflect your preferences in terms of taste and functionality.
For each of them, some information is given, such as the price, the status (to understand if it is currently on offer), and the type of shipment. The devices marked with the " Prime " logo benefit from the Amazon Prime treatment, with which you can receive your package with free and fast shipping! Here is the list of top sellers:
Top Apple Watch stand dock selling on Amazon
These were the best sellers on Amazon! Before purchasing anyway, check the item description to ensure what you are buying, read the customer feedbacks that bought it before you, and check the seller's reliability. In any case, we advise you to look at all the tricks on how to save on Amazon to find the right product at the best price!
iClever
It is a standing dock made by iClever. It is entirely made of sturdy plastic and is designed to support all Apple Watch models. It also has a hole to house the connector for recharging. This is the cheapest – and special – Apple Watch Stand Dock we've ever found!
Spigen
This is a very simple stand dock made by Spigen. It is a simple and functional product, but it is offered at an excellent value for money. Made of TPU, it allows you to insert the wireless connector inside the stand to load it even when we rest it. Moreover, it is possible to buy it in different colors.
Mercase
This is an exceptional stand as, in addition to the support for the smartwatch, it also features an adjustable housing for our smartphone. Furthermore, it also has a hole to house the connector for recharging our Apple Watch, so you can also make a minimum of cable management.
Wonsidary
Impossible not to mention also this 3 in 1 stand dock which, at a more than modest price, allows you to simultaneously charge your Apple Watch but also the Airpods and your smartphone! Thanks to the excellent work in managing the spaces, you can insert the three charging cables (which will remain invisible) of your devices inside it.
OPSO
This is a very simple stand dock that allows us to adjust the support angle for the smartwatch. Also included is a recharging connector to be housed inside the stand. In our opinion, it is perfect not only to rest on the smartwatch and recharge it but also to " take a look " every so often while you are, for example, at the PC.
YoFeW
Similar, as far as the idea is concerned, to the stand dock we saw earlier, thus allowing simultaneously charging the smartphone, the Airpods, and your Apple Watch. The materials and finishes are excellent quality, and the cable management is perfect because it is completely hidden in the base. Again, an object not only in style but also very functional!
Native Union
It is a solid and robust stand of excellent workmanship and can support our Apple Watch vertically and horizontally. So his simple style won't look bad on our desk. In addition, the swivel arm makes it possible to find the optimum angle of vision.
Product prices and availability are subject to change. Any price and availablility information displayed on Amazon at the time of purchase will apply to the purchase of any products.