Guide
Best lightning cables for iPhone and iPad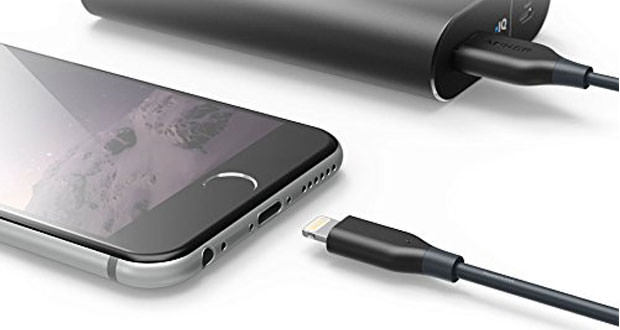 The choice of the lightning cable, the proprietary cable of the Cupertino giant, is one of those things that very often are underestimated. In fact, very often we resort to the purchase of very cheap lightning cables and this could seriously endanger the health of our Apple devices. Obviously, you're thinking " yes but $19 for an original Apple cable a meter is exaggerated! "
This is why today we decided to gather within this guide all the various possibilities that best reflect the quality/price ratio and that have MFi certification.
What is MFi certification?
This is a certification issued by Apple to mark all those products and accessories that meet certain quality and safety standards. To recognize this type of product just check on the box if they have the words " Made for " inserted to show the customer that there is full compatibility with Apple devices.
The characteristics of a good Lightning cable
Beyond the aforementioned certification that guarantees its constructive quality, the characteristics to be found on a cable of this type are without any doubt:
Resistance : It is good to choose a cable that is resistant, especially in the points where the cable joins the connector because it is subject to deterioration, especially when the cable is rewound. In this regard, particularly resistant cables have been put on the market, covered with braided nylon with a reinforced aluminum coating, built to be particularly resistant.
Cable length : Very often this aspect is underestimated, and we tend to opt for excessively long cables but then punctually we find ourselves having an excessively long cable for our requests and perpetually tangled.
The most sold Lightning cables of the moment
Before leaving you to our selection, here are the Lightning cables for iPhone, iPad and iPod Touch most sold at the moment. The ranking is updated every day.
#
Preview
Product
Rating
Price
1
iPhone Charger,UNEN MFi Certified Lightning Cable(3/3/6/6/10FT)Charging USB Syncing Data Nylon...

133 Reviews

$12.99

See Offers!
2
AmazonBasics Lightning to USB A Cable, MFi Certified iPhone Charger, White, 6 Foot

8,516 Reviews

$8.99

$7.91

See Offers!
3
AmazonBasics Nylon Braided Lightning to USB A Cable, MFi Certified iPhone Charger, Dark Gray, 6-Foot

62,470 Reviews

$14.49

$13.33

See Offers!
4
iPhone Charger, Anker 6ft Premium Nylon Lightning Cable [2-Pack], Apple MFi Certified for iPhone...

525 Reviews

$19.99

See Offers!
5
PLmuzsz MFi Certified iPhone Charger Lightning Cable 5 Pack High Speed Nylon Braided USB Fast...

$10.99

$9.98

See Offers!
6
iPhone Charger, YUNSONG 3Pack 6FT Nylon Braided Lightning Cable Charging Cord USB Cable Compatible...

1,622 Reviews

$9.99

See Offers!
7
iPhone Charger, [3 Pack] Anker Powerline Lightning Cable (3ft) Apple MFi Certified - Lightning...

1,265 Reviews

$21.99

See Offers!
8
Apple Lightning to USB Cable (1 m)

846 Reviews

$19.00

$15.00

See Offers!
9
iPhone Cable Durable Lightning Charger Cable Spring iPhone Cord Fast iPhone Date Cable 5Pack 6FT USB...

112 Reviews

$15.99

See Offers!
10
iPhone Charger, KRISLOG MFi Certified Lightning Cable 5 Pack High Speed Transfer Cords USB Fast...

$9.98

See Offers!
Lightning Cables 3.3ft
Anker 3.3ft Premium Double-Braided Nylon Lightning Cable
Practically identical in all respects to a standard Apple cable but with a much lower cost! Highly recommended for normal daily needs.
AmazonBasics Nylon Braided USB A to Lightning Compatible Cable
This cable of AmazonBasics in addition to presenting the braided nylon cover and the reinforced metal connectors has an additional plastic reinforcement in the part that joins the cable to the connectors.
Lightning Cables 6ft
Anker PowerLine 6ft Lightning Cable
Using engineering innovations like laser welding, kevlar reinforcement and dual PVC fusion, it boasts durability 5x higher than other cables.
AmazonBasics Lightning to USB A Cable – Apple MFi Certified
AmazonBasics Lightning to USB A Cable - MFi Certified iPhone Charger - White, 6-Foot
Apple MFi certified charging and syncing cable for your Apple devices
Apple MFi certification ensures complete charge and sync compatibility with...
Connects to your iPhone, iPad, or iPod with Lightning Connector and...
Compact Lightning Connector head works with nearly all cases
An additional layer of protection has been added to the Lightning and USB ends...
Product prices and availability are subject to change. Any price and availablility information displayed on Amazon at the time of purchase will apply to the purchase of any products.