Guide
Laptop from $500: Ranking and which to buy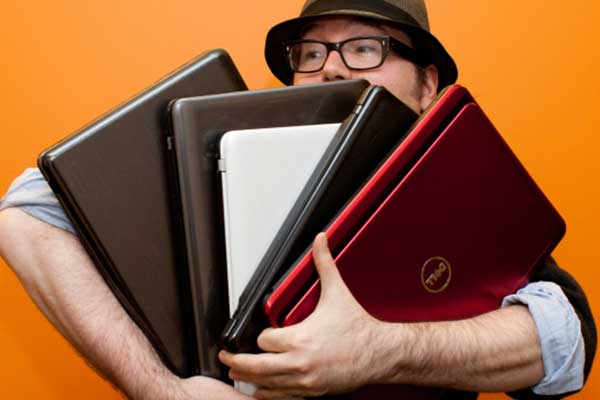 Among the laptops from $500, we start to find products with mid-level performance, which are a good prerequisite for those looking for performance at the right price. We can no longer talk about cheap laptops, but we remain within a very acceptable range of spending for this type of device.
Compared to the categories we have examined previously, the choice is extended. The compact models increase and the quality of the components increases, besides finding valuable construction materials. If you are looking for a 2-in-1 laptop, maybe with a touch screen, here you can find some good deals.
Among the best laptops from $500, we will discover some good alternatives, which abandon the basic performance of the cheaper ones and start to give some satisfaction. Are you curious to find out which models we want to offer? Continue reading the article and you will be satisfied.
Why buy a laptop from $500
The spending threshold of $500 represents an important leap in the world of portable PCs. Leaving behind the purely economic products, you will be projected towards a whole new world, still a bit far from the top of the range, but still superior to many models.
One of the main advantages of this category is the presence of a dedicated video card. Many $500 laptops start to mount good-quality graphics, suitable for moderate editing and able to run some games. Forget about high graphics settings during gaming, but you'll still have the chance to spend a few hours relaxing.
The rest of the daily operations, such as browsing or writing documents with Office, take place quickly and painlessly. The same applies to the streaming and playback of video content, as with Netflix or Prime Video. In this also the screens compete, generally of good quality and with appropriate resolution.
What not to do with laptop from $500
As the price of laptops goes up, transactions that are not managed at best are decreasing more and more. In this band, for example: we are very close to an all-round use of devices, with very few limitations.
The most important part is certainly represented by gaming, which although manageable does not allow you to fully enjoy the titles, especially the most recent. To spend a few hours of entertainment you will have to face compromises from the graphical point of view, significantly lowering the details and resolution.
The same is true for video editing. You can make the basic changes, but the heaviest ones from the point of view of the resources required still require more performing machines. However, if compared to the budget, the laptops from $500 are a good investment.
You will notice that some of these notebooks will be aesthetically very similar, if not identical, to models already seen among the economic products. This is due to the modus operandi of many manufacturers to update the data sheet without touching the aesthetic part. Do not be scared by this detail, the performance will be significantly higher.
The best-selling laptops of the moment
Before leaving you to our selection on the best laptops from $500, here is the top 10 of Amazon's best-selling laptops right now. The ranking is updated every day automatically.
The best laptops at $500
After this brief introduction, which will help you understand if your spending threshold reflects your expectations, it's time to get serious. From here on you will find the best laptops at $500, with a brief description of the technical features and a direct purchase link.
HP 15-BS115DX
Let's start with a laptop at $500 produced and marketed by HP. This brand is characterized by a multitude of products in the medium-low market. Inside we find a good Intel i5-8250U processor, which combined with 8 GB of RAM and a 1 TB Hard Disk provides level performance.
The materials are plastic but well assembled. The 15.6-inch display is equipped with an anti-reflection treatment and HD resolution.
Acer Aspire E5-553G
Even Acer enters the right among the best laptop from $500 with this Acer Apire E5-553G. Equipped with good components, it offers a fairly elegant and functional design. The CPU, branded AMD, is the model A12-9700P, with four cores and 8 GB of RAM.
The 1 TB. hard disk + 128 GB. SSD can easily contain all your data and programs, always ensuring a good amount of free space. Discreet display, 15.6 inches with HD resolution. The graphic department is entrusted to a Radeon R7 M440 video card.
Asus VivoBook X542BA
Are you looking for a laptop from $500 with lots of RAM on board? Asus has the right answer for you with this really interesting model. Equipped with a 15.6-inch HD display, it is powered by an AMD A9-9420 Quad Core processor.
The 8 GB RAM, combined with a 1TB hard disk, allows users who use many applications and services at the same time to make the most of the system's speed and fluidity. Classic design with good-quality materials.
Acer SPIN 5
At the beginning of the article, we talked about the possibility of finding in this category of the good laptops 2 in 1. Acer offers us the first on the list, with a great 13.3-inch display, Full HD resolution and multi-touch support.
The processor, Intel i5-7200U includes an integrated mid-range graphics card, which guarantees good performance. As for the memories find an 8 GB RAM and a 256 SSD. The latter offers a speed of reading and writing data really lightning.
Acer Swift 3
The Swift family of notebook series has recently been renewed, with improved and better performing products. Acer Swift 3 looks like a mid-range, with interesting features. The screen, 14-inch HD, makes this laptop suitable for mobility, thanks to its very low weight.
The Intel i5-8250U processor with 8 GB of RAM and a 256 GB SSD card will compete for the performance part. The graphic department is instead entrusted with an integrated Intel HD Graphics.
Dell Inspiron 15
Dell Inspiron 15 is an excellent alternative for those looking for a quality product without exceeding the price. With a really nice design, it is perhaps the best laptop from $500 to watch. This does not mean sacrificing performance, generously guaranteed by the Intel i5-8250U processor.
The 15.6-inch display has a Full HD resolution and is controlled by an integrated Intel video card. 8 GB of RAM on board, with a 1 TB Hard Disk, perfect for storing all your files and documents.
Product prices and availability are subject to change. Any price and availablility information displayed on Amazon at the time of purchase will apply to the purchase of any products.