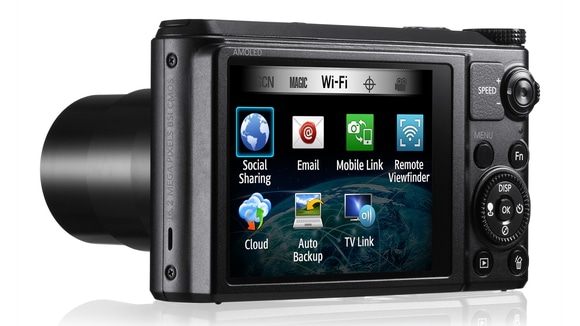 The Samsung WB850F Smart Camera is equipped with a 21x optical zoom and 23 mm wide-angle lens from Schneider-KREUZNACH, Wi-Fi connectivity and integrated GPS. The camera is also equipped with a BSI CMOS sensor type 1/2.3 " with a resolution of 16.8 MP and technology for image stabilization that combines optical stabilization to a purely digital.
Due to the presence of Wi- Fi integrated photo-sharing on Social Networks can be done instantly as you can instantly get your location using the GPS functionality provided in augmented reality GPS Live Landmark. Then the camera has a 3-inch AMOLED display with a resolution of 640 x 480 pixels and 614,000 points.
Samsung WB850F: Design
The Samsung WB850F is a compact camera designed to handle and with a slight grip on the side, which facilitates the grip slightly. On the back, there is a large 3-inch AMOLED touch screen display with a resolution of 640 x 480 pixels and 614,000 points. As for size, the camera measures 109.6 mm in width, 61.9 mm in height and 24.9 mm thick, while the weight is 226 grams.
Samsung WB850F: Features and Functionality
The Samsung WB850F is a compact digital camera made by the producers in january last year, along with the Samsung WB150F, belonging to the same family but with lower specifications. It is a very interesting model, especially for additional features that are thoughtfully provided.
As regards, instead, the data closely related to the photographic industry, this camera is equipped with a CMOS type image sensor BSI backlit by 1/2, 3 inches in size and with an effective resolution of 16.2 megapixels, which allows to obtain perfect photos, up to a maximum resolution of 4,608 x 3,072 in JPEG format, even in low-light conditions.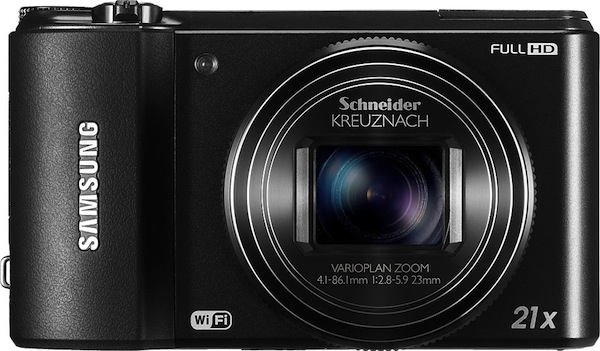 The other specifications of the Samsung WB850F include a Schneider-KREUZNACH lens that has a focal length of 4.1 to 86.1 mm, equivalent to 23-483 mm on a traditional 35 mm and a maximum aperture of f2.8- F5.9. Do not miss the opportunity to shoot a subject, in the distance, due to the presence of a 21x optical zoom and a 4x digital zoom.
Among the features offered by this camera stands out in the first place the system DUAL IS image stabilization, which combines optical and digital stabilization, which reduces the risk of image blur due to movement of the machine. Of particular interest is certainly also the manual mode, thanks to which it is possible to intervene directly on the shutter speed and depth of field, to personalize your photos.
The real distinguishing features of the Samsung WB850F are the Wi-Fi connectivity and integrated GPS. With the first, you can easily share photos and videos by uploading them directly to Facebook, Picasa, YouTube or the cloud Samsung, or sending them by email.
The TV Link feature allows players to view images wirelessly on a big-screen TV. As for the GPS, it is perfect for easily find the interesting places nearby. Thanks to GPS Live Landmark, a feature of augmented reality based on location, or find your destination with MapView and downloadable maps. You can also locate the position in which you have just taken a picture and display it on Photo View.
Speaking of the other more classic Samsung WB850F, one cannot fail to mention the ability to create video clips in MP4 format with a maximum resolution of 1,920 x 1,080 pixels, so in Full HD. In addition, you can take up to 6 still images while recording a video clip, thanks to Dual Capture.
With the Live View, function shows you can take panoramic photos. The Picture in Picture allows you to insert a photo or video within another image, while with the Artistic Brush, you create sketches in black and white. There are, then, the built-in flash, the auto focus and manual and a variety of ways for both photos and videos.
But as for the Samsung WB850F, sensitivity ranges from ISO 100 to 3200, and includes a value automatically, while in terms of shutter speed, the automatic settles down to 1/8 – 1/2000 seconds and a manual of 16 -1 / 2000 seconds.
Speaking of interfaces, the camera is equipped with a USB port and AV output. Samsung WB850F supported, finally, memory cards of the type SDSC, SDHC and SDXC memory cards. The package includes wrist strap, 2 GB card, USB cable and charger.
Conclusion
The Samsung WB850F is a compact, high-level not only allows you to take photos and video of good quality but also has some additional features, such as built-in GPS and Wi-Fi connectivity, which put on a step slightly higher than to other similar models. Also interesting are the optics, optical zoom, stabilizer and Full HD movies.
Where to Buy Samsung WB850F
---

---

---
PROS : 3-inch AMOLED display, Full HD video at 30 fps; Price; manual mode, 21x optical zoom, wide-angle lens 23 mm Schneider-KREUZNACH, WiFi and GPS, DUAL IS (Optical Image Stabilization Digital Image Stabilization) , 16.2 MP CMOS sensor with BSI; PIP function for photos and movies; Function GPS Live Landmark.
CONS :
Lack micro HDMI port; Lack RAW format, autofocus does not always responsive.
Product prices and availability are subject to change. Any price and availablility information displayed on Amazon at the time of purchase will apply to the purchase of any products.