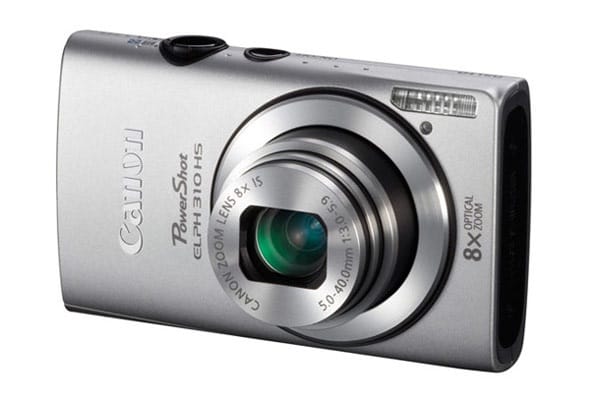 The Canon PowerShot 310 HS is one of the new cameras features Canon HS System that allows you to take perfect photos even in low-light conditions. The camera sensor is a 1/2.3 type CMOS backlit with an effective pixel count of 12.1-million.
Among other features of the Canon PowerShot 310 HS, we find the bright f/2.0 wide-angle lens of 24 mm, an optical zoom of 4.4x and an optical image stabilizer as well as a PureColor II Touch LCD display with a diagonal of 3.2 " of 8.0 cm. The camera is able to shoot Full HD movie with Dynamic IS.
Canon PowerShot 310 HS: Design
The Canon PowerShot 310 HS is one of the new Canon compact cameras placed in the market a few days. The design is the most classic line Ixus and presents a camera body extremely elegant (and also robust enough) coated with a thin stainless steel. The camera is very stylish and functional, thanks to its small size and is available in three different colors: pink, gray, brown and gold. The Canon PowerShot 310 HS occurs on the back to the camera body a great PureColor LCD II Touch 3.2″ inches.
Canon PowerShot 310 HS: Features and Functionality
The new Canon PowerShot 310 HS is a camera that offers a beautiful and handsome combination of performance and the most classic PowerShot design with a thin metal body. The services offered by HS System (12.1 MP) in low-light conditions allowed you to capture the real atmosphere from the moment without using flash and tripod.
DIGIC 4 also delivers excellent image processing capabilities that, combined with a 12.1 MP sensor with high sensitivity, enable you to get the photos up to the mark. The camera uses a bright f/2.0 lens that lets you take pictures in low light and moving subjects at higher shutter speeds.
The lens 24 mm wide-angle coverage lets you put more in the frame, while Canon's optical image stabilization system helps to reduce blur caused by camera shake. On the back to the camera body is a magnificent place PureColor LCD II Touch 8.0 cm (3.2 " ), which offers a magnificent contrast, in addition to excellent color rendering, the touch screen interface allows you to customize the screen depending upon the style of shooting and makes using the camera quick and fun.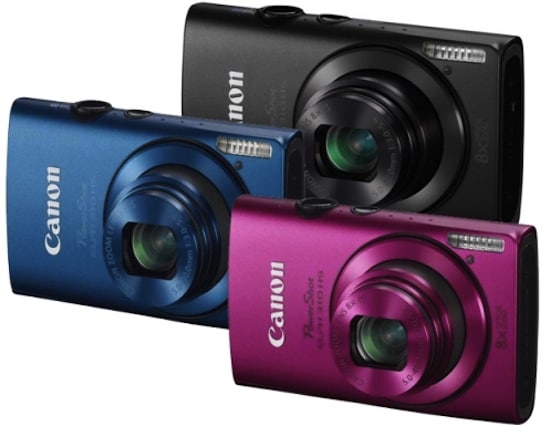 The camera also offers the ability to shoot movies in Full HD (1080p) with stereo sound and Dynamic IS that together provide great viewing experience thanks to the dynamic stabilization in the presence of vibration and oscillations.
Very interesting is the presence of an HDMI with CEC, which allows direct connection to the device to an HD TV. At the level of customization, we find that the Smart Car, fully automatically, allows the camera to detect the ideal scene between the 32 available, then the camera will select and use entirely autonomously the best settings for every photo.
Among the many options of the Canon PowerShot 310 HS is definitely important to mention the high-speed burst that allows you to take action photos faster with high-speed burst mode that also allows you to capture up to 8.2 shots / second or slower movements until to 1/8 of real speed using Super Slow Motion Movie mode. The option Movie Digest captures up to 4 seconds of action before each photo, allowing the user to combine all the clips shot on the same day into a single VGA movie to add to your photo collection.
Very useful and extremely functional creative ways that the user the freedom to experiment. Among these methods are the Fish-eye Effect (recreates the distortion of a fish-eye lens), the Miniature Effect (transforms landscapes into scale models in photos and movies) and Toy Camera effect, which will give our photos of the historic atmosphere (very funny).
Canon PowerShot 310 HS – Conclusion
The Canon PowerShot 310 HS is a great compact camera from the camera body in extremely stylish and durable stainless steel available in 4 different colors. The technical features are good and in line with the IXUS series camera. Very fun and functional creative effects available with merit Toy Camera effect that many users probably have fun. Excellent also the presence of HDMI with CEC which is not supplied (downside). Highlight of the camera is definitely the beautiful PureColor LCD II Touch.
Where to buy Canon PowerShot 310 HS?
---

---

---
Canon PowerShot ELPH 310 HS (Silver)
Box Contents - ELPH 310 HS, Battery Pack NB-4L, Battery Charger CB-2LV, Wrist...
Ultra-slim camera with 28mm Wide-Angle lens, 8x Optical Zoom, and Optical Image...
12.1 Megapixel CMOS sensor combined with Canon's DIGIC 4
Capture stunning Full HD 1080p video in stereo sound with a dedicated movie...
High-Speed Burst Mode allows continuous shooting & Super Slow Motion Movie...
PROS : Optical Image Stabilizer, High-speed Burst (up to 8.2 shots / second); dynamic stabilizer; Sytem HS; PureColor II Touch LCD, Super Slow Motion Movie (up to 1/8 of real speed) stainless steel body, 4.4x Optical Zoom.
CONS :
Battery Pack, No HDMI cable.
Product prices and availability are subject to change. Any price and availablility information displayed on Amazon at the time of purchase will apply to the purchase of any products.