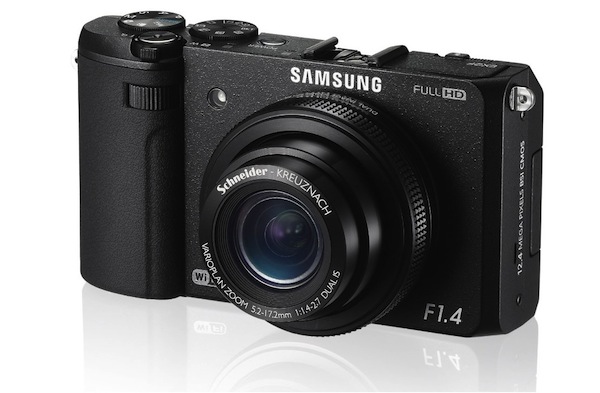 Samsung EX2F is a compact camera ideal for photographers technically savvy, thanks to a number of advanced features and bright perspective.
There is no doubt that, among the many specific functions and that the Samsung EX2F provides, what is immediately apparent is the optics, particularly the diaphragm which, at its maximum opening arrives af / 1.4. Values ​​such as these are not easy to find in a compact, but apparently Samsung designers have designed to capture images even in critical light without always having to be forced to raise the ISO sensitivity.
The Samsung EX2F is also equipped with an ND filter (neutral density) that reduces the amount of light that reaches the sensor. Thanks to this, it is possible to capture the images in the critical situation of reverse light, ie when it is too much, as in the case of a against the sun, allowing to have the realistic colors and a good presence of particular and details.
The zoom has an extension of 3.3 x and has a focal length of 5.2 to 17.2 mm (35 mm with equivalence of 24-80 mm). Fair, but we have seen better. Also the camera is equipped with the Dual Image Stabilization, Which Reduces vibration, Allowing you to take pictures. That would otherwise Have Been penalized by permanently moved. It works pretty well, but it must be remembered That, despite being a valuable help, not a miracle worker.
The Samsung EX2F Integrates a 12.4-megapixel BSI CMOS sensor the size of 1/1, 7 inches (larger than the one found in many other compact cars), capable of capturing clear and sharp image and good-quality movies. The camera can save images in RAW format, Which is important not only for himself, but Also Because It makes you understand how, while staying within a compact design, the Samsung EX2F asks your photographer who wants something blackberries than a simple " point-and- shoot ". Also it shows the presence of the double ring to adjust the shooting modes. It allows a good ductility, but slightly complicates the lives of Those Who want to be the camera take care of everything.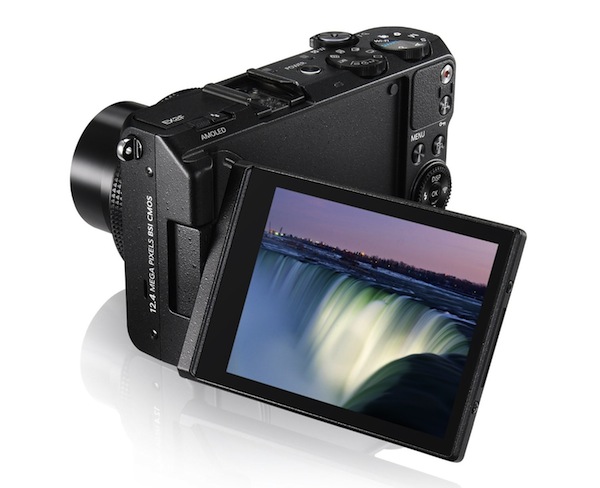 Samsung EX2F: Performance
The Samsung EX2F has good ergonomics, challenges with confidence and while not a record, it remains very small, especially when you consider that it is aimed at those who want something more for functions and methods. The construction is sturdy and seems to be able to withstand a reassuring peace of mind with a normal life. The screen of Samsung EX2F is AMOLED, has the size of 3 inches, a resolution of 614 000 points and is, above all, adjustable. This increases the flexibility of the camera allowing for shots from difficult angles, including self-portraits.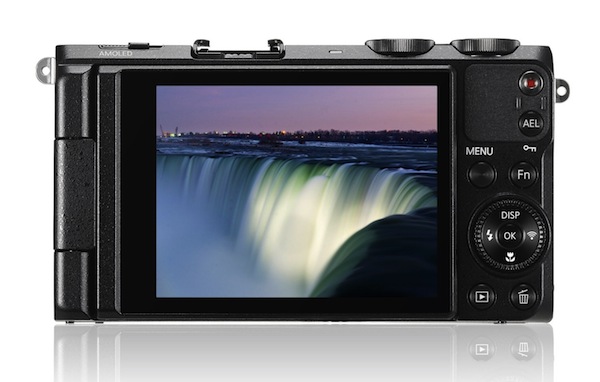 The Samsung EX2F can also record Full HD movies at 30 frames per second with stereo soundtrack and is equipped with HDMI output that allows you to view movies and photos on an HDTV. The Dual Capture allows you to capture pictures even while recording video. Another interesting feature of the Samsung EX2F is the integrated Wi-Fi.
Allows you to connect wirelessly to external devices transferring, for example, captured images on a computer or in the Cloud Microsoft SkyDrive, where they are available 7 GB that allows you to store about 7,000 photos. Always with ease you can also send in the presence of a hotspot Internet, images directly to social networks of reference.
The Samsung EX2F has an ISO range from 80 to 6,400 and can reach 6,400 and 12,800 with ISO Expansion. Among the most creative is worth pointing Split Shot, which allows you to combine up to three shots to create a sort of collage, Smart Auto 2.0 for photos and videos, recognizing that analyzes the scene and automatically adjusting the camera parameters, and Panorama Live, which creates images with a 180° preview before shooting.
Conclusions
As It should already be clear what they read so far, the Samsung EX2F is the compact ideal for those who simply want to go home with photographs of the holiday or event. It is not as simple and straightforward to use because, what could be its main advantage, the lens f/1.4. You can even turn into a defect.
Often the sensor is achieved by too much light, and it is therefore, clear why it was built in ND filter to avoid a more than frequent overexposure. It is certainly very useful, but it is equally certain that it is inconvenient to have to activate each time browsing for a few pages of the menu.
Among other things worth mentioning, battery life is not very high and the inability to navigate the menu while the camera is saving the shot on the memory card.
Where to Buy Samsung EX2F
---

---
PROS : Excellent quality of pictures and videos, So many creative features and advanced, Adjustable screen, Optical light.
CONS :
The lens is also sometimes too bright, It is easy to use to be a compact. Autonomy is not high.