The Canon EOS 60D SLR is a modern, ergonomic and even easier to use. 
With the Canon EOS 60D, Canon sends retired 50D digital SLR great success. Its successor has been designed to meet the needs of photographers who want to improve their skills when they have a camera equipped with high specification and with so many features, without go into the expensive segment of the professional models.
It guarantees maximum creativity also thanks to the presence of a convenient swivel LCD display by 3 inches and has a resolution of more than a million points. It's high-definition makes viewing images practically perfect and best supports the Live View function. It is also equipped with three layers of anti-reflective hydrophobic and can rotate 180 degrees and 270 on both axes. The brightness guarantees the full use even in case of strong external light.
The Canon EOS 60D incorporates a 18-mega pixel CMOS sensor that allows you to capture images with different size ratios such as 3:2, 1:1, 16:9 and 4:3. This sensor, which relies on the collaboration of the DIGIC 4 processors, generates little digital noise allowing you to capture good images even in low ambient light. It also guarantees a good shooting speed in sequence that can reach up to 5.3 frames per second for 58 JPEG photos, not bad for a camera in this class!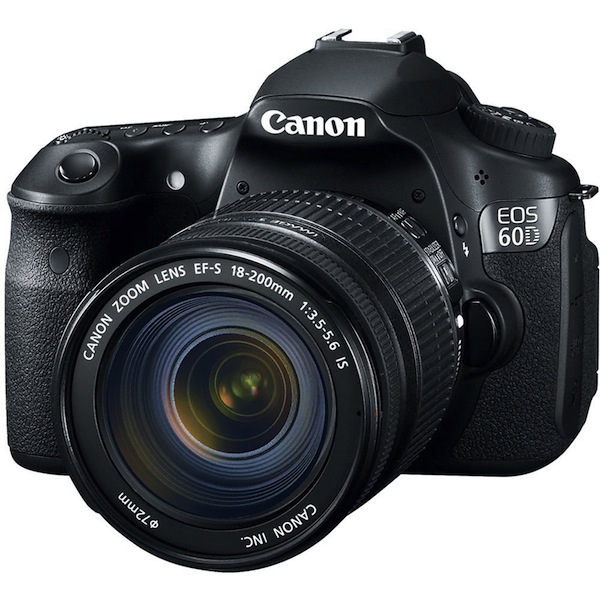 Canon EOS 60D: Functions
From the aesthetic point of view, the Canon EOS 60D does not propose anything earth-shattering, with classic lines and rounded style typical of the Canon. Perhaps, the camera body could be more robust, but the use of a magnesium alloy would raise costs, moving segment. There seems to be able to withstand normal wear and tear, although this factor takes it completely from the mire of professionals.
The Canon EOS 60D boasts an extension that runs from ISO 100 to 6,400, extendable to ISO 12,800. As already mentioned, this camera generates a noise level quite low, with images rather than enjoyable up to ISO 1,600 and even higher values, the photos are still usable though, as always, we recommend its use only in case's emergency.
Regarding the measurement system, the Canon EOS 60D uses the iFCL, already seen on Canon EOS 7D and formed from a double-layer sensor to 63 zones. Also noteworthy is the presence of an Integrated Speedlite transmitter that allows the control of two groups of flash.
The Canon EOS 60D proves to be creative with the ability to make different adjustments in the room, eliminating the need to intervene in post-production. Shooting in RAW, you can change the brightness, contrast, white balance and correct distortion and chromatic aberrations.
At this point, the photo can be saved in a JPEG ready for use. There is also to say that these functions are rather cumbersome to use. Experts can also use the Picture Style that allows you to apply special effects such as those generated by specific virtual films. Among the built-in, filters are reporting grainy Black White, Soft Focus, Toy Camera Effect and Miniature.
Finally, mention must for the ability to record Full HD at 1,920 × 1,080 at 30, 24 and 25 fps, and 720p at 60 and 50 fps. There is also an outlet for the possible use of an external microphone.
Canon EOS 60D: Conclusions
Now is the time to see the Canon EOS 60D in action and assess its strengths and weaknesses. Let's start from what, in our view, is the main shortcoming in this model. We are talking about the Auto focus Live View is used when you cannot reach the freezing point in a short time, and this could lose the right time to shoot.
This factor could almost negate the advantage and flexibility that a swiveling display ensures the reflex. Conversely, if, for framing the scene, using the excellent electronic viewfinder, things improve, returning to normal times and evaluations.
For the rest, the Canon EOS 60D offers only positive reviews. Excellent handling and good picture quality, with excellent definition and color always rise to the occasion. The interface is easy and immediate, and the many possibilities to customize it to make it suitable for each user and situation.
Even so, this reflex is set up as a possible link between the consumer and the more advanced models, all at a price still acceptable and justified by the overall quality. The quality of the video is convincing, and this increases its ductility. Finally, we have to remember again the high-definition display and excellent noise management to realize they possess high-quality SLRs.
Where to Buy Canon EOS 60D
---

---

---
57%
PROS : Image quality, Handling, definition of the display.
CONS :
Slow AF Live View mode, Post-production impractical.
Product prices and availability are subject to change. Any price and availablility information displayed on Amazon at the time of purchase will apply to the purchase of any products.