Guide
Noise-Canceling Headphones: The best to buy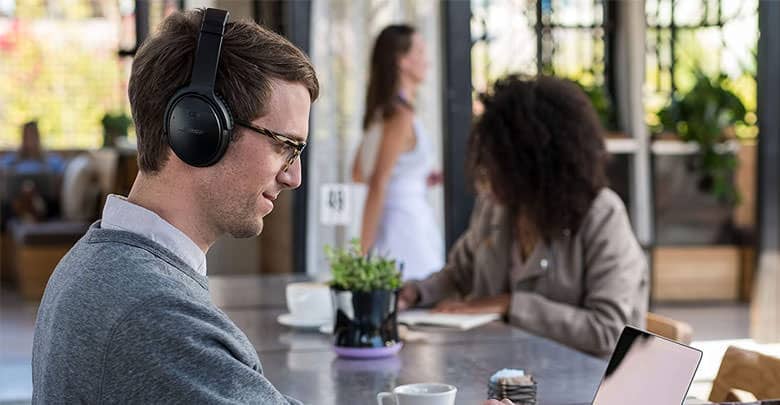 Noise-canceling headphones have now become a must for frequent travelers. And if you're looking for highly effective noise-canceling headphones in a design that's not only suitable for travel, then you've come to the right guide. We will list the products (both headphones and earphones) with the best combination of noise cancellation, sound quality, comfort, and flexibility.
A pair of noise-canceling headphones is also an ideal device for anyone who flies or spends a lot of time on the train or bus because they make the journey much more enjoyable, whether you want to listen to music or watch a movie or sleep more peacefully.
For years, the scepter of the best headphones in this product category was owned by Bose. Still, today the situation has changed considerably: the competition is on a level, sometimes even higher, and it is necessary to understand well what you need before continuing with the purchase.
We recommend headphones and earphones.
Let's start analyzing various headphones models with ANC carefully chosen by our team, starting from the cheapest models up to the most expensive.
Anker Soundcore Life Q20
Anker Soundcore Life Q20 Hybrid Active Noise Cancelling Headphones, Wireless Over Ear Bluetooth Headphones, 40H Playtime, Hi-Res Audio, Deep Bass, Memory Foam Ear Cups, for Travel, Home Office
Incredible Sound Loved by 20 Million+ People
Hi-Res Audio Certified: Custom oversized 40 mm dynamic drivers produce Hi-Res...
Reduce Ambient Noises By Up to 90%: Our team of engineers conducted more than...
100% Stronger Bass: Our exclusive BassUp technology conducts real-time analysis...
40-Hour Playtime*: Up to 40 hours of non-stop playtime in wireless active noise...
Generally, when wireless noise-canceling headphones drop below $100, you have to compromise on sound, build quality, or the effectiveness of their active noise cancellation. Yet if you choose the Anker Soundcore Life Q20, you will be pleasantly surprised to find that they do all these things quite well and cost around $50.
While noise cancellation and sound quality can't match the standards set by much more expensive models, the Anker Soundcore Life Q20 is a fantastic budget option. Indeed, undoubtedly the best choice in the economic range.
AUKEY True Wireless Earbuds
These brand new noise-canceling headphones from Aukey offer themselves as an alternative to the affordable AirPods Pro. They are truly wireless headphones with active noise cancellation that will not disappoint you for the price at which they are sold. Sure, they're less effective than the far more expensive models, but they still do a more than enough job of suppressing steady, low noise.
1MORE Dual Driver BT ANC
40%
1MORE Dual Driver BT ANC in-Ear Headphones Wireless Bluetooth Earphones with Active Noise Cancellation, ENC, Fast Charging, Magnetic Earbuds, Microphone and Volume Controls
DUAL DRIVERS - One dynamic driver and a separate balanced armature with a...
ACTIVE NOISE CANCELLATION - 1MORE's self-schemed TiinLab A2 chip achieves...
ENVIRONMENTAL NOISE CANCELLATION - The cutting-edge Environmental Noise...
WIRED AND WIRELESS LISTENING - Enjoy a meticulous wireless listening experience...
ERGONOMIC NECKBAND - A soft and comfortable neckband with silicone cover...
1MORE doesn't miss a beat, and even this ANC convinced me a lot. There are 2 Levels of Active Noise Cancellation: the hybrid ANC technology with 4 microphones with active noise cancellation achieves a precise and total noise reduction of up to 35 dB. Thanks to the (WNR) mode, an excellent microphone and Wind Noise Resistance efficiently suppresses microphones caused by the wind for an immersive listening experience.
Dual-driver hybrid design with balanced armor, 20 hours of battery life with a whopping 3 hours of battery life in just 10 minutes of charging.
Apple AirPods Pro
24%
Apple AirPods Pro
Active noise cancellation for immersive sound
Transparency mode for hearing and connecting with the world around you
Three sizes of soft, tapered silicone tips for a customizable fit
Sweat and water resistant
Adaptive EQ automatically tunes music to the shape of your ear
The only model of Apple headphones that supports noise cancellation is the AirPods Pro. To be fair in our selection, the AirPods Pro is not the best noise-canceling in-ears, but they are still an absolute joy to own and use.
In addition to noise cancellation, Apple has introduced " transparency " and a step forward in sound quality. It doesn't mean that the AirPods Pro doesn't work well, for heaven's sake, but if we talk about comparisons in terms of noise cancellation, compared to the models mentioned above, they are a step lower.
Bose QuietComfort 35 II
14%
Bose QuietComfort 35 II Wireless Bluetooth Headphones, Noise-Cancelling, with Alexa Voice Control - Black
Three levels of world-class noise cancellation for better listening experience...
Alexa-enabled for voice access to music, information, and more
Noise-rejecting dual-microphone system for clear sound and voice pick-up
Balanced audio performance at any volume
Hassle-free Bluetooth pairing, personalized settings, access to future updates,...
We think the QuietComfort 35 II model is the most glamorous Bose model. The noise cancellation is so good, and the headphones sound natural and satisfying. They are also comfortable to wear and store in an ultra-thin travel case.
They can connect to any smartphone or tablet via Bluetooth or an entertainment system with the included cable. But for some listeners, the powerful noise cancellation can cause an unpleasant sensation often referred to as " eardrum sucking. "
SONY WH-1000XM3
SONY WH-1000XM3 Wireless Noise canceling Stereo Headset(International Version/Seller Warrant) (Black)
Smart listening by sense engine
Quick attention mode for effortless conversations without taking your headphones...
In the box WH1000XM3 / Carry Case / Charging Cable USB-C / Audio Cable for Wired...
Industry-leading noise canceling brings only music nothing else. Volume Control...
Premium sound quality from 40mm liquid crystal polymer drivers
Many people love this model from Sony for its excellent ANC (noise cancellation) and great feel. And they are right! Also packed with features, the Sony WH-1000XM3 offers a huge increase in sound quality over traditional Bluetooth headphones in this price range.
Commuters will appreciate the excellent noise cancellation offered by these headphones, the best on the market, and we have decided to reward them because they are a product " for everyone, "i.e., suitable for both enthusiasts and " occasional listeners. "
Compared to the previous WH-1000XM2 model, the ear cups are deeper, the design more modern, the USB-C connector has been added. It is also configurable and controllable via a convenient app that you can install on your smartphone.
Sony WF-1000XM3
36%
Sony WF-1000XM3 Industry Leading Noise Canceling Truly Wireless Earbuds Headset/Headphones with AlexaVoice Control And Mic For Phone Call, Black
Digital noise canceling: Industry leading anc lends a personalized, virtually...
24bit Audio signal processing delivers dramatically improved sound quality
Battery life up to 24 hours with carrying case (with 10min quick charge for...
Easy and clear hands free calling; Leave your phone where it is, just speak with...
Truly wireless design with uninterrupted L/R simultaneous Bluetooth transmission
If you don't want over-ear headphones, then here is the right product for you. The sound quality of these true wireless noise-canceling earbuds is excellent, and perhaps the only drawback they have is their price (for true enthusiasts).
However, as is often said, the quality is paid for, and in this case, if you choose the Sony WF-1000XM3, you will certainly not have wasted your money. Maybe an extra effort could have been made regarding water-resistant support, but we're really nit-picking.
Bose QuietComfort Noise Cancelling Earbuds
Bose QuietComfort Noise Cancelling Earbuds - True Wireless Earphones, Triple Black, the World's Most Effective Noise Cancelling Earbuds
Noise cancelling earbuds – Engineered with the world's most effective...
High-fidelity audio – An exclusive acoustic architecture brings your music,...
Comfortable wireless earbuds – Three sizes of StayHear Max eartips are...
Simple touch controls – It's as easy as tap, swipe, or press. Control your...
Noise-rejecting microphones – Tiny microphones work together to focus on...
The QuietComfort line returns but in smaller dimensions. Yes, because these QuietComfort Earbuds are exactly what their name describes, earphones – true wireless, of course – and not classic over-ear headphones.
The main feature that all headphones belonging to the QuietComfort series have in common is noise cancellation, and even these Earbuds do nothing different, bringing a real top-of-the-range ANC in pocket format.
In addition to having a crazy sound quality, the Transparency mode is also useful for listening to all the environmental noises that surround us when we walk on the street, and the 4 beamforming microphones on the earphones will give their best even during calls.
They are equipped with Bluetooth 5.1 for connectivity and have a companion app from which every aspect of the sound profile (and much more) can be managed, and there is also wireless charging on the case.
All of which makes these QuietComfort Earbuds a pair of the best true wireless headphones, but they're also great noise-canceling headphones.
Bose Noise Cancelling Headphones 700
25%
Bose Noise Cancelling Headphones 700 — Over Ear, Wireless Bluetooth Headphones with Built-In Microphone for Clear Calls & Alexa Voice Control, Black
Powerful noise cancelling headphones: 11 levels of active noise cancelling let...
Astonishing sound: Crisp, clear details. Deep, full bass. These wireless...
Unrivaled voice pickup: A revolutionary microphone system adapts to noisy and...
Keep your head up and hands free: With easy access to voice assistants like...
Premium design and comfort: With a lightweight stainless steel headband and...
In the Olympus of wireless headphones, Bose always has a special place. The new top-of-the-range proposal from the US house is embodied in these space Headphones 700.
With one of the best audio outputs on the market, Bose-style, and incredible noise cancellation technology, there is nothing that you cannot like this model, price aside, of course. Most striking is perhaps the design, very clean and almost futuristic, which characterizes them and makes them a beautiful product both to look at and use.
Sony WH-1000XM4
15%
Sony WH-1000XM4 Wireless Industry Leading Noise Canceling Overhead Headphones with Mic for Phone-Call and Alexa Voice Control, Black
Industry-leading noise canceling with Dual Noise Sensor technology
Next-level music with Edge-AI, co-developed with Sony Music Studios Tokyo
Up to 30-hour battery life with quick charging (10 min charge for 5 hours of...
Touch Sensor controls to pause play skip tracks, control volume, activate your...
Speak-to-chat technology automatically reduces volume during conversations
We conclude this guide with the top of the top. This 1000XM4s from Sony are the queens in the consumer market regarding noise cancellation thanks to the highly refined dedicated QN1 chip. They are no less in terms of sound quality thanks to advanced Bluetooth codecs and the new DSEE Extreme technology to optimize compressed music files. While they are very similar, if not quite the same in aesthetics, to their previous iteration, the WH-1000XM3, the features have increased.
This new model introduces the simultaneous connection to two devices at the same time (finally!), A proximity sensor for automatic play/pause of music and the Speak To Chat will pause the music and activate the Transparency mode if it detects that the wearer has started talking to someone.
---
Who should buy noise-canceling headphones?
Noise Canceling Headphones are designed to reduce high-pitched hums and ambient noise, which you will encounter in an airplane cabin and, to a lesser extent, on buses and trains (and possibly boats as well). They can also reduce the sounds of some machinery, such as noisy air conditioners.
A decent set of Active Noise Canceling (ANC) headphones can make air travel much more enjoyable because it allows you to enjoy movies, music, and in-flight entertainment clearly without having to crank the volume up.
You can use these headphones even when you are not listening to anything to make the noise around you less annoying; some people use noise-canceling headphones to help them fall asleep on long flights.
Noise-canceling headphones work by using microphones to capture noise around you and then feed an opposite (or phase-inverted) version of that sound into the tiny speakers (or drivers) built into the headphones. The result is that they eliminate outside noise to some extent.
The technology never works perfectly, but it can work well enough in certain environments to make listening more enjoyable. These products combine " active " cancellation with passive noise cancellation, physical barriers, and shock absorbers built into the headphones that help block or absorb noise.
It is a popular misconception that ANC headphones cancel all noise equally. They don't. Most do little to reduce external noise at frequencies above about 1 kHz. Although active noise cancellation can only cancel part of the human voice (and, sadly, almost none of the noise of a crying baby), passive noise reduction can help reduce the level of those high-frequency sounds. Contrary to what some audio companies claim, passive noise reduction doesn't reduce sounds below 1 kHz.
We know that the choice between in-ear and over-ear headphones is personal, so we've included various models of noise-canceling headphones or earbuds. The earbuds are more compact and easier to carry and can work just as well and cancel out noise, as do the over-ear and on-ear models. The downside of earphones is that you will have to wear them in the ear's ear canals, and some people experience discomfort.
The aspects to be taken into consideration in the purchase choice.
The four main factors to consider in a set of noise-canceling headphones are:
Effectiveness of noise cancellation
Sound quality
Battery life (in wireless models)
General comfort
This guide is updated monthly. Also, thanks to our tests carried out on multiple headphones or earphones. While many prefer wired models, in this guide, we preferred to mention those with Bluetooth wireless technology, which is now available at very affordable prices.
However, many wireless headphones also support a wired connection, which is important if you want to connect to an in-flight entertainment system or if you want to conserve battery life.
We don't set lower or higher price limits because this guide covers the full range of noise-canceling headphones models.
Why does noise cancellation cause headaches in some people?
More noise cancellation doesn't necessarily lead to a better experience, and some people seem to suffer. This change in the way we listen is due in part to a phenomenon called " eardrum sucking, "named because it appears to produce the same uncomfortable reduction in pressure on the eardrums that one would experience when stepping off a high-speed elevator in a very high, or when taking off by plane. And this feeling can lead to headaches.
Typically, the more effective the noise-canceling circuitry in a pair of headphones, the more eardrum suck is produced. The extraordinary sales of quality noise-canceling headphones show that this phenomenon does not bother many people anyway. The annoyance only happens when the noise cancellation is ultra-powerful or wrong because they hurt our ears too much.
Fortunately, you don't need extreme levels of noise cancellation to have a pleasant experience. Our tests found that about 10 decibels of average noise reduction in the "aircraft cabin band" between 100 and 1,200 Hz are sufficient to allow music to be heard at a comfortable level. More noise cancellation is welcome, but it may be less important than a nice design, better sound, useful features, or an affordable price.
---
The best-selling models on Amazon
Before leaving you to our selection and knowing the models preferred and chosen by us, here is an always updated ranking of the 10 best-selling noise-canceling headphones models on Amazon.
Be Careful! The fact that they are the best-sellers does not mean that they are the best to buy for your needs!
#
Preview
Product
Rating
Price
1
Anker Soundcore Life Q20 Hybrid Active Noise Cancelling Headphones, Wireless Over Ear Bluetooth...

23,722 Reviews

$49.99

CHECK DEAL
2
Bose QuietComfort 35 II Wireless Bluetooth Headphones, Noise-Cancelling, with Alexa Voice Control -...

49,413 Reviews

$349.00

$299.00

CHECK DEAL
3
COWIN E7 Active Noise Cancelling Headphones Bluetooth Headphones with Microphone Deep Bass Wireless...

$59.99

$49.99

CHECK DEAL
4
Active Noise Cancelling Headphones VANKYO C750 Wireless Bluetooth Headphones Over Ear Headset with...

$69.98

$49.99

CHECK DEAL
5
Beats Studio3 Wireless Noise Cancelling Over-Ear Headphones - Apple W1 Headphone Chip, Class 1...

2,048 Reviews

$349.95

$199.00

CHECK DEAL
6
Active Noise Cancelling Headphones, HROEENOI JZ02 Bluetooth Headphones, Over Ear Wireless...

$39.99

CHECK DEAL
7
Soundcore by Anker Life Q30 Hybrid Active Noise Cancelling Headphones with Multiple Modes, Hi-Res...

5,659 Reviews

$79.99

CHECK DEAL
8
Active Noise Cancelling Stereo Headphones Bluetooth 5.0,Srhythm NC25 (Upgrated 2020) ANC Headset...

$59.99

CHECK DEAL
9
Pink Noise Cancelling Headphones, 45Hrs Playtime Wireless 5.0 Headphones Over Ear with Microphone,...

1 Reviews

$39.99

CHECK DEAL
10
9S Bluetooth Headphones Over-Ear, CVC 6.0 Noise Cancelling Wireless Headphones with Mic, 60 Hrs...

$17.99

CHECK DEAL
Product prices and availability are subject to change. Any price and availablility information displayed on Amazon at the time of purchase will apply to the purchase of any products.