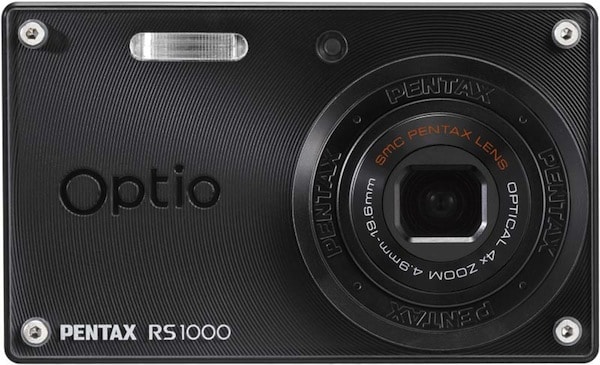 The Pentax Optio RS1000 is a compact camera with a unique feature: it offers a unique opportunity to customize the design, which allows anyone to create a truly unique and original camera. All thanks to the possibility to change the look of the front RS1000 through the replacement of the skin (3 included in the package).
In addition to the aesthetic side, we find the characteristics of absolute quality, as 4X optical zoom and 14-mega pixel CCD sensor, as well as various software enhancements implemented to make the pictures as sharp as possible.
Pentax Optio RS1000: Design
Simply insert a skin between Pentax Optio RS1000's body and the faceplate clear acrylic removable from easily change the appearance of the camera and make it truly unique.
Pentax Optio RS1000: Features and Functionality
The Pentax Optio RS1000 is one of the first compacts highly customizable by replacing the front skin. The design is quite classic and conservative, in line with most Pentax, but despite the line encloses the technical features very good at a reasonable price.
The camera is capable of taking pictures in high-quality thanks to the 14 megapixel CCD sensor and its wide-angle 4x optical zoom equivalent to 27.5-110mm lens which then provides coverage from a wide angle to telephoto. For viewing pictures is a 3-inch LCD display to 230,000 points. In addition to the creation of the photographs, you can make movies in various qualities: HDTV with a resolution of 1280×720 pixels (speed 15/30 fps), VGA with a resolution of 640×480 pixels (speed 30/15 fps) QVGA with a resolution of 320×240 pixels (speed 30/15 fps).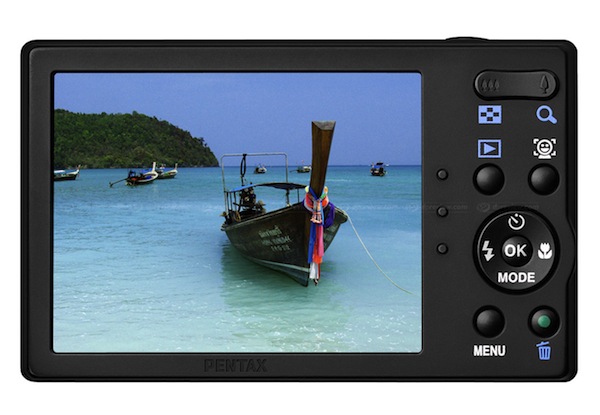 To facilitate the automatic focusing device, Pentax has implemented an auto focus TTL contrast detection system with the following features: 3-zone auto focus, spot auto focus, automatic tracking AF (anticipating moving subject) as well as three types of camps set up automatic kelp, namely Normal, Macro and Super Macro.
Very interesting Super Macro option that ranges from a minimum to a maximum of 8cm to 25cm focal length of 5.8 mm. Perhaps one of the less good is the camera's display screen that has a good size (3 " diagonal 7.62 cm) but very poor resolution (230,000 pixels).
The display allows playback of images and videos, including which are in addition to playback of images and video, various option: image rotation, face filtered small, natural complexion, digital filter, adding frame, direct editing movies, red-eye compensation, resizing, trimming, protection, image copy, DPOF (Digital Print Order Format), start-up screen and enlarged reproduction of the face.
As for the digital filters, the RS1000 is quite advanced, implementing 10 types of filters such as black / white, toy camera, retro, colors, soft, star effect, fish-eye and brightness. Turning to the more purely photographic features, let's talk about shutter, exposure and flash.
The Pentax Optio RS1000 is equipped with a programmed electronic shutter with automatic exposure times ranging from 1/2000 to 1/4 of a second, and for night scenes, a maximum time of 4 seconds. The meter has a multi-zone TTL metering with reading and various exposure modes: auto picture, program, natural skin tone, night scene portrait, night scene, movie, landscape, blue, sky, sunset, flower, sports, digital SR, kids, pet, portrait, food, candlelight and surfing .
The modes are three: so flash on, flash off mode and red-eye reduction. The usable range is both wide-angle (about 0.15 to 4.8 mm – ISO Auto) and telephoto (about 0.4 m – 2.6 m – ISO Auto). To complete the work, the RS1000 allows various ways to the exposure (single shot, self-timer, continuous shooting, burst and multiple burst) in addition to the presence of face recognition and smile capture. The white balance is very complete since it is both automatic and manual, as well as for balancing daylight, shade, tungsten and fluorescent.
Last, but not least, the strength of the Optio RS1000 is the next-generation Auto Picture mode that automatically selects the most appropriate shooting mode and automatically optimizes settings to ensure the various photographs of high sharpness. The Pentax Optio RS1000 is compact in size and in price, but " great " in the specifications.
Conclusion
The Pentax Optio RS1000 is a compact design with a classic yet innovative with the ability to change the skin to your liking so quick and easy. Of course, in addition to the more aesthetic side of the RS1000 is a high concentration of technology that allows the creation of good quality photographs thanks to the use of digital filters.
Where to Buy Pentax Optio RS1000
---

---
PROS : Optical Zoom, Price content, Face Recognition, Digital filters, interchangeable skins.
CONS :
Internal memory; LCD resolution; Battery Pack Li-Ion.
Product prices and availability are subject to change. Any price and availablility information displayed on Amazon at the time of purchase will apply to the purchase of any products.