Phones
Nokia Lumia 925 – Review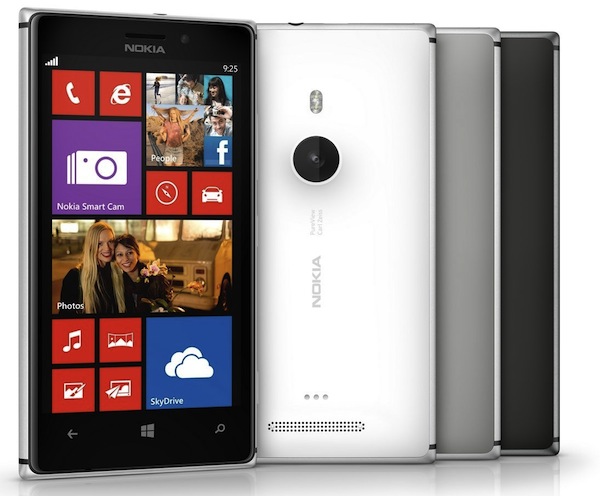 The Nokia Lumia 925 smartphone is a top of the range features a stunning design, with aluminum frame and polycarbonate body, and a first-rate photographic industry, with an 8.7 megapixel camera with PureView technology, optical Carl Zeiss lens, dual LED flash, Full HD movies and many other advanced features. It also has Windows Phone 8 operating system, processor, dual-core Snapdragon 1.5 GHz, 4.5-inch AMOLED touchscreen display with HD resolution and Corning Gorilla Glass 2 Bluetooth technology, Wi-Fi connectivity, NFC module, support LTE network, internal memory of 16 GB non-expandable, GPS, and front camera.
Nokia Lumia 925: Design
The Nokia Lumia 925 is a smartphone from the sleek and stylish, with a unibody made of durable materials and metal inserts. It has an AMOLED capacitive touchscreen display of 4.5 inches with a resolution of 1,280 x 768 pixels and scratch-resistant Corning Gorilla Glass 2 and wide viewing angle. As for size, measuring 129 mm in height, 70.6 mm width and 8.5 mm thickness. The weight is 139 grams.
Nokia Lumia 925: Features and Functionality
The Nokia Lumia 925 is a smartphone from the medium-high range presented by the manufacturer last year, just in the month of May. It looks quite similar to its predecessor, the Nokia Lumia 920, especially for square shapes, although the design is nice, but in terms of specifications and features with few improvements, although it is a great phone.
Focusing on the technical details, the Lumia 925 is a smartphone that supports 3G UMTS and 4G LTE, ensuring maximum browsing speed and data transfer on the Internet available at the moment. It is based on the Qualcomm Snapdragon S4 dual processor, 1 GB of RAM and operating system Windows Phone 8. In addition, it is equipped with a Web browser, Internet Explorer, Wi-Fi connectivity, browsing for free by connecting to a nearby hotspot, USB port and Bluetooth's technology, in order to exchange data with other devices.
Speaking about the features and strengths of the Nokia Lumia 925, you cannot start from the photo department, which sees the presence of a PureView camera from 8.7 megapixels of resolution and with Zarl Zeiss optics, 4x digital zoom, flash Dual LED, face detection, geotagging, Full HD movies and lots of other features. Also notable application's Nokia Smart Cam, that allows you to take a sequence of photos and finally choose the one you prefer, or Nokia Cam Pro, download it from the store, which allows you to adjust settings such as on a professional camera.
Not missing, finally, the front camera, thanks to which you can make video calls. Another point in favor of this smartphone is definitely the design, thanks to a body made of very durable materials and with metal inserts, which give it a very elegant look. Also good ergonomics seen that, despite the size is not too compact, you can safely use your phone with only one hand, but the grip is not bad.
Always remaining in the design, deserves to be mentioned also the display of the Nokia Lumia 925, a 4.5-inch AMOLED touchscreen with a resolution of HD+ technology features Puremotoion HD, scratch-resistant Corning Gorilla Glass 2 and wide viewing angle. Among other things, you can use it easily even with gloves and fingernails. There are, of course, the accelerometer, gyroscope, ambient light sensor, proximity sensor and magnetometer.
As for the rest of the features, it is a Windows Phone clearly presents all the various applications and features of this operating system, such as Internet Explorer or and various customizable tiles on the home. From special store, you can also download a variety of applications, although it must be said that it still manages to hold its own against the Android or Apple. Do not miss the Office suite and then on the mobile version, which lets you receive, edit, and create documents in popular formats. The smartphone has, in addition, media player, stereo FM radio with RDS, GPS and NFC. Interesting the possibility of wireless charging, even if a cover is purchased separately.
To finish, the Nokia Lumia 925 includes an internal memory of 16 GB, unfortunately not expandable, and a rechargeable lithium-ion battery 2000 mAh capable of providing a maximum range of 432 hours standby time, 18.3 hours in conversation, 55 hours of music playback, 6.6 hours of video playback, 6 hours of browsing on the cellular network and 7.2 hours of browsing with Wi-Fi network. The package purchase, finally, includes the microUSB charger, stereo headset, charging cable connection and Nokia, the user manual and a staple for the extraction of the microSIM.
Conclusion
The Nokia Lumia 925 is a smartphone with good quality but not particularly new compared to the previous model. Interesting especially the photographic industry, thanks to a range of photographic applications, the quality of the display, even if it is a Full HD, the area of ​​connectivity and also the combination of operating system and processor that ensures a smoother experience, while it is a simple dual-core.
Where to Buy Nokia Lumia 925
---

---

---
PROS : Corning Gorilla Glass 2, Quality front camera, Carl Zeiss optics, Quality and size display, LTE support, NFC module, Advanced Photo Functions, PureView Technology, Internal Memory.
CONS :
A few improvements over the previous model, Reload wireless only with accessory cover, Nokia Store is not very large, high resolution display, Memory is not expandable.
Product prices and availability are subject to change. Any price and availablility information displayed on Amazon at the time of purchase will apply to the purchase of any products.