Phones
Nokia Lumia 1320 – Review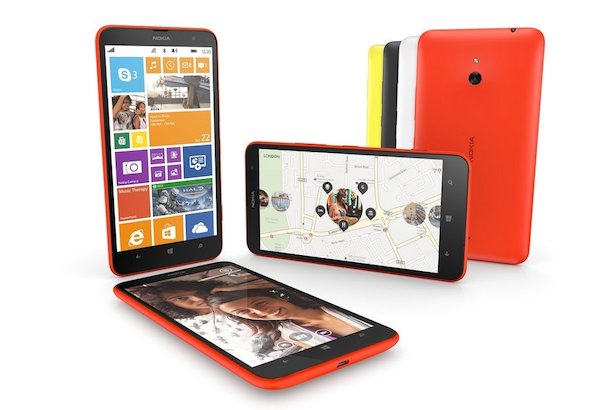 Nokia Lumia 1320 is a phablet not particularly high-performance processor-based dual-core Qualcomm S4 Snapdgraon 1.7 GHz, operating system, Windows Phone 8 and a 1 GB RAM. It also presents a 6-inch touchscreen display with 1280×720 pixels resolution and Corning Gorilla glass, a rear 5-megapixel camera with LED flash and Full HD movies, a VGA front camera, 8 GB of internal memory expandable with microSD up to 64 GB, the Bluetooth technology, Wi-Fi, support for LTE network, the GSP, radio, and a 3,400 mAh battery.
Nokia Lumia 1320: Design
The Nokia Lumia 1320 is a phablet mid-range features an attractive design, with Unibody polycarbonate casing and slightly porous. It is best known for the grandeur of its capacitive touchscreen display, 6 inch, which has a resolution of 1280 x 720 pixel IPS panel, scratch-resistant glass Gorilla Glass 3 and possibility to use even with gloves and fingernails. The dimensions are considerable, 164.2 mm in height, 85.9 mm width and 9.8 mm thickness, and the weight is less than 220 grams.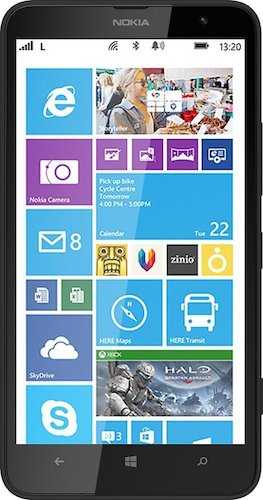 Nokia Lumia 1320: Features and Functionality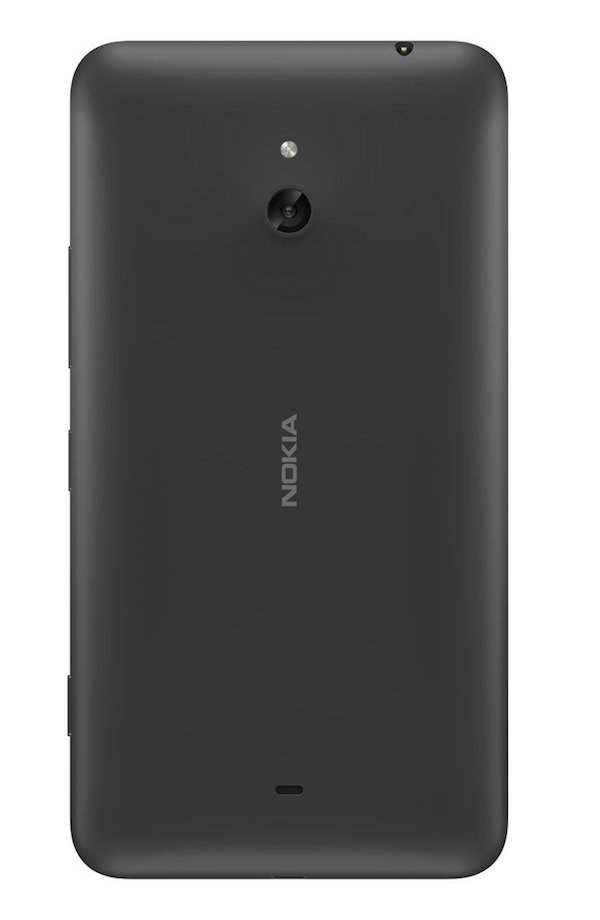 Presented in October, along with another model with very similar dimensions, the Nokia Lumia 1320 is one of the smartphone, or phablet most-recent recent producer, which has only recently begun to focus on a large screen. Compared to his brother Nokia Lumia 1520 offers a far less technical performance in several respects, most notably the resolution of the display and the type and resolution of the camera.
Starting the review by the technical specifications, the Nokia Lumia 1320 is a phone that supports both traditional UMTS networks that LTE 4G, ensuring that the Internet browsing and data transfer on the web at high speed, in the order of 100 Mbps in download and 50 mbps upload. The phablet is provided then the browser Internet Explorer 10, the Wi-Fi connectivity, USB port and Bluetooth 4.0 technology. Finally, it is based on the processor Qualcomm Snapdragon S4 dual-core 1.7 GHz, 1 GB of RAM and operating system Windows Phone 8 with the interface Lumia Black.
Now analyzing in detail the most important features of the Nokia Lumia 1320, you can not notice the large integrated display, 6-inch diagonal and characterized IPS panel, glass, Corning Gorilla Glass scratch-resistant 3 and the ability to be used even with nails and with gloves, but too bad for the only HD resolution, a little low for a screen of this size.
There are ambient light sensor, accelerometer, proximity sensor to automatically turn off the screen during calls and magnetometer. As for design, the phone has a Unibody polycarbonate porous coating and pleasant to the touch. Turning to the field of photography, this Lumia is equipped with a 5 megapixel main camera with f/2.4 aperture, focal length of 28 mm, LED flash, 4x digital zoom and video footage in Full HD.
Interesting are the dedicated applications such as Photo Effect Cinema, Studio and Creative Storyteller, which organizes your photos by date and location and saves them on the map HERE. The Nokia Camera app is not pre-installed but can be downloaded from the store and allows you to take great photos and get quick access to sharing features and changes. There is the front camera with VGA resolution for making video calls and self-portraits.
The Nokia Lumia 1320 is also equipped with a media player that supports audio and video files in many formats, a stereo FM radio with RDS, 3.5mm audio jack and built-in GPS with Maps HERE, which allows to discover shops, restaurants and attractive surroundings. Finally, with regard to the storage capacity, the smartphone has an internal memory of 8 GB, expandable further with microSD cards up to 64 GB.
The business sector includes. The Microsoft Office suite that allows you to safely handle any type of document, such as on a regular computer, Microsoft Exchange, Office 365 and Lync. As regards, then, the autonomy, the integrated lithium battery 3,400 mAh provide up to 28 days in standby; 25 hours talk time, 98-hour music playback, 9 hours of video playback and 11.5 hours in browsing the Internet via Wi-Fi network.
Finally, the package purchase of phablet includes charger with micro-USB port, a charging cable and a USB connection / micro / USB, stereo headset classic and user manual.
Conclusion
The Nokia Lumia 1320 is one of the first attempts by Nokia to go into the field of phablet, along with the Lumia in 1520, but while the latter offers a very technical performance, the Lumia does not do so in 1320 offering a medium quality hardware, perhaps not enough to push a phone of this size. Even the display, although of good quality, is only HD, which is another minus. On the plus side stands instead LTE support, the high autonomy, the new operating system. Not exciting either the photographic industry.
Where to Buy Nokia Lumia 1320
---

---
PROS : Dual camera, NFC module, GPS, Wi-Fi and Bluetooth, Corning Gorilla Glass, Full HD movies, 4G LTE technology.
CONS :
Display resolution is not adequate to greatness, Lack of RAM, Dual-Core Processor, No NFC module.