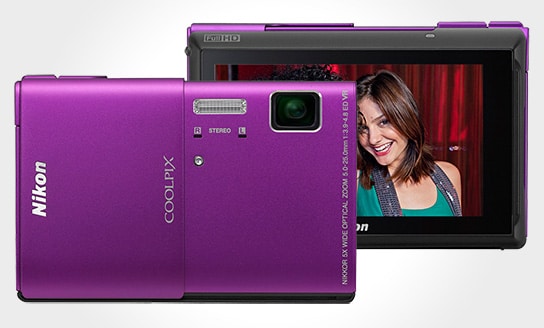 The Nikon COOLPIX S100 is an extremely stylish and powerful camera with a 16 megapixel sensor and multi-touch control, touch screen 3.5-inch OLED screen and also provides the possibility to create 3D images. The camera has a 5x wide optical zoom NIKKOR lens and anti-blur technology as well as providing the possibility of shooting in difficult lighting conditions such as night portrait. Extremely interesting is the Easy Panorama function that allows you to easily expand the potential wide-angle allowing the user to take pictures at 360° and 180°.
Nikon COOLPIX S100: Design
The new Nikon COOLPIX S100 is one of the new compact cameras Nikone and has a very sleek design and refined. The camera body is extremely thin (18.1 mm) and features a large touch screen display OLED 8.8 cm (resolution of 819000 points) on the back to the machine. In addition to the distinct elegance and a small footprint, what stands out the most from the car, at first glance, is the beautiful OLED display in the back which definitely gives it a technologically advanced, even and especially in design.
Nikon COOLPIX S100: Features and Functionality
The all-new Nikon COOLPIX S100 is a beautiful compact camera of Nikon with a touch screen display OLED exceptional from 8.8 cm and a resolution of 819,000 points. Thanks to Nikon's Clear Color Display technology, the reflections will be reduced almost completely, and then it will be possible optimal viewing even under conditions of intense sunlight; excellent display protection for the glass that will not scratch the display itself.
The muli-touch commands available are very comfortable and provide a very simple and intuitive operation, such as the ability to set the focus through a simple touch on the screen. If you use a two-finger touch will be simultaneously can enlarge or reduce a subject and quickly scroll through the images and videos in playback.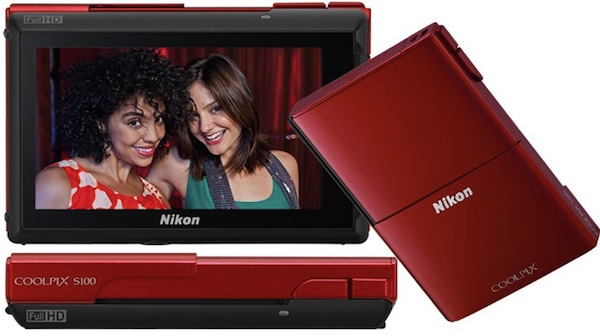 The camera also allows you to take 3D pictures thanks to the machine's ability to combine two images captured at different locations to create a single 3D image. The CMOS image sensor with backlight 16 MP is top notch and dramatically improves the sensitivity of the sensor and provides superior performance in any light condition. The wide-angle 5x zoom NIKKOR lens offers excellent precision and sharp resolution thanks to the presence of the anti-blur technology Hybrid VR (Vibration Reduction lens-shift and electronic).
The camera's ISO is high and reach up to ISO 3200 and thanks to the Best Shot Selector (BSS) automatically we can select the sharpest in ten sequential shots. The Nikon COOLPIX S100 has dedicated lighting modes that allow you to achieve superior results from any type of lighting, even without the aid of a device tripod: It Backlight scene mode with Auto HDR delivers excellent color detail in any lighting situation.
Night Portrait mode allows you to capture the night scenes very good and also nocturnal landscapes with low ISO sensitivity. With this device, we also realize Full HD movies (1080p) with stereo sound also using optical zoom and autofocus during recording.
Conclusion
The Nikon COOLPIX S100 is a new compact camera, but at the highest level, thanks to the beautiful OLED display large. The features are of the first order as well as the latest generation back-illuminated sensor that allows you to create excellent photographs in any lighting conditions, blur-free thanks to its double anti-vibration system Nikon's VR. The camera also allows you to create 3D images and Full HD movies at 1080p, aspects that make it complete in all respects.
Where to Buy Nikon COOLPIX S100
---

---
PROS : OLED touchscreen display, 8.8 cm; multi-touch controls, 3D shooting mode; 5x NIKKOR wide-angle zoom lens, high ISO.
CONS :
Battery Pack.
Product prices and availability are subject to change. Any price and availablility information displayed on Amazon at the time of purchase will apply to the purchase of any products.