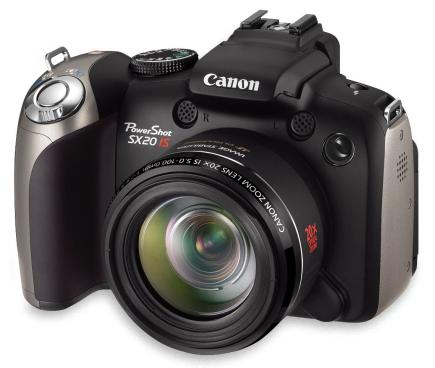 The Canon PowerShot SX20 IS is a compact digital camera but with a large handle for easy grip, heir to the Canon Powershot SX10 Is Its most interesting features 20x optical zoom, definitely above average, and the resolution of 12.1 megapixels.
As for the rest, it is equipped with Pure Color LCD swivel 2.5-inch with a resolution of 230,000 pixels, 235,000 pixel EVF, DIGIC 4 engine, advanced Face Detection technology, recording HD movies, HDMI output, support flash outdoor motion detection system and slot for memory cards Secure Digital, SDHC, MMXC Plus and HC MMCPlus.
Canon PowerShot SX20 IS: Design
Robust but still compact the size, the bridge Canon PowerShot SX20 IS features, such as visual characteristic, the swivel LCD display, 2.5-inch with a resolution of 230,000 and an EVF with 235,000 pixels resolution. As for size, the camera measures 124 mm in width, 88.3 mm in height and 86.9 mm thick, while the net weight is about 560 grams.
Canon PowerShot SX20 IS: Features and Capabilities
The Canon PowerShot SX20 IS is a digital camera of type "bridge", ie a middle ground between the performance superfacili SLR and compact, presenting functionality equal to the first contained in a body of practical and handy, like the latter. Submitted by the producer last year, is the successor to the Canon Powershot SX10 IS, which retains most of the features.
Speaking precisely, technical specifications, this camera features a CCD image sensor, 1/2, 3 inches in size and with an effective resolution of 12.1 megapixels. It is, therefore, a very high resolution that allows you to get photos with a maximum resolution of 4000×3000 pixels. Moreover, given the high resolution, it is also possible to enlarge images without losing quality.
As the optics, the Canon PowerShot SX20 IS is equipped with a target composed of 13 elements in 11 groups which has a focal length of 5-100 mm, equivalent to 28-560 mm in the traditional format 35 mm, and an opening of up to F2.8-F5.7. As regards, secondly, the ability to shoot subjects in the distance, the SX20 IS has a 20x optical zoom and a digital zoom of 4x about.
This camera is perfect for capturing sweeping landscapes, sports, group portraits and nature photos. Moving on the features offered by this camera, should be highlighted Motion Detection technology that detects the movements of the machine by automatically optimizing ISO settings, and Face Detection. Face Select which detects faces in a shot by optimizing the settings, to get portraits perfect.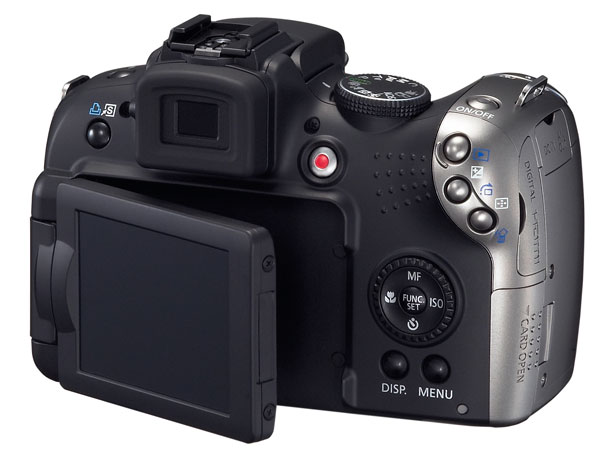 The Canon PowerShot SX20 IS is based, then, on the innovative DIGIC 4 processor, which ensures quick reaction times and a fabulous picture quality, and is equipped with i-Ccontrast, which optimizes the dynamic range according to the scene, preserving the details in shadows and preventing overexposure of highlights.
Other interesting features are the Smart Auto mode, which analyzes the brightness, contrast, distance, hue and movement of the subject, and Scene Detection Technology, which selects the scene type from a possible 22 and applies the best settings to get the best result. Finally, this camera can record HD video footage, and with a maximum resolution of 1280×720 pixels and up to 30 frames per second.
Although the Canon PowerShot SX20 IS is easily used by beginners, has a number of manual controls to give free rein to the imagination of the real photo enthusiasts who want to experiment with the settings maybe failures before moving to a SLR. The presence of a tilting screen allows, then, to carry shots unthinkable with a normal display.
The presence of the viewfinder testifies to the professional quality of this camera. Too bad, though, that support is missing in the RAW format. As for saving photos and videos, this is the slot for memory cards such as Secure Digital, SDHC, MMC, MMCplus and HC MMCPlus.
Finally, there is a mini HDMI port for connecting to peripheral devices of new generation. As for autonomy, the 4 included AA batteries provide up to 340 shots or 720 minutes of playback. The purchase package includes charger, lens hood, the lens cover, shoulder strap, USB cable, software and user manual.
Canon PowerShot SX20 IS – Conclusion
The Canon PowerShot SX20 IS digital camera is a kind of bridge for the enthusiast and beginners very interesting, especially for very high optical zoom and the swiveling display, although it must be said that it is very large and also the resolution is not high.
It has all the most important technologies for getting perfect picture and also the HDMI input. Too bad for the lack of support for the RAW format. As for alkaline batteries can be considered as a negative aspect must always be replaced and can not be recharged.
Where to Buy Canon PowerShot SX20 IS
---

---

---
PROS : Sensor resolution; OPTICAL ZOOM; Rotatable display, ergonomic handle.
CONS :
No support RAW format No lithium battery.
Product prices and availability are subject to change. Any price and availablility information displayed on Amazon at the time of purchase will apply to the purchase of any products.