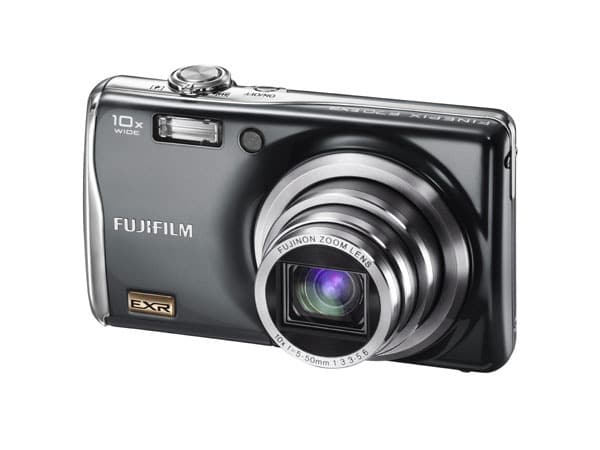 The Fujifilm FinePix F70EXR is a compact digital camera with a refined design and packed with features. First of all, the Super CCD EXR sensor, launched for the first time on the Fujifilm Finepix F200EXR, whose behavior can be changed depending on the scene.
Other interesting features of this camera are the Super intelligent flash, 2.7-inch LCD display with a resolution of 230,000 pixels and a viewing angle of 160 degrees, dual image stabilization, face detection, the film simulation mode, 10x wide optical zoom, sensitivity up to ISO 12,800, audio and video mode with range of up to 230 shots.
Fujifilm FinePix F70EXR: Design
The Fujifilm FinePix F70EXR is a compact special design, with transparent varnish that gives it a refined look. As for size, measuring 99 mm in width, 59 mm height and 23 mm in thickness, instead of the weight is 180 grams. It has, finally, a TFT display of 2.7 inches diagonally with a resolution of 230,000 pixels and a coverage of 100%.
Fujifilm FinePix F70EXR: Features and Functionality
The Fujifilm FinePix F70EXR is a compact digital camera of high quality submitted by the producer during july, 2012. Intuitive and easy to use, but also packed with features, its most interesting feature is the EXR sensor, which appeared for the first time on the Fujifilm FinePix S200EXR and destined to make a difference.
With regard to the technical data, this camera is equipped with an image sensor 1/2 inches in size and an effective resolution of 10 mega pixels. It is, therefore, a high enough resolution, even if it is the maximum considered today's standards. This sensor allows to take pictures with a maximum resolution of 3,616×2,712 pixels.
Other technical specifications of the Fujifilm FinePix F70EXR include a Fujinon lens that has a focal length of 5-50 and equivalent to 27-270 mm in 35 mm and a maximum aperture of f5.6-f.3.3. Very interesting optical zoom mounted on this camera, well-10x, which allows you to capture people in the far distance.
In the optical zoom is added, then, a 4x digital zoom, for a total capacity of 40 magnifications. Before going to analyze the features of this camera, it is worth dwelling on real innovation, that is, the EXR sensor, on which the producer Fujifilm relies heavily. It is a new technology that allows the user to change the behavior of the sensor according to the scene to be shot.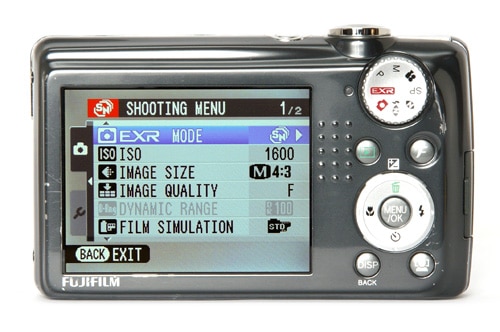 For example, in situations with high lights, you can set the high resolution that can pick up even the smallest details, when they are present in the scene, high color contrasts, you can use the Extended Dynamic Range mode, for a better balance between high lights and shadows, finally, in low light mode is available High Sensitivity and Low Light, to ensure a perfect picture.
Among the functions offered by Fujifilm FinePix F70EXR, instead, is to be mentioned, for example, the double image stabilization, which counteracts the movement of the machine, due to unsteady hand or to subjects in movements, ensuring photo always sharp and vastly reducing the possibility of camera shake.
Very interesting are also two special technologies, which give the user more creativity than traditional compact. The first is called Pro focus and allows the user to merge two or three shots, keeping the subject in focus and the background blurred leaving other objects.
The second is the Pro Low-Light, which fixes the problems of noise 're shooting in low light. The Fujifilm FinePix F70EXR is fitted, then, the new Super Intelligent Flash, which adjusts the level of flash for correct exposure and to give a perfect balance for both the subjects in the foreground for the background, and 5 Film Simulation mode that allow photographers to express their creativity through a series of preset modes for color and contrast.
Finally, there also face detection technology that can recognize up to 10 faces in a shot and adjusts accordingly the focus and exposure, sensitivity up to ISO 12800 and continuous shooting at high speed. Finally, with this camera, you can create video clips with a maximum resolution of 640×480 pixels, so not in high definition.
As regards, the ability to store photos and videos, the camera has an internal memory of 47 MB, expandable via Secure Digital or SDHC. The package purchase, finally, includes a rechargeable lithium-ion battery, battery charger, a USB cable, a wrist strap and user manual.
Conclusion
Compact and stylish, the Fujifilm FinePix F70EXR is an interesting camera for the first sensor with EXR technology, explained in detail above, then the optical zoom and high for the simulation mode of the film. It has, then, many other features that make it, particularly attractive, even for professional photographers. If he had a larger display and HD video would have a vote even greater.
Where to Buy Fujifilm FinePix F70EXR
---

---

---
PROS : Optical Zoom, Dual Image Stabilization, Sensor Type, Face Detection, Film Simulation Mode.
CONS :
Display is not particularly large.
Product prices and availability are subject to change. Any price and availablility information displayed on Amazon at the time of purchase will apply to the purchase of any products.