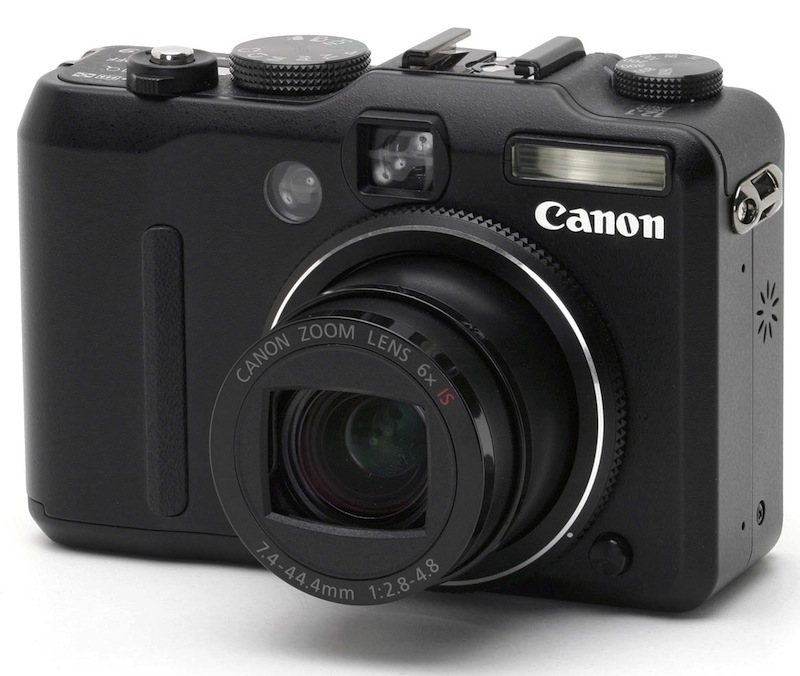 Here come the update of the Canon Powershot G7 is the Canon PowerShot G9, with CCD sensor 1/1, 7 inch, a 3-inch PureColor LCD screen and a resolution of 12.1 megapixels. It also has Face Detection Technology and Red Eye Reduction system and are certainly worthy of note are 25 scene modes, among which there is also a manual control of all dedicated to experts. Canon PowerShot G9 has a fabulous 6x optical zoom and a 4x digital zoom. The only downside perhaps, is the weight.
Canon PowerShot G9: Design
The Canon PowerShot G9 certainly does not notice for a hip design or catchy, but it has classic lines and sober, perhaps to emphasize that it is more important than the quality. To differentiate it from other compacts is also a comfortable grip that allows a firm grip. The display is large, well 3 inches diagonally and has a resolution of 230,000 pixels. The size, finally, is 106.4 mm in width, 71.9 mm in height e42, 5mm thick while the weight is 320 grams.
Canon PowerShot G9: Features and Functionality
The manufacturer Canon has launched 6 new models of compact cameras, including the Canon PowerShot G9, the heir of the now-legendary Canon PowerShot G1 and successor of the Canon Powershot G7. Compared to the latter does not include very many new, if not in the format of the image, which will be discussed later.
With regard more closely the technical specifications of this camera, one of the most interesting is certainly the CCD image sensor from well 12.1 megapixel resolution and 1/1, 7 inches in size, allowing you to capture fine detail for photos with a maximum resolution of 4000×2248 pixels and poster-size prints of exceptional quality.
ISAPS technology, which is equipped with the Canon PowerShot G9 uses shooting scene data to optimize camera settings before shooting. With regard to the objective, is branded Canon, consists of 9 elements in seven groups of which an aspherical lens element, has a focal length of 7.4 to 44.4 mm, equivalent to 35-210 mm in the traditional format 35 mm, and a maximum aperture of f2.8-f4.8.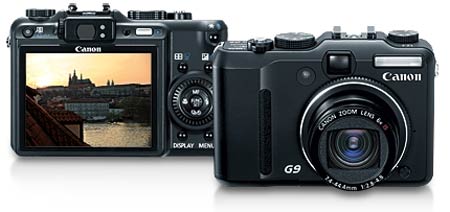 To shoot subjects, in the distance, the camera is equipped with an optical zoom of 6x far, far superior to the one mounted on most compact digital cameras. Optical zoom is also associated with a 4x digital zoom, which further enhances the possibilities within the field of close-ups.
Among the features of Canon PowerShot G9 the most important one is, without a doubt, the optical image stabilizer that compensates for the movement of the machine thanks to which even inexperienced users can get perfect photos and sharp images.
Another feature that differentiates it from another digital compact is the ability to record pictures in RAW mode, so as to capture the images in exactly the same way in which the sensor captures, without the need for compression or processing, thus it is able to process the images into your computer without losing quality.
The RAW Image Task software also offers total control over image settings and parameters for editing after shooting. Face Detection technology ensures superb people shots by automatically setting optimum focus, exposure and flash. This technology lets you choose your primary subject from up to 35 faces while the red-eye correction can make the natural appearance of the eyes.
It is very high then the range of sensitivity offered by the Canon PowerShot G9, 80 to 3200, in order to take pictures in low light without the flash and selectable by a special ring. Ben 25 are then shooting modes, including being able to choose to get that perfect shot every time. My Colors adds, finally, the special effects to your photos.
Finally, it is also a very good-quality video with sound reaching 1024×768 pixels resolution. To save photos and video is available from an internal memory of 32 MB, expandable via Secure Digital or MultiMediaCard. The rechargeable battery supplied provides a maximum of 240 shots on a single charge.
Conclusion
The Canon PowerShot G9 is a compact digital camera that is simplistic to define, because it differs significantly from other models that feature both size and weight. To highlight the sensor, among the highest in the category, 6x zoom, which is also above average, image stabilizer, face detection, the RAW format for images and 25 scene modes. With the compact shares the quality worse, that the lack of internal memory.
Where to Buy Canon PowerShot G9
---

---

---
Canon PowerShot G9 12.1MP Digital Camera with 6x Optical Image Stabilized Zoom
12.1-megapixel CCD captures enough detail for photo-quality poster-size prints
6x image-stabilized optical zoom; 3.0-inch LCD display; optical viewfinder
Face Detection technology and in-camera red-eye fix
25 shooting modes, including 9 special scene modes; Print/Share button
Powered by NB-2LH lithium-ion battery (battery and charger included); stores...
PROS : RAW; Image Stabilizer, Optical Zoom, Face Detection, Sensor.
CONS :
Internal Memory.
Product prices and availability are subject to change. Any price and availablility information displayed on Amazon at the time of purchase will apply to the purchase of any products.