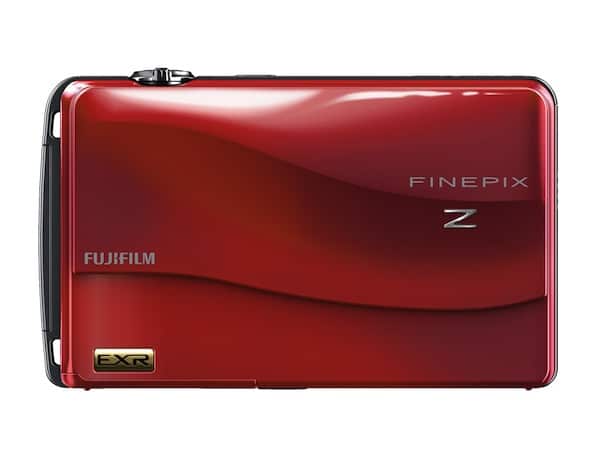 The Fujifilm FinePix Z700EXR is a compact digital camera Slim and chic, luxurious design with metal body and horizontal lens cover panel. The most interesting feature is the large touch screen display 3-inch diagonal and a resolution of 460,000 pixels.
Other important specifications include the Super CCD EXR sensor with 12 mega pixels, a Fujinon 5x optical zoom, dual image stabilization through motion sensor, video recording HD video, advanced face detection, with detection of the animals, easy loading on YouTube, a new menu more intuitive and automatic rotation function.
Fujifilm FinePix Z700EXR: Design
The Fujifilm FinePix Z700EXR is a compact camera equipped with made from a body completely in metal and of a panel of horizontal coverage for the goal. It presents an LCD display touch screen 3.5-inch, with a resolution of 460,000 pixels and a cover of 100%. Le dimensions, finally, are of 91.8 mm of a width, 59 mm of height and 20,3 mm of thickness. The weight is of 141 grams excluding batteries and card of memory.
Fujifilm FinePix Z700EXR: Features and Functionality
The Fujifilm FinePix Z700EXR is a digital camera presented by the manufacturer at the beginning of this year along with other models of this and other series, such as the Fujifilm Finepix F80EXR, which also presents the same type of sensor. It is a camera characterized, not only by specific techniques of relief, even by a very refined design and particularly, with a panel that covers the lens.
As for the technical specifications, the camera has an image sensor type Super CCD EXR 1/1, 2 inches in size and an effective resolution of 12 mega pixels. It is a kind of innovative sensor, which can increase the photographic level as its behavior changes depending on the shooting conditions. Thanks to it, you can take pictures with a maximum resolution of 4,000×3,000 pixels.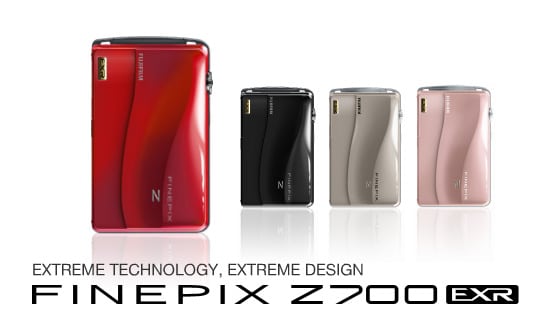 Continuing with the specifications, the Fujifilm FinePix Z700EXR is equipped with a Fujinon lens that has a focal length of 6.0-32 mm, equivalent to 35-175 mm on a traditional 35 mm and an aperture equal to F3.9-F4.7. As regards, the ability to shoot subjects, in the distance, this camera has a 5x optical zoom, and slightly above average, and a 4x digital zoom.
Once the technical data and starting the description of the features of this camera, you cannot start from the large 3.5-inch touch screen display and high resolution, which facilitate immediate navigation between the main functions. This display allows you to take pictures and record video with a simple touch.
Among other things, the Fujifilm FinePix Z700EXR is equipped with features such as Dual DIRECTIN GUI, which detects the camera's orientation and automatically rotates the position of the buttons in the menu, and Dual Image Display that splits the screen in various ways to display more images on a single screen, to quickly find the one we want.
Other functions offered by the camera include the Dual Image Stabilization, ie a dual image stabilization by a sensor shift that reduces the effect of camera shake and advanced face detection, which detects up to 8 faces in a frame and optimizes the focus and exposure. Among other things, the camera can detect even the animals, thanks to technology Dot / Cat Detection.
Finally, the Fujifilm FinePix Z700EXR has various scene modes to choose from, a sensitivity up to 3200 ISO, the search tool Image Search, to search for photos according to subjects, and the ability to record video in HD, then with a maximum resolution of 1280×720 pixels with mono sound. As for saving photos and videos, the camera is equipped with an internal memory media about 30 MB, so quite poor expandable via Secure Digital or SDHC card. The package purchase, finally, include the rechargeable battery, charger, USB cable, A / V cable, a carrying strap and the manual.
Conclusion
The Fujifilm FinePix Z700EXR is a compact digital camera with a stylish design and chic, with large touch screen display, and advanced features, such as the award-winning EXR sensor, motion HD video. Face detection recognizes that even the animals, the double system of image stabilization. Poor memory.
Where to Buy Fujifilm FinePix Z700EXR
---

---

---
27%
PROS : Wide touchscreen display and high-resolution Dual Image Stabilization, EXR sensor, Face Detection with tracking animals; Fast loading movies on YouTube.
CONS :
Amplitude Goal.
Product prices and availability are subject to change. Any price and availablility information displayed on Amazon at the time of purchase will apply to the purchase of any products.