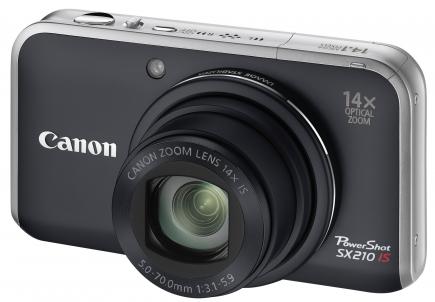 The Canon PowerShot SX210 IS is a high-quality camera that combines a compact and stylish design with a wide angle lens Canon 28mm, ideal for both panoramic photographs for the group photo. As for the rest of the specs, the camera is equipped with a 14.1-megapixel CCD sensor, an excellent 14x optical zoom, an LCD PureColor II G 3 inches with a resolution of 230,000 pixels, video clips in high definition, up to 1280×720 pixels, manual controls, Face Detection Technology, Smart Shutter, the Digic 4 processor, lots of shooting modes, the optical image stabilizer and the HDMI input.
Canon PowerShot SX210 IS: Design
The Canon PowerShot SX210 IS is a compact digital camera equipped with a compact metal body and available in black, purple and gold. It has a 3-inch LCD display in 16:9 aspect ratio and a resolution of 230,000. As for size, the camera measures 105.8 mm in width, 59.3 mm in height and 31.9 mm thick, while the net weight is about 215 grams.
Canon PowerShot SX210 IS: Features and Capabilities
The Canon PowerShot SX210 IS is a compact digital camera made by the producers in the month of February this year and heir of the famous Canon Powershot Sx200 Is Its small size should not fool on the quality of this product that looks great under many points of view and also allows a good deal of manual intervention by the professional user.
But starting with order, so the technical data, this camera features a CCD image sensor, 1/2, 3 inches in size and with an effective resolution of 14.1 megapixels. It is, therefore, a very high resolution that allows you to get photos with a maximum resolution of 4,320×3,240 pixels. Further sign of the constant race to the pixels that invests all the compact.
As the optics, the Canon PowerShot SX210 IS is provided with a target composed of 12 elements in 10 groups which has a focal length of 5-70 mm, equivalent to 28-392 mm in the traditional format 35 mm, and an opening of up to F3.1-F5.9. The ideal for capturing distant landscapes but also for taking group photos. As regards, secondly, the ability to shoot subjects in the distance, the SX210 IS has a 14x optical zoom and a digital zoom of approximately 4x.
Moving on the features offered by this camera, you can not start from the optical image stabilizer, which reduces vibrations caused by the movement of the photographer or the subject. Of great interest is how to shoot Smart Auto and Easy to use Scene Detection Technology to determine subject brightness, contrast, distance and overall hue. After that, the camera selects the appropriate scene from a possible 22 and applies optimal settings, depending on the scene.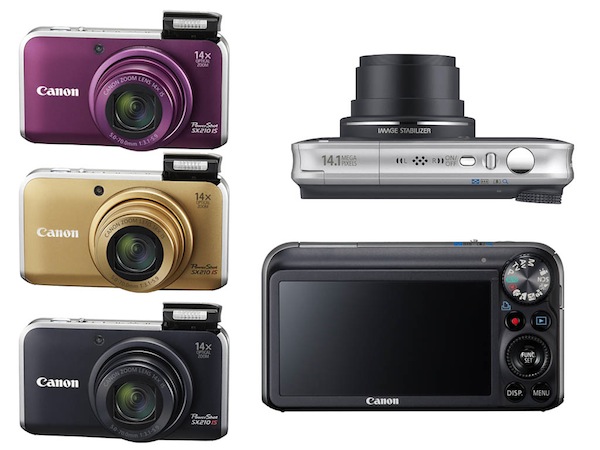 The Canon PowerShot SX210 IS features, then the portrait functions, such as, Face Detection, which detects up to 35 faces in a shot and automatically adjusts the focus, exposure, flash and white balance, or the settings for perfect portraits. The Smart Shutter is a shooting mode that lets you trigger the shot by winking, smiling, or when an extra face enters the frame.
The i-Contrast optimizes dynamic range and contrast of the scene, retaining detail in shadows and preventing overexposure of highlights, while the DIGIC 4 processor present on this machine delivers sharp and full of detail, even in When using high sensitivity. As regards the latter, the available values ​​are between 80 and ISO 1600. As mentioned at the beginning the Canon PowerShot SX210 IS also offers the ability to have total control over the settings, and then opening times, ISO, and focus, thus being suitable also for industry professionals and not only to fans of photographs.
Finally, this camera allows you to record HD video, so with a maximum resolution of 1280×720 pixels with stereo sound, and display it on your TV after connecting the camera via HDMI cable. As used for storage capacity, this camera supports memory cards such as Secure Digital, SDHC, SDXC, MMC, MMCplus and HC MMCPlus. With regard to the independence, has a rechargeable lithium ion battery that provides up to 260 shots or 360 minutes of playback. The purchase package includes the charger, strap, USB cable, software and user manual.
Conclusion
The Canon PowerShot SX210 IS is a compact digital camera in a compact but feature-rich. It has large display, high resolution, HDMI input, HD video clips, manual controls for professionals, Optical Image Stabilizer, Face Detection. Autonomy is not the best but you can tell it is the only small defect remedied with better performing batteries.
Where to Buy Canon PowerShot SX210 IS
---

---

---
41%
PROS : OPTICAL ZOOM, Hand Controls, Sensor Resolution, Face Detection, Smile Shutter.
CONS :
N/A
Product prices and availability are subject to change. Any price and availablility information displayed on Amazon at the time of purchase will apply to the purchase of any products.