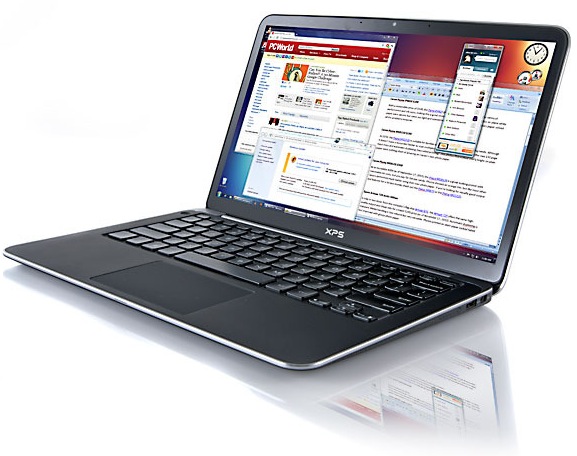 The Dell XPS 13 ultrabook are a compact, sleek and stylish and can ensure maximum durability and mobility. It has a 13.3-inch display with Gorilla Glass, surrounded by a very thin bezel, and a weight of just 1.36 kg. Among his specific stand the near-instant start and autonomy that reach almost 9 hours.
The rest of the specs included up to Intel Core i7-2637M model, Intel HD 3000 graphics accelerator, memory, 4 GB RAM, solid state disk 128 or 256 GB, wireless connectivity and Bluetooth 3.0, high-definition audio, webcam 1.3 megapixel camera with digital microphone and tools for data protection.
Dell XPS 13: Design
The Dell XPS 13 ultrabook are a well-designed and elegant, with a body made of aluminum and carbon fiber and with a display with Gorilla Glass technology. The latter is a WLED TrueLife 13.3-inch with a resolution of 1,366 x 768 pixels. As for size, measuring 306 mm wide, 205 mm deep and 8 mm in height at the highest point. The weight is 1.36 kg.
Dell XPS 13: Features and Functionality
The Dell XPS 13 is the first ultrabook model of this manufacturer. Primarily aimed at professionals, has a slim design and eye-catching, interesting and technical special features for data protection. With regard to the technical specifications, this ultrabook is based on the Intel Core i7-2637M up to model, 1.7 Ghz, 4 MB cache, on a GB DDR3 SDRAM memory, operating system, Windows 7 Home Premium and on a state disk drive 128 or 256 GB.
Speaking in more detail the most interesting features of the Dell XPS 13, the first point to note is the design, with an aluminum body and carbon fiber but, above all, a display made of Gorilla Glass, which makes it particularly resistant to shock and scratches, facilitating the transport of the product.
As for connectivity, there are Wi-Fi to surf for free on the Internet by connecting to a hotspot, and Bluetooth technology, which allows instead of Dell ultrabook synchronize data with other compatible devices. The video department then sees the presence of an Intel HD 3000 graphics accelerator, and the audio includes stereo speakers.
Not missing, then the built-in 1.3 megapixel webcam, Skype certified, thanks to which you can make video conference with colleagues. As already mentioned, then, the Dell XPS 13 is a model designed primarily for business users and as such, has exciting features that help protect sensitive data. Of great interest is also the start in 8 seconds and restart in 1 second from sleep mode.
As regards, finally, the allocation of ports, the laptop is equipped with 1 USB 3.0 port, 1 USB 2.0 port, the input AC power, the mini display port and audio jacks. The integrated battery is 6-cell and provides a range of almost 9 hours.
Conclusion
The Dell XPS 13 ultrabook are a quality that is characterized by a well-designed and well finished. A scratch-resistant display and specifications are interesting. Ideal when traveling, it is equipped with everything you need to work anywhere. Interesting boot times and functionality of data protection.
Where to Buy Dell XPS 13
---

---

---
PROS : Quality webcam; Quality processor; Quick Start.
CONS :
Internal capacity; Only graphics accelerator.
Product prices and availability are subject to change. Any price and availablility information displayed on Amazon at the time of purchase will apply to the purchase of any products.