Guide
How to Choose a Mac: Guide to Model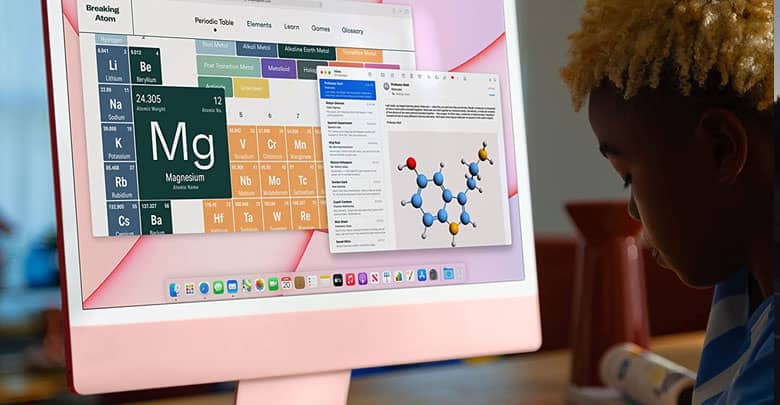 You have decided to buy a new Apple computer but don't know which model to choose. The Cupertino company offers several products with certain technical specifications for a particular user slice. For this reason, we at ChimeraRevo have decided to create this guide to the models to help you choose your new Mac. Furthermore, I also take this opportunity to inform you that we have created several guides about Macs for each type of occurrence or problem.
Our Favourite
Which Mac to choose
Below, we will analyze the different models of Macs available, their technical characteristics, and for which users we recommend them. Specifically, we will analyze both portable models (MacBook Air/MacBook Pro) and stationary models (Mac Mini, iMac, iMac Pro).
MacBook Air: the right power for study and work
The new MacBook Air, with Apple M1 chip and 13.3″ Retina display, is the perfect laptop for those who often study and work away from home and need a reliable machine.
The 2,560×1,600 native resolution offers an optimal user experience thanks to True Tone technology. Thanks to its power, the new Apple M1 processor allows you to carry out any operation without problems, thanks to a 5 times faster GPU and an 8GB integrated memory.
Also appreciated is the silence of the MacBook Air, as it has no fan (the heat generated is dispersed by an aluminum heat sink), and the battery allows up to 18 hours of battery life. You can choose the 256GB or 512GB version according to your needs.
MacBook Pro: Lots of portable power
The professional notebook is par excellence, with very impressive technical specifications. We are talking, in fact, of a MacBook equipped with the Apple M1 chip that integrates various components such as CPU and GPU. Furthermore, thanks to the 13″ Retina display, you can appreciate images of an incredible level. The battery, then, with an autonomy that can reach up to 20 hours, allows the device to be completely reliable and without problems of short duration.
The MacBook Pro also integrates 8GB of RAM, 256GB (or 512GB) of internal storage, and a FaceTime webcam. Thanks to its technical specifications, this laptop is suitable for those who carry out particularly expensive operations in terms of performance (such as, for example, in the graphics field) but need a portable and powerful device.
Mac mini: A space-saving desktop
This computer is an excellent solution for all users who need a fixed but versatile workstation. Thanks to the Apple M1 chip, which offers users a CPU up to 3 times faster and a GPU up to 6 times faster, it will be possible to perform all types of operations quickly. Furthermore, the presence of an SSD and RAM, available up to 16GB, guarantees the execution of software in incredibly short times.
The Mac mini integrates an HDMI 2.0 port, two USB-A ports, a headphone jack, two Thunderbolt/USB 4 ports, and an Ethernet port. An excellent solution, therefore, for those who want a computer that is not bulky but performs like a fixed workstation.
iMac: Great for home and office
Excellent All-in-One computer is available in seven colors. This iMac is certainly characterized by incredibly small dimensions, given the thickness of 11.5 mm (thanks to the M1 chip that integrates the processor, graphics card, and memory). Furthermore, thanks to the 24″ Retina 4.5K display, images of the highest quality are guaranteed.
Also noteworthy are ultra-fast Thunderbolt ports and the power supply with magnetic coupling. In addition, the iMac features a 1080p FaceTime HD camera and studio-quality microphones. A perfect computer, therefore, for those who need a high-performing fixed workstation but not excessively large (thanks also to the All-in-One architecture, which saves a lot of space).
Mac Pro: Extreme power and exceptional performance
The Mac Pro can be defined as a real supercomputer. We are talking about a machine characterized by extreme power, suitable for those who carry out heavy work (such as graphics or audio) and for those who need an extremely powerful and reliable computer.
The computer is perfectly configurable according to your needs, carefully choosing each component. You can decide which processor to use (the computer has an Intel Xeon W, up to 28 cores), how much RAM to integrate, how many graphics cards to use, and how much storage memory to install.
In short, as you will surely understand, the Mac Pro is synonymous with extreme power and exceptional performance. It will certainly not disappoint professionals who use the computer to perform extremely heavy tasks.
Conclusions
As you may have noticed by reading this guide, different Mac models are available. Choosing which one to buy is purely up to you and your needs.
Do you often work or study away from home? Then the right choice is one between MacBook Pro and MacBook Air.
Do you need a fixed station at home that is not bulky and portable when necessary? Then it is better to buy a Mac mini.
Do you need to buy a computer for your office that is fast and performing? The iMac may be the best solution.
Do you want maximum performance, as you work extensively with graphics or video editing? Mac Pro will not disappoint you.
Product prices and availability are subject to change. Any price and availablility information displayed on Amazon at the time of purchase will apply to the purchase of any products.