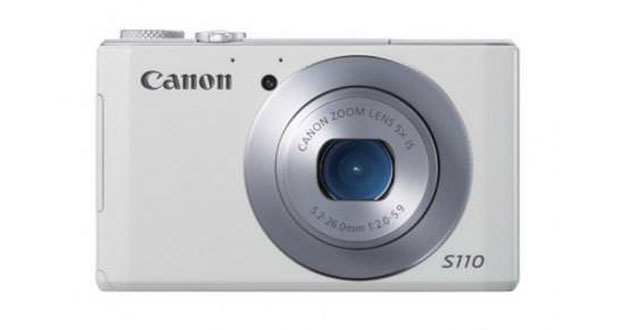 The new Canon PowerShot S110 is one of the latest Canon compact cameras out on the market and is equipped with a bright lens f / 2 Canon CMOS sensor with high sensitivity and resolution of 12.1 MP and 5x Optical Zoom. The camera, in addition to being equipped with built-in WiFi and GPS module has HS System with DIGIC 5 Intelligent IS A 4-stop, lens Control Ring, Full Manual control and the possibility of full HD to be shared through the mini HDMI port.
On the back of the camera is placed a beautiful touch screen LCD PureColor II G (TFT) 3-inch capacitive technology and a resolution of 461,000 points. To complete the budget of the device will find the option to save images in RAW format, the technology High-speed Burst HQ and Smart Auto to 58 scenes.
Canon PowerShot S110: Design
The Canon PowerShot S110 is equipped with a rather classic and functional design and is available in two colors: black and white. On the top side of the camera body is placed a comfortable and useful control dial that allows you to quickly zoom, aperture, shutter speed, focus and ISO values.
The camera body is made with excellent materials and dimensions of the same is quite low (98.8 x 59.0 x 26.9 mm) as well as weight (about 189 grams including batteries and memory card). On the back of the camera body is a great LCD display TFT capacitive touch screen PureColor II G 3 inches with a resolution of about 461000 points and a brightness adjustable Quick-bright (5 levels).
Canon PowerShot S110: Features and Capabilities
The new Canon PowerShot S110 is equipped with a high-sensitivity Canon CMOS sensor with a resolution of 12.1 MP sensor (type 1/1, 7) and the latest DIGIC 5 processor with HS System. Thanks to these features, the camera allows you to take pictures in low light conditions with minimal noise and high quality thanks to the high ISO (12,800).
The objective f / 2 camera is extremely bright and has a wide-angle 24 mm, which allows you to capture landscapes with good battery life thanks to the 5x optical zoom (up to 10x Zoom Plus and up to 20x with digital zoom 4x).
Almost perfect, as always, the optical Image Stabilizer 4 step with Intelligent IS which automatically selects between 7 mode options optimal stabilization to compensate for vibrations and the annoying flicker. As mentioned on top of the camera there is a lens Control Ring allows you to control very quickly that the various functions available such as zoom, aperture, shutter speed, focus and ISO values.
The camera is not an SLR but it takes some features, such as the possibility of full manual shooting and the ability to save graphics files in RAW format with Multi-Aspect Shooting in order to ensure complete control in the process of composition and post editing-through, for example, the Digital Photo Professional software.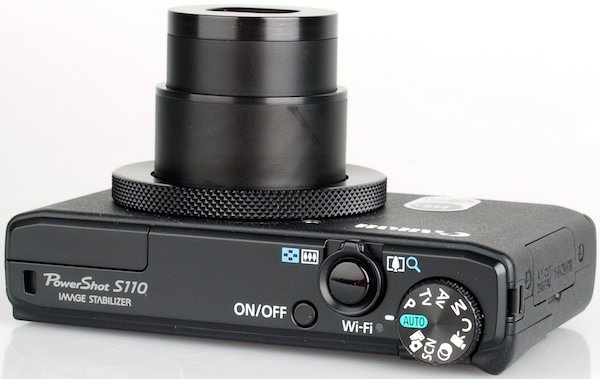 On the back of the camera body will also find a beautiful LCD touch screen capacitive technology with a resolution of 461000 points that also allows you to revise and enlarge images, or select different modes and commands such as the Touch Shutter and Touch AF. Besides the possibility to use the manual mode the camera also allows you to use numerous automatic modes (Smart Auto) through which the device automatically selects the best settings from 58 different scenes (21 in movies) with an optimal result.
Among the latest features that you can find not to mention the high speed burst shooting (HQ) to 10 fps and full resolution (up to 10 shots) and the presence of WiFi and integrated GPS module that will allow the end user to geo-tag your shots and share them directly from the camera. The camera also lets you shoot movies in 1080p Full HD with optical zoom and stereo sound that can be viewed later on a compatible device via mini HDMI-CEC connector.
Conclusion
The Canon PowerShot S110 is a great compact camera with many features automatic and manual that lead back (in outline) Reflex in the world. Even the price if you want to Reflex and it would be more justified if we found the waterproof case in the sales package (this is optional), even if we have to take into account that the features of the camera will find WiFi and GPS. Overall this remains the only Canon compact in size (a little 'less in weight) because it has the technical qualities worthy of note, and that will please many fans.
Where to Buy Canon PowerShot S110
---

---

---
PROS : HS System, ISO 12800 maximum, Smart Auto (58 scenes), built-in WiFi, Full manual control; DIGIC 5; mini HDMI port, Intelligent IS, GPS module; HDR Mode, High-speed Burst HQ, ND filter; CMOS sensor with high sensitivity; Lens f / 2 very bright; Lens Control Ring, Capacitive Touch Screen Display.
CONS :
Price.
Product prices and availability are subject to change. Any price and availablility information displayed on Amazon at the time of purchase will apply to the purchase of any products.