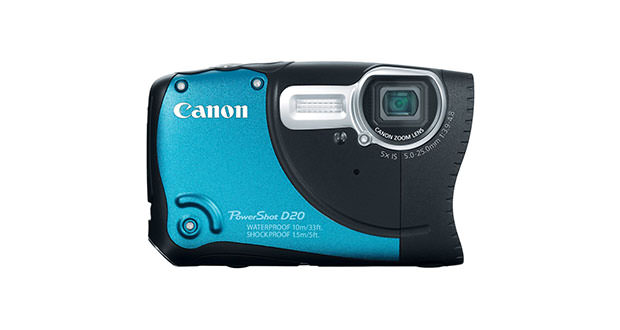 The Canon PowerShot D20 is the new rugged compact camera Canon waterproof, shock-resistant, low temperatures and dust. The camera is equipped with HS System with 12.1 MP, 5x Optical Zoom and Intelligent IS. The device features a PureColor LCD II 3-inch, features Smart Auto (32 scenes), movie mode allows you to create special and Full HD movies. The D20 is a camera designed for people who are dynamic and adventurer, hence its rugged side, which is further reinforced by the presence of the built-in GPS.
Canon PowerShot D20: Design
The Canon PowerShot D20 is a rugged Canon camera with an extremely special and fun, available in various colors: yellow, blue and gray. Of course, the most interesting aspect of this new camera regards its rugged side that allows it to withstand most outdoor activities, from snowboarding to snorkelling, and also be used in underwater environment. On the back of the camera body is placed a active display 3-inch PureColor LCD II with TAP Control that allows you to review the images even when wearing gloves.
Canon PowerShot D20: Features and Capabilities
The Canon PowerShot D20 is equipped with HS System with DIGIC 4 image processor and a 12.1 MP CMOS sensor with high sensitivity that allows you to capture images in an extremely faithful to reality without flash or tripod. The camera is equipped with a 28mm wide angle lens used to photograph sweeping landscapes or group shots and uses a 5x optical zoom to bring distant subjects.
Intelligent IS also allows you to get photos and videos sharp and full of details even on the move, with full zoom or in low light conditions, through the automatic setting of the optical image stabilizer in the best mode for the scene detected between 7 different possibility. As already said on the back of the machine body is a display LCD PureColor II by 3 inches and 460,000 points with excellent readability in all lighting conditions, this thanks to the magnificent active matrix that characterizes it.
The camera also allows full HD (1080p) by pressing the dedicated button optical zoom (the picture is stable thanks to Intelligent IS). Like most of the latest generation of Canon compact cameras, the Canon PowerShot D20 is equipped with the Smart Auto 32 scenes (21 in movies) and features Movie Digest (720p) and Super Slow Motion Movie.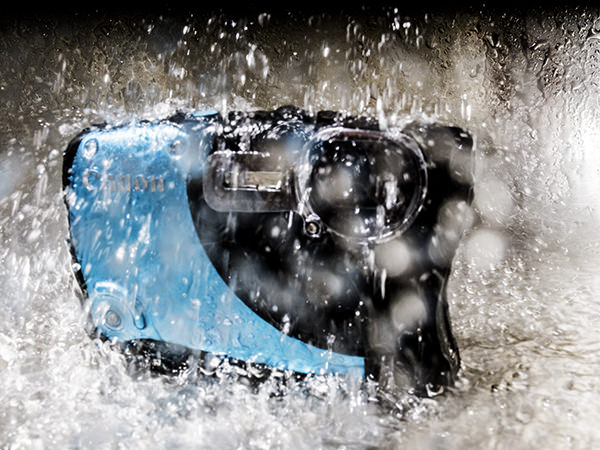 The ones we have just talked about are the traditional features of the camera, we now see the features less common. As mentioned in the introduction this camera is a real camera rugged since it is waterproof to a depth of 10 meters, shockproof up to falls of 1.5 meters, it resists to a temperature of -10°C and is equipped with protection from dust.
To emphasize the off-limits of the device are also built-in GPS module that allows you to assign a tag to the place in which they were captured photos and videos, or keep track of the stages of their journey through the logger function, also through the software Map Utility provided in the sales package, you can identify the places of their shots and share them with their friends.
The device is also equipped with diving functions: eg with the Underwater macro function you can capture underwater shots getting sharp pictures at close range, while features Quick AF will be possible to put a ufo extremely fast. In addition, the functions and Custom White balance compensation allowing quick adjustment of colors according to the aquatic environment against which the user will be located. Through the use of an optional waterproof case will be possible to further increase the waterproof features of the camera coming up to 40 meters deep.
Conclusion
The Canon PowerShot D20 is a compact camera lines with good technical characteristics and excellent wrinkles. Excellent presence and GPS logger that will satisfy even the most adventurous users. Beautiful active matrix display with TAP Control features and functions that could be called advanced diving, as well as the camera body fully protected from dust.
Where to Buy Canon PowerShot D20
---

---
PROS : Shock Resistant, Waterproof, Dust-proof, resistant to low temperatures, the HS System with 12.1 MP, Display with TAP control, built-in GPS.
CONS :
Lack touch technology on display.
Product prices and availability are subject to change. Any price and availablility information displayed on Amazon at the time of purchase will apply to the purchase of any products.