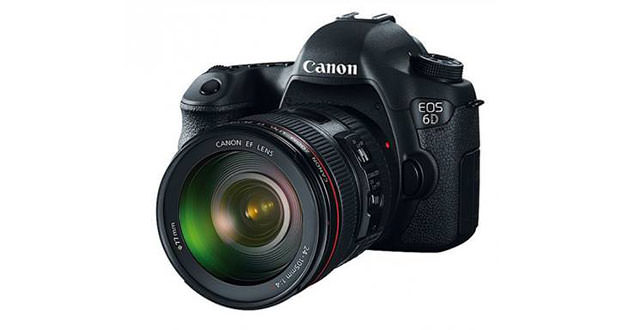 The brand new Canon EOS 6D is the latest full-frame SLR Canon exit the market and is equipped with a 20.3 MP full frame sensor camera body and a magnesium alloy lightweight, durable and ergonomic. Among the main features of this beautiful full frame will find an ISO 100-25,600 (expandable to ISO 102,400), a 11-point AF sensitivity up to -3 EV, built-in GPS for geotagging photos, graphics processor Canon DIGIC 5 latest generation HDR technology and large, clear display of the scene (and 1080p Full HD movies) thanks to a 3-inch ClearView display extremely bright. The Canon EOS 6D is also one of the first EOS SLR equipped with integrated WiFi connectivity for sharing photos with compatible devices. The war of the full frame has officially begun.
Canon EOS 6D: Design
The Canon EOS 6D is a full-frame SLR designed for the traveler and consequently realized through the use of highly resistant materials and light (machine body made of magnesium alloy), allowing easy transport the only SLR camera body has a weight of 755 grams (CIPA standard, including battery and memory card) and a size of 14.45 x 11.05 x 7.12 cm.
The new Full-Frame Canon has a camera body with really excellent ergonomics and which greatly facilitates the grip of the same even for those not used to a camera of this size and especially of this magnitude. Moto comfortable, as always, the LCD display located on top of the camera body where they will be displayed various information including the selected AF point, on the back instead of the Reflex will find the Clear View LCD monitor TFT real 2.3-inch 104,0000 points with double anti-reflective coating and a viewing angle of 170°.
Canon EOS 6D: Features and Capabilities
The Canon EOS 6D is equipped with a CMOS sensor Full-Frame (36 x 24 mm) to 20.2 MP low-pas filter with integrated fixed with fluorine coating well as the excellent EOS integrated cleaning system of the sensor itself, all is brilliantly accompanied and coordinated by the DIGIC 5 image processor, pretty much the top of the technology of image processing.
One of the main advantages of using a full-frame SLR is definitely the possibility of using all the wide range of wide-angle EF lenses (again if you are willing to shell out several Euro), meaning you will not get photos of beautiful landscapes and not only.
Like all modern SLR cameras and high quality, this Full-Frame allows you to get the best out of their photos even in low light conditions thanks to a high ISO sensitivity from ISO 100 up to ISO 25,600 (expandable to L: 50, H1 : 51,200, H2: 102400) In addition, the system of autofocus is responsive to 11 points down to – 3 EV in practice due to the sensitivity of this ISO Reflex we will have a smooth operation even in the moonlight (source Canon).
Obviously we are in the presence of a reflex that can not have functionality Manuals (focus, AF point selection, AE lock, flash to manual measurement, manual shooting night) but it also has several automatic modes such as the creative effects, optimization automatic image processing (4 settings), the auto focus and auto white balance functions in addition to the already ever-present mode HDR (High Dynamic Range) that allows you to get great shots even in shadow areas without loss of detail.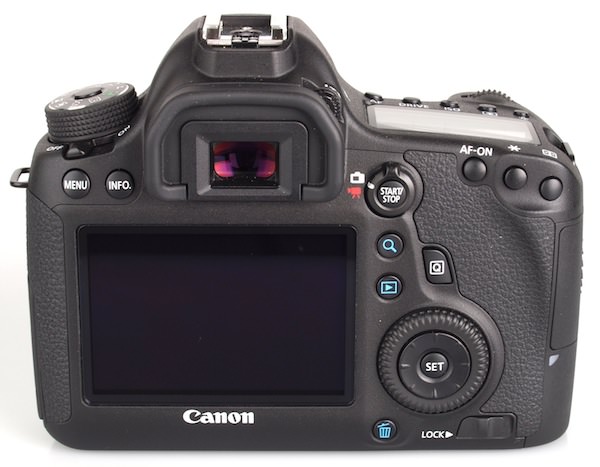 On the back of the camera body is a fantastic place TFT LCD screen 3-inch Clear View II and a resolution of 1040000 points that allows you to create shots in Live View mode and watch the videos Full-HD intra-or inter frame, the videos will then be played back on a compatible device thanks to mini HDMI port, PAL / NTSC (the camera is also equipped with a stereo mini jack for connecting the external microphone).
The Canon EOS 6D is also equipped with built-in GPS through which you can determine its position very accurately and record the geographic information of each image also, thanks to the GPS Logger mode, your route is recorded even when the camera is off . Besides the presence of the camera is also integrated GPS with WiFi built fractures extremely convenient that will allow us to share our pictures with friends and relatives with compatible devices.
The Canon EOS 6D is available at a price of about $2,300. Obviously this price is not for everyone, but if we consider the features almost consider the price lower than the price of some of the latest generation of compact cameras.
Conclusion
The Canon EOS 6D is a beautiful full-frame SLR camera last generation which officially opens the world of full-frame Canon (almost) all budgets. The performance and features of this SLR are of high standard as is high-level build quality and materials used for durable, lightweight construction of the camera body (not to mention ergonomics that distinguishes this camera). A complete high performance and validity of this product will find two options do not fundamental but comfortable and interesting GPS and WiFi integrated.
Where to Buy Canon EOS 6D
---

---

---
65%
PROS : Built-in GPS, 20.3 MP CMOS sensor, DIGIC 5, Full HD (1080p), ISO 100-25600 (expandable to ISO 102,400); HDR Mode, Camera body in magnesium alloy; Robustness and ergonomics; WiFi integrated; Display Clear View high-resolution continuous shooting (4.5 fps), sensitivity 11-point AF up to -3 EV.
CONS :
Price.
Product prices and availability are subject to change. Any price and availablility information displayed on Amazon at the time of purchase will apply to the purchase of any products.