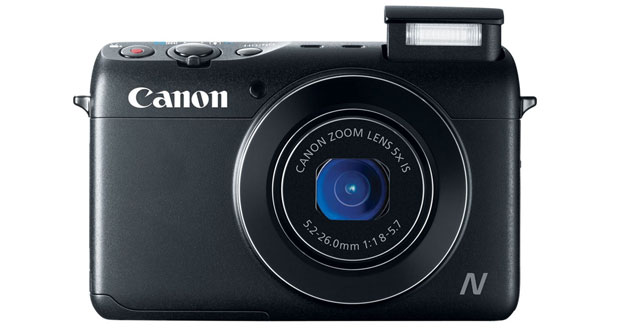 Dual Lens, touch screen, Wi-Fi, NFC and a photo quality interesting: the Canon PowerShot N100 launches challenge to smartphones. The relentless spread of smartphones threatens the traditional compact camera market, and producers react presenting innovative ideas and features more details.
The new Canon PowerShot N100, for example, equips a second lens facing the photographer, to capture " double " images and insert your own face into landscapes, group shots and more. All this is supported by an allocation for a compact camera interesting.
The Canon PowerShot N100 uses a CMOS sensor main 12-megapixel 1/1.7 " diagonal, flanked by an interesting 24-120 mm equivalent stabilized zoom lens with maximum aperture of f/1.8 to 5.7, and therefore corresponds to a good wide angle very bright, with a side of " tele " discreet but slightly more closed than the average. The back lens is a 25 mm fixed aperture of f / 2.8, and serves a secondary sensor to 0.3 megapixels.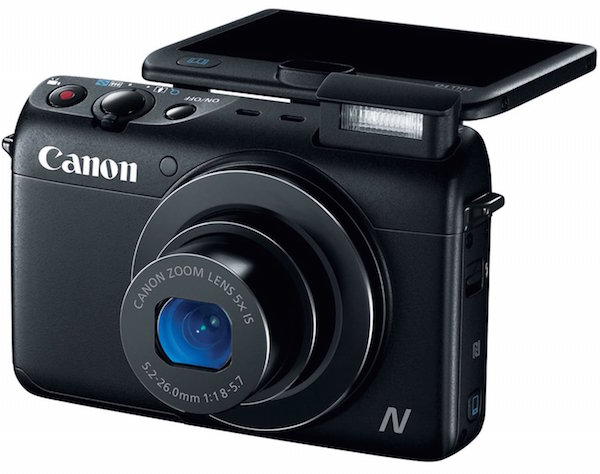 The image processor is the Canon DIGIC 6; back screen, touch and swivel 90° upwards, is a 3-inch diagonal and 922,000 pixels and the video mode lets you capture movies up to 1920 × 1080 Full HD resolution with 30 frames per second. The modules Wi-Fi and NFC are integrated and allow, to support this camera to your mobile device, and to upload photos to the use of GPS in geotagging.
Canon PowerShot N100: Design
A constructive level, this Canon is very well made with quality materials that give to the body a feeling solid and pleasant to the touch. Its design is unusual and not particularly graceful. The Canon PowerShot N100 is more of a portly ultra-compact traditional measuring 104.5 x 67.5 x 35.8 mm, with 289 g weight.
These dimensions " generous " allow you to integrate the secondary objective, which is usually where you would expect to find a viewfinder and, at first glance, might be mistaken for it. Even the layout of the controls is rather special: great importance is given to the special mode selector, located just below the thumb and sets normal shooting, the " double acquisition " or a particular mode " hybrid " that captures a short video before the acquisition of each image.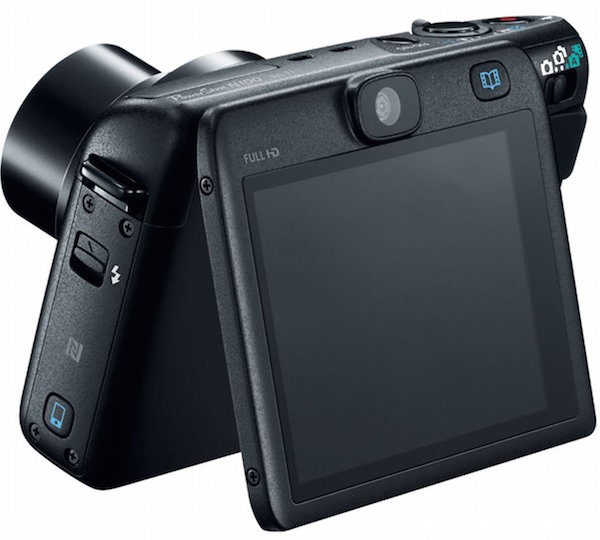 The menu navigation is entrusted to a traditional dial-cross, but is slightly small and uncomfortable to use. On top of it, there is a button " star " dedicated solely to the function of a report as " favorite " or not their images, while on top, there is another button dedicated to the creation and management of " album " with images on the SD card.
The attempt to Canon to offer a more personalized and unique is evident, and in a sense appreciable, but unfortunately is carried out at the expense of more traditional controls. The entire body of the machine, for example, there is no " delete " key, which in all likelihood would have been used more frequently of the two described above (to delete an image must instead enter the quick menu). The inability to reassign functions to the various buttons to customize the experience makes the Canon PowerShot N100 remains a unique camera, for better or for worse.
Canon PowerShot N100: Performance and Image quality
The performance of the Canon PowerShot N100 are good for a compact camera comes on quickly and is quite responsive in operations such as the acquisition of autofocus or the extension of the optical zoom. Even the menus are navigated without major delays and, in particular, the touch-screen allows you to perform with satisfaction the playback of images taken or even zoom in on them.
In terms of image quality, the Canon PowerShot N100 offers good satisfaction, as is traditional for Canon. The shots captured are usually very good in terms of color and contrast, with an automatic white balance always quite specific, well-measured exposure and a nice yield .JPEG.
The automatic working well and what is good, missing the PowerShot N100 of full manual mode. The detail is certainly good for a sensor of this size and allows you to go without too much trouble even to values ​​as ISO 800 and even 1600, as long as you do not want to print or make crop too daring. In low light, another aid is a stabilizer, which offers you a really valuable in containing the vibrations.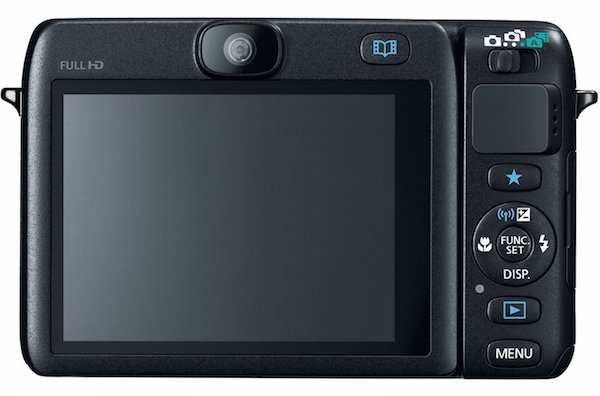 The quality of the movies is pretty good for a compact: the 1080p video are well detailed and pleasant from the point of view of color, good zoom range allows you to indulge in nice close-ups (although the extension of the objective, in this mode is rather slow) and the recorded sound from stereo microphones is at the correct level.
About how " double acquisition ", it should be noted that the images are captured at a resolution lower: about 3 megapixels from the 12 offered by the sensor. The goal and the rear sensor does not offer a great quality, which is evident especially in low light. Overall, their task is only to offer a small box in the main picture, then the issue of performance is not as critical. It is unfortunate, that the screen is not able to completely turn over 180 degrees: in a camera like this, offer the possibility to realize Selfie in a fun and quick he could make a difference.
Conclusions
The Canon PowerShot N100 is a compact with interesting values ​​photographic base, with good image quality and a versatile lens, but designed for user experience " different " from the traditional one. The result is a success only in half. Mode " double capture " is certainly fun and offers potential curious, but the inclusion secondary objective is to the detriment of the design, which is a bit bulky and awkward for a compact.
The distribution of keys and functions assigned to them try to point out the " uniqueness " of the camera, but they neglect some essential aspects of traditional control systems, making the experience of using slightly less immediate than average.
Overall, if you search for a camera " different " from the usual, but at the same time able to capture photos and videos of interesting quality.
Where to Buy Canon PowerShot N100
---

---
Canon PowerShot N100 HS 12.1MP Digital Camera - Wi-Fi Enabled (White)
Mobile Device Connect button connects to your compatible Android or IOS device...
12.1 megapixel 1/1.7-inch high-sensitivity CMOS sensor combined with DIGIC 6...
5x optical zoom, 4x digital zoom and 20x combined zoom with Optical Image...
3-inch tilt, capacitive touch panel LCD helps provide flexibility
Capture stunning 1080p full HD video with a dedicated movie button
PROS : Good-quality  photos and videos, useful optical zoom 24-120mm, Wi-Fi and NFC integrated, rear lens for the curious mode " double capture ", comfortable and responsive touch screen.
CONS : 
More corpulent the typical ultra-compact, little immediate interface, some features are of dubious value, secondary sensor to reduced quality.
Product prices and availability are subject to change. Any price and availablility information displayed on Amazon at the time of purchase will apply to the purchase of any products.