Guide
Best Projector (2021): Which One to Buy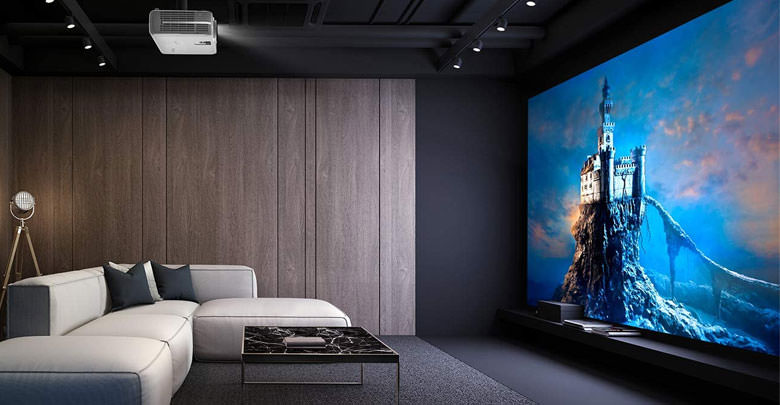 Whether for the office, for a trip, or to turn your home into a cinema and enjoy multimedia content in the company of friends or relatives, a projector or portable projector is almost always the preferred solution.
There are various capacities and characteristics models: projectors with built-in Android or full-size for high-level resolutions, compact projectors, or more generous in size. Even some are wireless and can offer a range of a few hours.
If you want to enjoy an impromptu movie night but don't have a large TV, a portable projector makes it easy to view videos on a wall. They are small enough to carry to be easily moved from room to room and can display an image of over 50 inches on a wall or screen.
Of course, you can't think of a projector as a TV replacement if you tend to watch TV during the day or in a very bright room, but their images look perfect and are great space savers in a dark or darkroom.
Many of the best projectors are battery-powered and have apps like Netflix built-in, so you don't need to worry about power cords and source devices, making them perfect for taking to a friend's house on vacation.
Some models, especially the cheaper ones, are not bright enough for an outdoor movie night, but if you keep the image small and your backyard is dark, they might work. Of course, you can also use them to show a PowerPoint or other presentation in a room with lights on, but these are not primarily business projectors.
Anker Nebula Mars II Pro
Of all the mini projectors, the Anker Nebula Mars II Pro is the simplest to set up and use and delivers a bright, precise image with solid contrast and good detail. In addition, Anker Nebula Mars II Pro has a clean interface, a well-designed remote control, and an app for controlling on iOS/Android, which allows you to easily navigate between connected sources, as well as integrated videos streaming apps such as Netflix and Amazon Prime Video.
The luminous flux is 500 lumens. The internal speaker is good enough to have to plug in external speakers for a casual movie night. However, you can easily connect the speakers directly or via Bluetooth. And if you want to use the Mars II Pro unplugged from the wall, note that its internal battery lasts for about 4 hours.
APEMAN
This is absolutely one of the most purchased projectors, mainly because at this price, APEMAN offers us a sensor with a native 1080p resolution that allows you to enjoy multimedia content fully. So indicated, if you want to use it to play with a console (like Xbox, PS4, and why not even PC).
You can often find it at a discount on Amazon or perhaps with a discount code available. However, the projector also has 4K support and can light up to 300 inches in size. At the top, we finally have HDMI, 2 USB, AV, and AUX.
Vamvo L4200 Portable Video Projector
Basically, its features are similar to those we have already seen on the APEMAN projector a little while ago, but with a native HD 720p resolution.
For this reason, we would like to tell you that it is not a projector to play but more than anything else to enjoy a movie/TV series even when you are away from home, thanks to its compact size. In any case, there is supported for 1080p because we also see the HDMI output. On the lens, there are also rings for controlling the focus and the keystone correction (in case the projector was " tilted " concerning the projection plane).
Acer H7850
This Acer H7850 is certainly an expensive product, but also a perfect one. Thanks to the high contrast, it can best display every image with a resolution that reaches 4K Ultra HD.
The brightness of 3,000 ANSI Lumens can display images even in more illuminated rooms to not always force us to stay in almost absolute darkness. The screen size reaches up to 65 inches.
Optoma UHD50 True 4K
This Optoma UHD50 is also a great 4K projector, reaching 2400 ANSI Lumens of brightness. The contrast is also very high, so you always get very sharp images.
Thanks to the Color Management System function, you can adapt the images' colors by calibrating them according to the room's brightness. Thus, you will always place the projector always to have an optimal view of your favorite content.
Product prices and availability are subject to change. Any price and availablility information displayed on Amazon at the time of purchase will apply to the purchase of any products.