Tablets
Acer Iconia B1-A71 Tablet: Review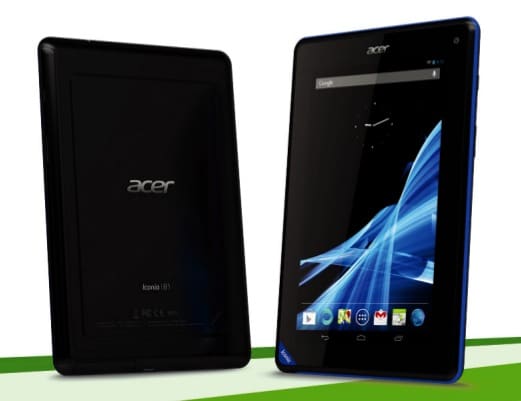 The Acer Iconia B1-A71 tablet is a small and compact, very easy to handle and perfect to take along when traveling because it takes up very little space. It has a 7-inch touch screen display with a resolution of 1,024 x 600 pixels and is based on the Android OS 4.1 on a dual-core 1.2 Ghz and a 512 MB RAM. It also has the internal capacity of 8 GB, Bluetooth 4.0, Wi-Fi connectivity, 0.1 mega pixel front camera, GPS, microUSB slot, slot for microSD memory cards and audio jack of 3.5 mm.
Acer Iconia B1-A71: Design
The Acer Iconia B1-A71 is a tablet designed to be carried anywhere, thanks to its size so small that allow you to carry it in a bag and hold it with one hand. It has a touch screen display 7-inch diagonal and a resolution of 1,024 x 600 pixels. As for size measuring 197.4 mm in height, 128.5 m wide and 11.3 mm thick, while the weight is just 320 grams.
Acer Iconia B1-A71: Features and Functionality
The manufacturer Acer has decided to jump in the tablet market low cost, trying to counter the competition from Chinese's products of unknown brands, which are depopulating due to their low price. And so, next tablet to be high-value, such as the Acer ICONIA TAB W511P, saw the light recently also the model Acer Iconia B1-A71, which has an attractive design and interesting specifications, despite its price.
Starting from the description of the technical data, the device is based on a dual-core processor from MediaTek 8317 1.20 Ghz, on a RAM with 512 MB DDR3 SDRAM, flash memory of 8 GB and the Android operating system, in version 4.1, so the most recent absolute but rather updated.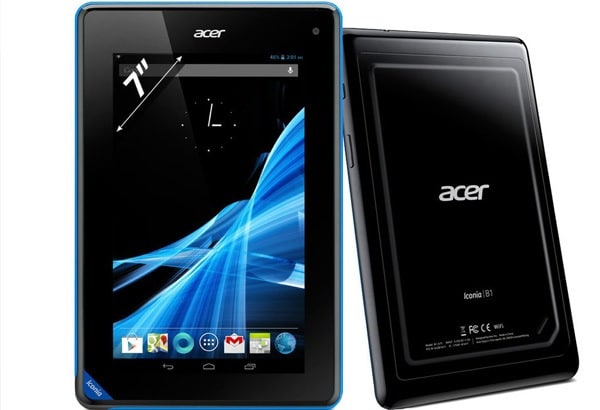 Regarding the use and functionality of the Acer Iconia B1-A71, goes immediately said that it is a tablet that is small and compact and. Therefore, the ideal device to carry with itself, since it is possible insert easily into a bag, and you can hold it with one hand. Captivating also the blue color frame that surrounds the display.
Speaking of connectivity, this tablet has it all since it's built-in Wi-Fi to surf the Internet for free, and Bluetooth and microUSB port, enabling it to exchange data with other devices with and without wires. There is even a microSD card reader, which allows you to increase the memory available.
As for the rest of the functionality, the Acer Iconia B1-A71 has a 0.3-megapixel front-facing camera, so no particular quality as it lets you take pictures with a maximum resolution of 640 x 480 pixels. There is also GPS with maps, to always find its own direction. Are preloaded, furthermore, various Google applications, such as Talk, Picasa, Gmail, and other like document viewer and those photos and videos.
Conclusion
The Acer Iconia B1-A71 is a tablet designed for those who want a device to take with him to surf the Internet at any time and with maximum agility, since it is held easily with one hand. The specifications are not striking but sufficient to ensure a smooth sailing and good connectivity.
Do not miss the GPS and the camera, though the latter is not very powerful, you can safely say that the photo department, was particularly affected more than the reduced price. It remains a viable alternative to many Chinese sub-brand tablets on the market.
Where to Buy Acer Iconia B1-A71
---

---

---
PROS : GPS, microSD card slot, dual core processor, 3.5 mm audio jack, Wi-Fi and Bluetooth, Design, Android version; MicroUSB.
CONS :
Resolution front camera, RAM, No rear camera; Display Resolution.
Product prices and availability are subject to change. Any price and availablility information displayed on Amazon at the time of purchase will apply to the purchase of any products.