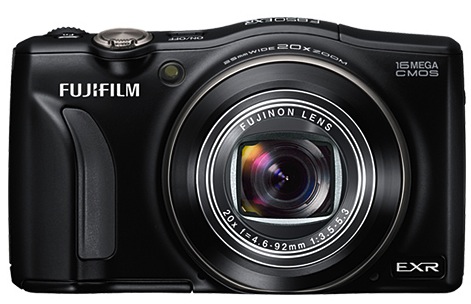 The Fujifilm FinePix F850EXR is a compact digital camera which is a smaller but also a comfortable grip of the right. The strengths are the BSI EXR CMOS sensor 16 mega pixel backlit II, the Fujinon lens with 20x optical zoom and 3-inch LCD display with a resolution of no less than 920,000 pixels.
The camera also comes with practice Auto mode, full manual control, Full HD video clips, image stabilizer, advanced filters, panoramic photos, HDMI connector and internal memory of 21 MB, expandable via SD cards, SDHC and SDXC memory cards.
Fujifilm FinePix F850EXR: Design
The Fujifilm FinePix F850EXR is a compact camera in a compact design, but not exactly eye-catching, although the availability of various colors goes to meet different tastes. Of great interest, is the 3-inch LCD display that shows the excellent resolution of 920,000 pixels. As for size, the camera measures 105.1 mm wide, 63.3 mm high and 36 mm thick, while weighing about 230 grams, including battery and memory card and 210 to empty.
Fujifilm FinePix F850EXR: Features and Functionality
The Fujifilm FinePix F850EXR is a compact digital camera recently introduced, as it was submitted by the manufacturer this year, in January, along with many other models. Convenient and easy to handle, it is very simple to use, thanks to automatic settings, but wishing you can also intervene on the adjustments using manual controls, to have more control on the results.
With regard to the technical data, this camera is equipped with a backlit image sensor type EXR-CMOS, 1/2 inches in size and with an effective resolution of 16 mega pixels, and the EXR Processor II image processor, which should provide time response intervals and particularly rapid shooting.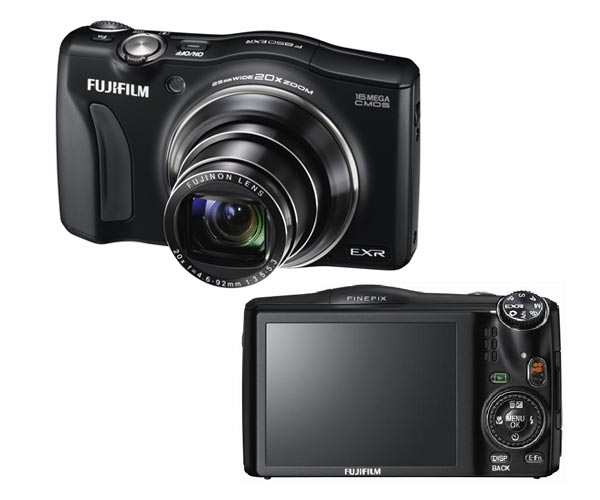 As for the optics, the Fujifilm FinePix F850EXR has a lens that has a focal amount of 4.6 to 92 mm, equivalent to 25-500 mm on a traditional 35 mm and a maximum aperture of f3.5-F5.3. It also has an excellent 20x optical zoom supported by a digital zoom of approximately 2x.
Speaking instead of integrated functions, the most important is always the image stabilizer, which in this case is of optical type, then high quality, able to compensate for the movement's of machine and give photo and video always sharp. Among other things, the practical handle allows to have a firmer grip of the camera, in addition of course to an easier control of the commands.
For users of fasting photography, Fujifilm FinePix F850EXR offers the Auto mode, whereby the camera is able to   detect the type of scene, choosing among the 108 available, and optimization all the settings automatically. Those who want more control can opt for full manual controls.
It is also worth pointing out the various options and features offered by the camera, such as advanced filters, apply to your photos to create creative images, the Panorama mode 360, the film simulation and multiple exposures. To highlight the LCD, not so much and not only in size but for the resolution, very high indeed.
The Fujifilm FinePix F850EXR also offers the possibility of making movies with Full HD resolution video at 60 frames per second. Among other things, while shooting you can use the zoom and take pictures. One last interesting feature is the E-fn button, which allows you to set the frequently used functions.
Other features include built-in flash, a sensitivity up to ISO 12800, the macro mode, self-timer. The  camera's internal memory is 21 MB, expandable via SD cards, SDHC  and SDXC memory cards and purchase package includes charger,  USB cable, strap and manual. The camera is also equipped with a USB port and HDMI.
Conclusion
The Fujifilm FinePix F850EXR is a compact camera interesting, with several features, among which are undoubtedly the manual controls, which are absent on most compacts. Also note the excellent display resolution, Full HD movies, high optical zoom, HDMI interface, the many scene modes, high ISO button E-fn. Very low internal memory.
PROS : Manual controls; OPTICAL ZOOM; Quality Sensor, Auto Mode with Scene 108; Advanced filters, compatibility with Eye-Fi Card, the ISO button.
CONS :
Internal memory No support RAW.