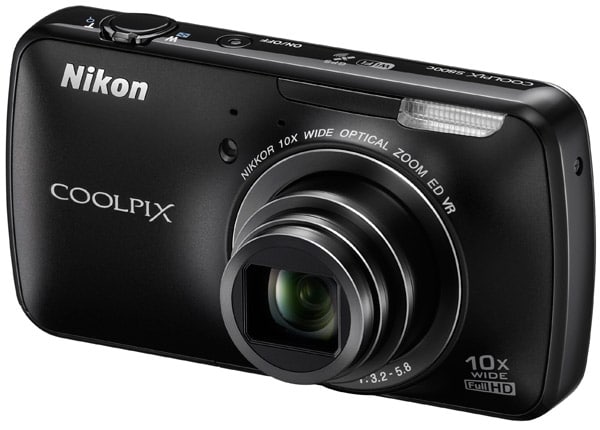 The Nikon COOLPIX S800c is the latest compact camera from Nikon with 10x optical zoom, backlit CMOS sensor 1/2, 3 " to 16 MP, wide-angle lens with ED glass, EXPEED C2 processor of the latest generation OLED touch screen display and 3, 5 inch and 819k points.
The camera is also equipped with Android operating system, GP Sintegrato, WiFi and Bluetooth's connectivity that help to make this device a smart camera in all respects. To complete the budget camera of the device will find a great reduction system Lens-shift vibration and the ability to shoot Full HD (1080p) with stereo sound.
Nikon COOLPIX S800C: Design
The Nikon COOLPIX S800c is one of the latest Nikon compact cameras out on the market and is available in two colors: black and white. The design of the camera is quite classic but modern at the same time and is dominated by large touch OLED 3.5 "on the rear of the camera (resolution of 819k dots). The dimensions of the camera are in line with the compact of this segment of the market and are equal to 14.11 x 6.0 x 2.72 cm and weighs 184 grams (including battery and memory card).
Nikon COOLPIX S800C: Features and Functionality
The Nikon COOLPIX S800c is a Smart-Camera with Android 2.3 operating system, Bluetooth and WiFi connectivity and a powerful integrated Coretex-A9 processor EXPEED C2. In addition to the Smart functionality that allowed sharing of content extremely fast and efficient, the camera is equipped with high-level camera features among which the backlit CMOS sensor with wide-angle lens and 10x optical zoom NIKKOR lens (25-250 mm) with ED glass to high sharpness and able to return always true-to-life colors.
On the back to the camera, there is a beautiful anti-reflective display 3.5-inch OLED touch (about 8.7 cm) with a high resolution of 819k points and wide viewing angle even in the case of direct sunlight. Another interesting feature of this camera is definitely the presence of the integrated GPS sensor that allows the geotag photos as they are taken (EXIF data). The camera can also record video in Full HD (1080p) with stereo sound and the possibility to use the 10x optical zoom with auto focus when making shooting in slow motion or accelerated with a maximum recording speed of 240 fps (VGA).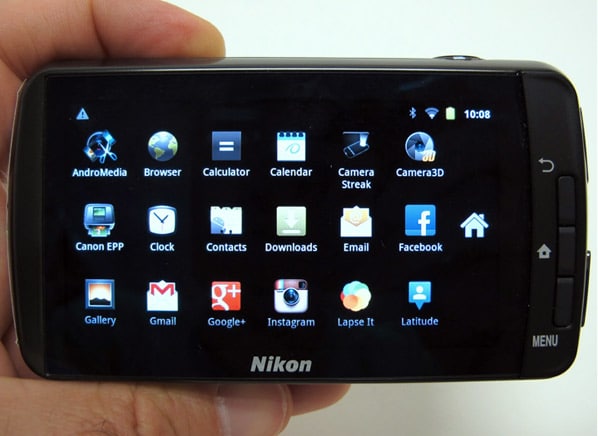 Like most of the Nikon COOLPIX camera, this device is equipped with an efficient system for the reduction of vibration and blurring that, in this case, lens shift; also blur is significantly reduced due to the high ISO (up to 3200) which greatly reduces the risk of blurred images in low-light conditions. In practice, the system motion detection compensates for camera shake and subjects himself also, thanks to the BSS. You can choose the best shot by going to select from ten sequential shots.
The Nikon COOLPIX S800c is equipped with many automatic modes among which the functionality simplified view of 360° / 180° to create panoramic photos worthy of note. In addition to the HDR, function will also find a continuous function with a maximum speed of 8.1 fps.
Conclusion
The Nikon COOLPIX S800c is a beautiful Smart Camera with Android OS, Wifi, Bluetooth and integrated GPS that allows you to do just about everything. The device is fully controllable thanks for the presence of a beautiful 3.5-inch OLED touch display with very high resolution where you can view the beautiful photos and video that this camera allows you to create (thanks to automatic modes and a very interesting optical zoom 10x). Very practical mode also battery charging: in addition to the usual AC charger, you can charge the battery through the computer via USB cable.
Where to Buy Nikon COOLPIX S800c
---

---
PROS : Built-in GPS, System Lens-shift vibration reduction; Graphics Processor EXPEED C2, Android OS, WiFi and Bluetooth connectivity, back-illuminated CMOS sensor 16 MP; wide optical zoom with 10x optical zoom, 3.5-inch OLED touchscreen display and 819k points; Full HD movies (1080p); Price.
CONS :
Battery Pack.
Product prices and availability are subject to change. Any price and availablility information displayed on Amazon at the time of purchase will apply to the purchase of any products.