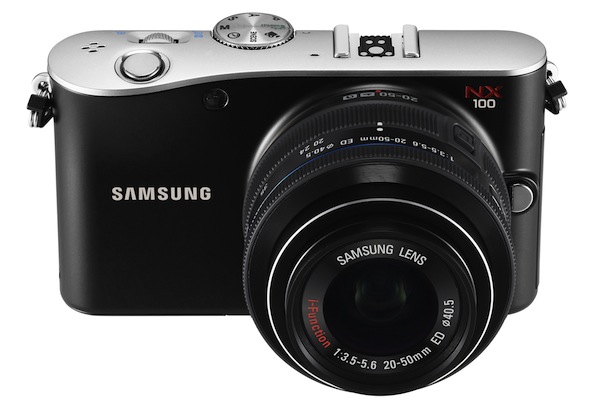 The Samsung NX100 is a type of digital camera SLR camera equipped with interchangeable and compatible with all Samsung NX lenses. With regard to the technical specifications, this camera is equipped with a sensor in APS-C size 14.6 mega pixel effective resolution, a 3-inch AMOLED display with a resolution of 614,000 pixels, EVF option, sensitivity up to ISO 6400, to support RAW format, video recording HD video in H.264 format, creative effects, sound picture, HDMI interface, optional GPS system, manual controls by locking ring and support SD or SDHC cards.
Samsung NX100: Design
The Samsung NX100 is a digital SLR, compact and handy, with comfortable grids for selecting settings. Its aesthetic feature more interesting is the 3-inch AMOLED LCD display with a resolution of 61,400 pixels. As for size, measuring 120.5 mm wide, 71 mm high and 34.5 mm thick, while the weight is 282 grams without battery and memory card.
Samsung NX100: Features and Functionality
The Samsung NX100 is a type of digital camera SLR, then with interchangeable lenses, submitted by the producer at the end of last year. Heir to the Samsung Nx10, it differs primarily for a completely different design, much more compact, but also to some technical features and the target to which it is addressed, most consumers and professional use.
With regard to the technical details, this camera is equipped with a CMOS image sensor in APS-C format, with a size of 23,4 x15, 6 mm and with a total resolution of 15.1 effective mega pixels and 14.6 mega pixels. Going into detail with this model you can take pictures with a maximum resolution of 4,592×3,056 pixels.
As for the optics, the Samsung NX100 does not include a built-in lens because it is a compact, indeed its strength is represented by its interchangeable lenses, allowing, of course, to use a different focus depending on the situation, choosing between those Samsung NX, without having to settle for a single goal for all circumstances.
Another feature to note is that the image sensor is larger than the one mounted on the compact, which results in vivid, intense colors, sharp details and vivid images, even when using a high ISO speed, very useful in situations with low light.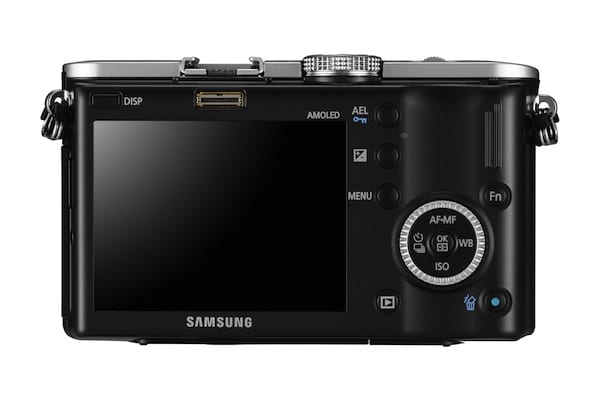 Despite being equipped with powerful features, the Samsung NX100 is a car very manageable, ideal for those who want a quality camera, better than a compact, but still small, compact and lightweight. In a nutshell, it is a reflex which has been taken off the mirror, typical of these cameras, all to the advantage of size and weight.
The use of functions is simple and intuitive, thanks to two handy dials that allow you to easily reach all possible settings. In this way, you can have total control over the pictures and video, which can be tailored to your needs. Thanks to the optical-function, you can adjust the shooting modes and settings such as ISO, shutter speed, aperture and exposure.
Very interesting are also the features of Samsung NX100, such as lens effects, that add an artistic touch to photos, and i-Scene, which ensures perfect photos even to those who are fasting in photography, because automatically selects the scene more adapted to the situation. All this makes it perfect for both experts for simple photography lovers.
Definitely large, then the display type and 3-inch AMOLED, which ensure very fast response times and excellent visibility. It has, then, an optical viewfinder, but is sold separately and is not included in the package, GPS, also optional, the RAW format support and a slot for memory cards such as SD, SDHC.
There is no shortage on the Samsung NX100 the optical image stabilizer, movies in HD, so with a resolution of 1280×720 pixels and H.264, and the dust removal system, to keep the sensor in perfect working order. Too bad for the lack of internal flash, but you can use an external flash optional Samsung. Finally, the HDMI interface allows you to connect the camera to high-definition TV.
It is a camera able to satisfy a user who wants something more than they can offer a compact, even if the need to constantly change the lens makes it definitely inconvenient for an amateur user while the absence Flash is a serious flaw. Compared to be other reflex note, in particular, the lack of a suitable optical park.
Where to Buy Samsung NX100
---

---

---
PROS : Sensor with respect to a compact size, manual controls, RAW Support, Picture Quality, HDMI, Reflex; Creative Effects; cleaning system of the sensor; functions easily accessible.
CONS :
Sensor size compared to an SLR, GPS only optional; few lenses available, No flash, viewfinder only optional; Movies HD video and not only Full HD.
Product prices and availability are subject to change. Any price and availablility information displayed on Amazon at the time of purchase will apply to the purchase of any products.