The Pentax Optio WG-2 is the camera rugged par excellence, to emphasize the prestigious Best Rugged Compact Camera at the event TIPA AWARDS 2012. This camera has a camera body out of the ordinary water-resistant to 12 meters, crushing up to 100 Kg, cold-resistant down to -10°C and shockproof up to 1.5 meters.
The device is not only a tunker disguised as a camera, but it is also equipped with a backlit CMOS sensor 1/2.3″ 16 MP, 5x wide optical zoom, autofocus system TTL contrast detection, image stabilizer based on high sensitivity (Digital SR ) and stabilizer Movies (Movie SR). A real concentrates of technology purely off-limits.
Pentax Optio WG-2: Design
The Pentax Optio WG-2 is now famous for having won the prestigious Best Rugged Compact Camera at the event TIPA AWARDS 2012. One of the key aspects that has enabled us to reach this important goal, in addition to the high level of performance, its design is very unique and characteristic that gives it the ability wrinkles of the highest level. The camera is waterproof up to 12 meters deep, cold-resistant down to -10° C, anti-dust, anti-fall (up to a height of 1.5 meters) and is also anti-crush.
Pentax Optio WG-2: Features and Functionality
The Pentax Optio WG-2 is in its rugged side of one of the main features. These are also thanks to the excellent work carried out by Pentax to improve its extreme characteristics, such as improving the tightness of the camera body for the device that allows it to be submerged up at a depth of 12 meters for a period of two continuous hours (classified IPX8 or JIS Class 8).
As already said the device was designed to be shock-proof (maximum height of 1.5 meters from Pentax verified in accordance with Method 516.5-Shock of the MIL-Standard 810F on a plywood surface 5 cm thick), resistant to powder (equivalent to IPX6 or JIS Class 6), cold-resistant (up to -10 ° C) and finally crushing (applicable maximum weight equal to 100 kgf – kilograms of force).
The camera is not only a real tunker with lens, but also and above all a compact camera of last generation with the latest optical technologies and image present on the market. To confirm this, we'll find a backlit CMOS sensor to 16 MP with actual image processor of the latest generation that allow it to reach a maximum sensitivity of ISO 6400, all in combination with a 5x optical zoom lens with high-performance covering lengths 28mm equivalent focal lengths from wide-angle to telephoto 140 mm in 35mm format.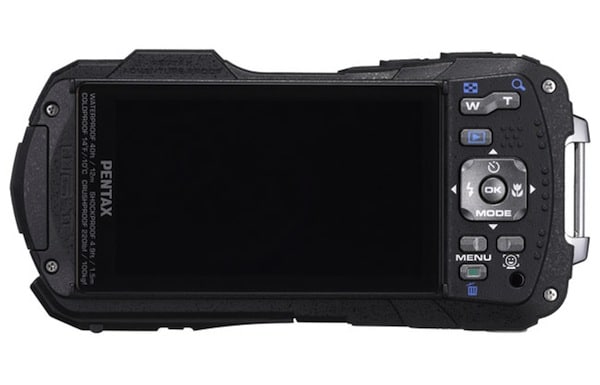 The camera is also equipped with the new mode " Snapshot " : in practice, the camera performs four shots of the same scene obtaining a single composite image blur-free, all fully automatically. The device of course you can also capture Full HD video in H.264 format at a resolution of 1920 x 1080 pixels at a frame rate of 30 fps, all through the use of advanced techniques of video recording as the resume function at high speed (VGA format) for playback in slow-motion movie and interval shooting function that allows you to get movies accelerated phenomena too slow to be perceived clearly.
On the back of the camera is placed a beautiful 3-inch LCD display at 16:9 format belonging to a new type of display with a resolution of 460K points. Thanks to treat AR (Anti-Reflection) reflections on the screen are reduced drastically and allow the user to perfectly see your photos in an absolutely perfect even in bright sunlight, while the wide-view design provides a clear view of the image on the screen by 170 degrees horizontally and vertically, making it particularly useful in recovery from below and from above.
One of the latest technical features extremely interesting for the device lies in the presence of its lights macro to LED arranged around to the circumference of the lens barrel for the resumption macro; when you use the mode Digital Microscope, the camera provides spare lighting still more consistent and uniform dl subject (in this mode the recorded pixels are mounted on 2 MP to the proportions 16:9).
Conclusion
The Pentax Optio WG-2 is a compact camera of the latest generation rugged and equipped with an impressive number of technological features that make it certainly one of the best cameras on the market off-limits. In confirmation of this aspect of the coveted prize won by the camera during the last edition of the TIPA AWARDS 2012 during which she was awarded the title of Best Rugged Compact Camera. Also the price, although it is not entirely economic, is in line with the performance and the quality of the device itself.
Where to Buy Pentax Optio WG-2
[
---

---

---
PROS : Full HD Video, Waterproof 12m, Proof cold -10 ° C, Shockproof up to 1.5 m wide-angle 5x Optical Zoom, Anti-crush 100 kg.
CONS :
Aesthetics.
Product prices and availability are subject to change. Any price and availablility information displayed on Amazon at the time of purchase will apply to the purchase of any products.