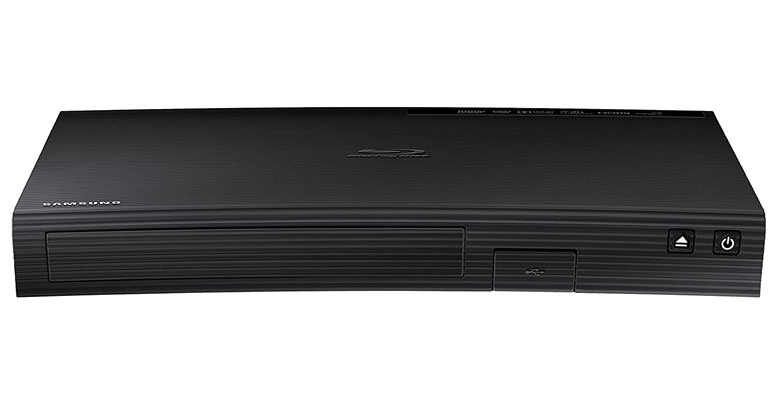 Description of the main characteristics
Region Free
The Samsung player can be used with DVD and Blu-Ray produced in different regions; it can read PAL and NTSC discs. What does it mean? Well, you probably have had to insert a DVD or Blu-ray bought in the United States into your player and not be able to view its contents.
This is because these devices, as well as the game consoles, are blocked by different PAL and NTSC systems, which in practice are formats used for the creation of video images.
In some overseas countries such as the United States, for example, the NTSC system is preferred, while in Europe, the PAL DVD or Blu-Ray produced in the States will not work on PAL players.
The advantage of the device produced by Samsung lies in the possibility of watching DVDs and Blu-Ray from any region, ideal if you love cinema and collecting foreign films that are difficult to find in the Italian market.
Video and audio quality
The player supports HD resolutions for Blu-ray discs that can be viewed at 1,920 × 1,080 pixels in resolution, as long as you have an HD TV with an HDMI connection. To further increase the already high enough image quality, Samsung has made it is player compatible with HDR technology.
So if you own the latest generation TV, you can activate this function and enjoy an amazing range of colors and chiaroscuro. The High Dynamic Range makes the images much more faithful on a visual level, adjusting the colors too dark or too light, which often in the films are not realistic.
For the audio part, the product supports different formats such as Dolby True HD and DTS-HD, which enhance the soundtrack of the films, reproducing it as from the original master. There is also support for the Dolby Digital and Dolby Atmos channels, ideal if you want to connect the player to your surround system to create a real home cinema.
Connectivity
If the DVDs and Blu-rays of your collection are not enough for you, through the player, you can access streaming content such as Amazon Prime Video, Youtube, Hulu, and Netflix. Just connect the device to the home Wi-Fi network and download them from the Samsung app store, where among other things, you will find other interesting apps such as Spotify that allows you to play your favorite music in streaming.
Our opinion
The high cost doesn't make it one of the most affordable DVD players, so we can't rate it fully. We can recommend this 'region free' device if you are real movie buffs who love to see foreign films of any nationality.
The multiple functions of the player and the possibility of using it with streaming services make it a good solution to add Smart functions to your HD TV. In case you are not interested, here is the list of the best products where you can find cheaper solutions. 
27%
SAMSUNG BD-J5100 Curved Blu-Ray Disc Player with Remote control
High Resolution Video: Enjoy your favorite entertainment in greater quality with...
Stunning Audio Quality: Featuring Dolby TrueHD and DTS-HD Master Audio, the...
Built-in Apps: The smart blu-ray player has built-in LAN and built-in apps for...
Easy Access and Sharing: With a USB 2.0 port you can connect and share your...
Superior Entertainment Experience: With an HDMI cable which is included in the...
PROS: The player is 'region free', which means that it can be used with DVD and Blu-ray with PAL and NTSC code. An ideal solution if you are passionate about cinema and want to watch foreign films difficult to find on the Italian market, being forced to order them on specialized online stores. In order to use the device you need a TV with an HDMI port.
CONS:
It does not have an LED that shows the operation of the device, so it will not be possible to know if the DVD or Blu Ray is reading correctly. Other than that, the price is quite high for a DVD Blu-ray player which makes it less accessible if you don't have a good budget.
Product prices and availability are subject to change. Any price and availablility information displayed on Amazon at the time of purchase will apply to the purchase of any products.