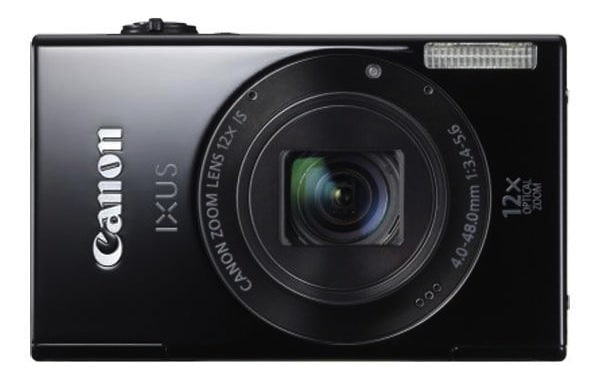 The Canon IXUS 510 HS is a compact camera from the boxy design, sleek and slim, characterized by some interesting features, most notably the Wi-Fi connectivity, which allows easy sharing of photos and videos with friends.
Other specs include a 10.1-megapixel CMOS sensor, 12x optical zoom, DIGIC 5 Image Processor. The stabilizer Intelligent IS, movies, Full HD video, a 3.2-inch touch screen display with high resolution, the Face Detection function, the high-speed shooting, the video diary and the HDMI interface.
Canon IXUS 510 HS: Design
The Canon IXUS 510 HS is a compact camera with a minimalist design, with rounded edges and a few buttons, positioned on the top. The back is fully occupied by a 3.2-inch touch screen LCD display with a resolution of 461,000 dots. As for size, the camera measures 85.8 mm wide, 53.5 mm high and 19.8 mm thick, while weighing about 163 grams, including battery and memory card.
Canon IXUS 510 HS: Features and Functionality
The Canon IXUS 510 HS is one of the latest digital cameras made this year by the producer, along with other models within the family, such as the Canon IXUS 255 HS. Compact and easy to handle, is suitable for everyday use and is perfect for all types of users, even those who do not have much knowledge about the field of photography.
Starting from the specifications, this camera is equipped with a backlit image sensor type CMOS 1/2, 3 inches in size and with an effective resolution of 10.1 mega pixels. Although this is not a particularly high resolution, this type of sensor ensures good performance even in poor lighting conditions.
As for the optics, the Canon IXUS 510 HS is equipped with a lens with a focal of 4-48 mm, equivalent to 28-336 mm on a traditional 35 mm and a maximum aperture of F3.4- f5.6. It also has an optical zoom with 12x value, accompanied by a digital zoom of about 4x, 21x and ZoomPlus to shoot subjects in the distance.
Speaking instead of built-in functions, it is imperative from the most innovative and interesting, namely the Wi-Fi connectivity, which in recent times has depopulated between the cameras. It is a very useful feature as it allows you to easily share photos and videos with other devices wirelessly.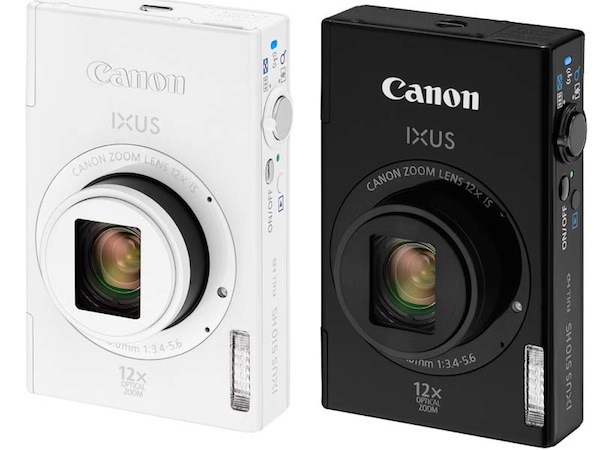 Among other features of the Canon IXUS 510 HS certainly stands the Intelligent IS Optical Image Stabilizer, which compensates for camera shake and ensures that all the photos and videos are sharp and reproducing all the details. Among other things, this system automatically adapts the stabilization type of scene selected by the user.
Of great interest is also the touch screen display, which allows you to access and select the various features and options with a single click. Although it remains to be seen if indeed, the absence of any key is a benefit or not, and if you do them, a few selections are still better with the buttons with this camera would not be possible.
The Canon IXUS 510 HS also features Smart Auto, which detects the scene suited for the situation among the many available, less than 58, and automatically adjusts the optimal settings. Other features include face detection, now ubiquitous on mobile phones, the Burst mode at high speed, sensitivity up to ISO 3200 and integrated flash.
Do not miss the opportunity to create video clips, specifically with a resolution of 1920×1080 pixels well, then full HD. In this regard, it may be interesting to the Video Diary, which records four seconds of action before each shot, and then merges all times so carried out in a single HD video. The movies can be quickly transferred to new-generation TV thanks to the HDMI port.
As for saving photos and videos, this is the slot for memory cards such as Secure Digital, SDHC and SDXC while, with regard to autonomy, including the lithium battery allows up to 190 shots or play back up to 180 minutes of video.
Conclusion
The Canon IXUS 510 HS is a compact camera from the good relationship between quality and price, whose most interesting features are the Wi-Fi connectivity, HDMI port, the touch screen display, among another high-resolution Full, HD movies and the optical image stabilizer. It must be said that the battery life with the included battery is very poor, and the resolution of the sensor is not very high.
Where to Buy Canon IXUS 510 HS
---

PROS : CMOS Sensor, Optical Zoom, Full HD Movies, HDMI port, Wi-Fi connectivity, Smart Auto, shooting at high speed.
CONS :
Resolution is not high, No manual function.