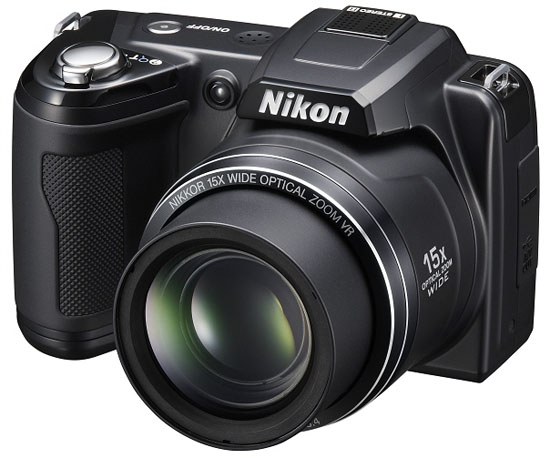 The Nikon Coolpix L110 is a unique compact digital camera capable of providing good results both in terms of pictures of video footage. It should be emphasized, in particular, the Nikkor lens with a powerful 15x optical zoom lens, ideal for shooting landscapes but also to take close-ups.
It has a CMOS image sensor with a resolution of 12.1 megapixels, a 3-inch TFT LCD display with a resolution of 460,000 pixels, ability to record video clips in HD, EXPEED image processing engine, selection automatic scene, five functions against blur, Easy Auto Mode, Smart Portrait System, 15 scene modes, macro mode, and mini HDMI connector.
Nikon COOLPIX L110: Design
The Nikon COOLPIX L110 is a compact digital camera whose shape resembles that of an SLR, with a wide grip that allows for a firm and safe grip. The camera has a large 3-inch TFT LCD display with 460,000 pixels exceptional. The size of the camera, finally, are 108.9 mm in width, 74.3 mm in height and 78.1 mm in thickness. The weight is 406 grams with battery and memory card.
Nikon COOLPIX L110: Features and Functionality
The Nikon COOLPIX L110 is a compact digital camera made by the manufacturer this year, just in february, along with other models, such as the Nikon Coolpix P100. It is a powerful and versatile camera that does everything to help you get great pictures and video quality.
Starting with those that are the technical specifications, the camera is equipped with a CMOS image sensor 1/2, 3 inches in size and with a total resolution of 12.39 megapixels and effective 12.1 megapixels. This hint lets you capture outstandingly detailed images that are suitable for printing complete or just from selected areas, even in the large format. The maximum resolution is 4000×3000 pixels reachable from the photos.
As for the optics, the Nikon COOLPIX L110 features a wide-angle Nikkor lens that has a focal length of 5.0 to 75, equivalent to 28-420 mm on a traditional 35 mm, focal length and aperture of f3.5 at- F5.4. As regards the possibility to shoot subjects, in the distance, the camera is equipped with a 15x optical zoom, then definitely above average, and a digital zoom up to 4x, for a total capacity of 30 magnifications.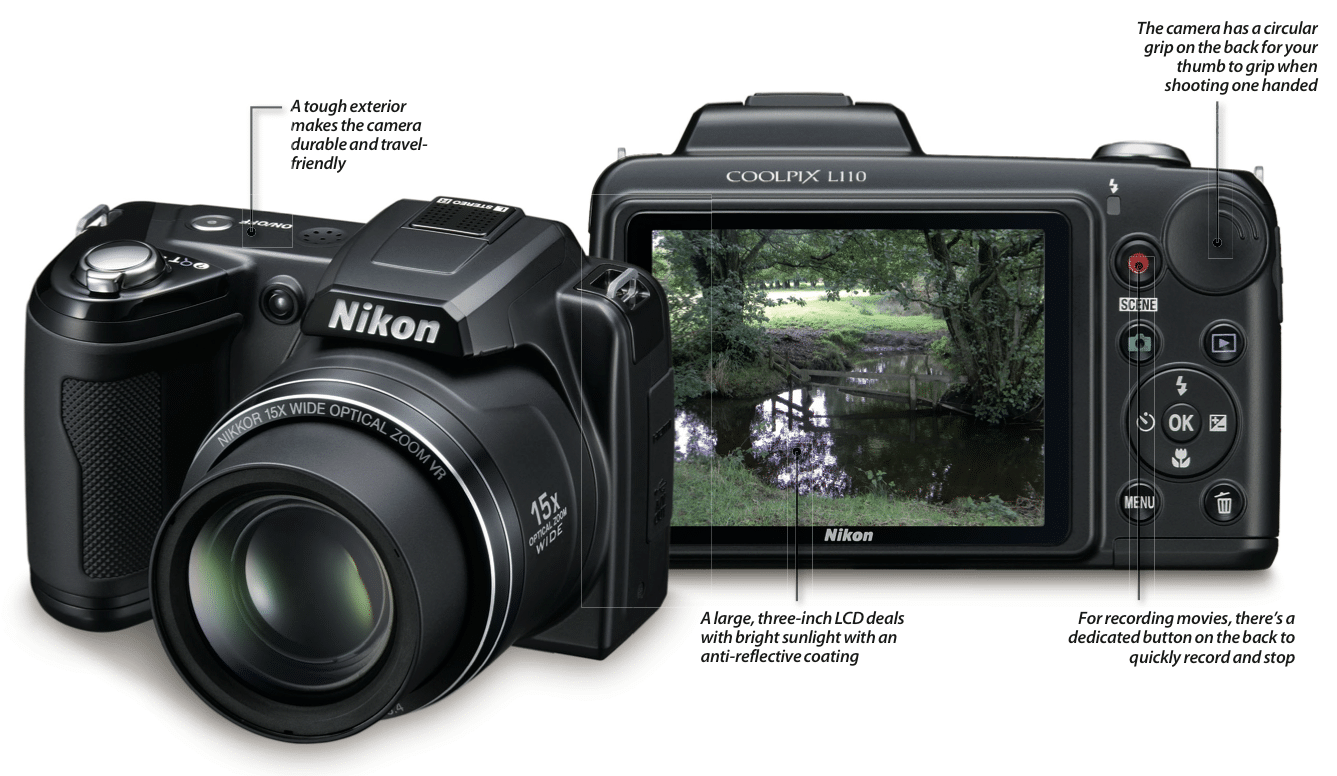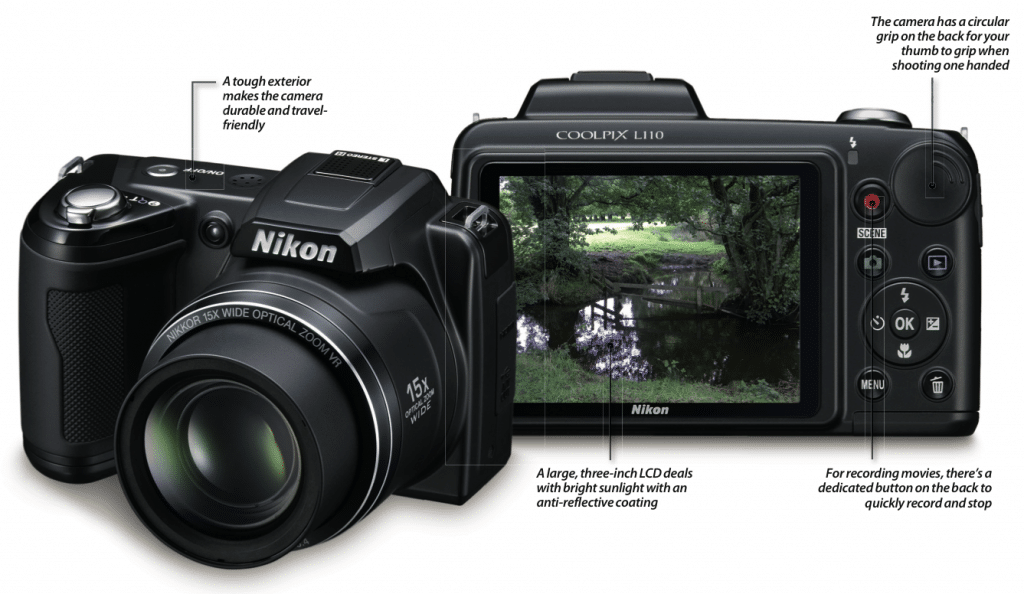 Turning now to the description of the functions offered by the camera, it must be said that one extended zoom like the one mounted on the L110 has to be necessarily combined with an effective system of stabilization of the vibrations. This camera presents five.
It starts from the optical lens, through the electronic vibration reduction, proper use of sensitivity, which can reach ISO 6400, Motion Detection and BSS, which is the best shot who automatically selects the sharpest of up to ten sequential shots.
The Nikon COOLPIX L110 is provided, then, many other features, such as Smart Portrait, which includes Smile Timer, which takes the photo when the subject smiles, the blink proof, which warns you if your subject's eyes are closed and the function Advanced Face Priority AF with red-eye correction, which detects and focuses on up to 12 faces in a frame and corrects the red-eye defect.
The Nikon COOLPIX L110 is equipped also with automatic scene selection, which automatically selects one of 15 scene modes available depending on the situation, macro mode and a particular function that records up to 30 consecutive frames at up to 13 frames per second, very useful if you need to shoot sporting events.
And this, then, the HDMI mini connector for connection to the new generation of devices that, along with USB port allows you to connect the camera to almost all existing consumer devices. Last but not least, with the Nikon COOLPIX L110 can shoot movies in high-definition video, so with a maximum resolution of 1280×720 pixels, with stereo sound and up to 30 frames per second.
In addition, during recording you can also use the zoom and auto focus functions. As for the ability to save photos and videos, the camera has an internal memory of about 43 MB, so very poor, expandable via Secure Digital cards. The purchase package includes four non-rechargeable AA batteries, USB cable, the audio / video cable, strap, lens cap and the CD-ROM with the software.
Conclusion
The Nikon COOLPIX L110 is a compact digital camera whose aesthetic feature more interesting is the wide and comfortable grip, combined with a large display and high resolution. As for the specifications, we have to mention the 15x optical zoom, the 5 anti-shake functions, video clips in HD, the CMOS sensor and the HDMI connector. Too bad for the lack of rechargeable batteries.
Where to Buy Nikon COOLPIX L110
---

---

---
PROS : CMOS sensor; OPTICAL ZOOM, 5 anti-shake functions, high resolution display, auto mode, HDMI Mini Connector.
CONS :
Memory; Electronic Stability; Optical Zoom good but not outstanding.
Product prices and availability are subject to change. Any price and availablility information displayed on Amazon at the time of purchase will apply to the purchase of any products.