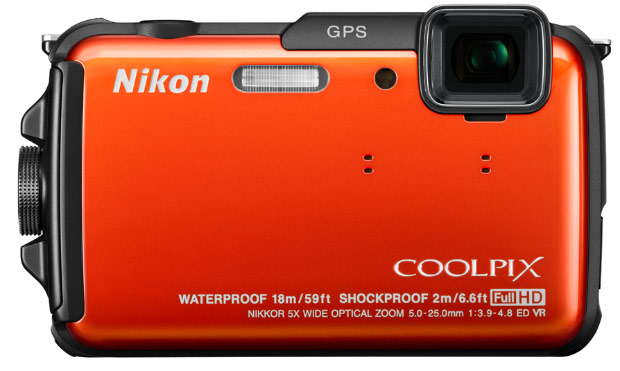 The Nikon COOLPIX AW110 is a compact camera that stands out for its body underwater up to 18m, shockproof when dropped from 2 m and freezing to a temperature of -10 degrees. Other interesting specifications are the Wi-Fi connectivity.
You can easily share photos and videos, the GPS module with integrated world map and the 3-inch OLED display with a resolution of 614,000 points. It also has a 16 megapixel, sensor cancellation technology moved, Full HD movies with stereo sound, panoramic mode and special features such as altimeter, barometer mode and underwater photography.
Nikon COOLPIX AW110: Design
The Nikon COOLPIX AW110 is a compact camera that stands out for his body " rugged " but all in all, appealing especially thanks to the rounded forms and colors that are available, which are black, orange, blue and camouflage. It has a 3-inch OLED LCD display with a resolution of 614.000 points. As for size, measuring 110.1 mm wide, 65.3 mm high and 24.5 mm thick and weighs 193 grams, including batteries and memory card.
Nikon COOLPIX AW110: Features and Functionality
The Nikon COOLPIX AW110 is a compact digital camera features from the manufacturer at CES this year. It is a very particular model as belonging to the family of "rugged", ie cameras that can be used in all weather conditions. It looks very similar to its predecessor, the Nikon Coolpix AW100 with some slight improvements, but basically with the same quality and the same functionality.
Starting from the description of the technical specifications, the AW110 is equipped with an image sensor type CMS 1/2, 3 inches in size and with a total resolution of 16.79 megapixels to 16 megapixels and effective. It is also equipped with a NIKKOR lens that has a focal length of 5-25 mm, equivalent to 28-140 mm on a traditional 35 mm and a maximum aperture of F3.9-f4.8.
Completing the picture of the technical data of the Nikon COOLPIX AW110 5x optical zoom, and decent but not very high, and a digital zoom up to 4x. Finally, there is the macro function that allows you to get close up to 1 cm from the object.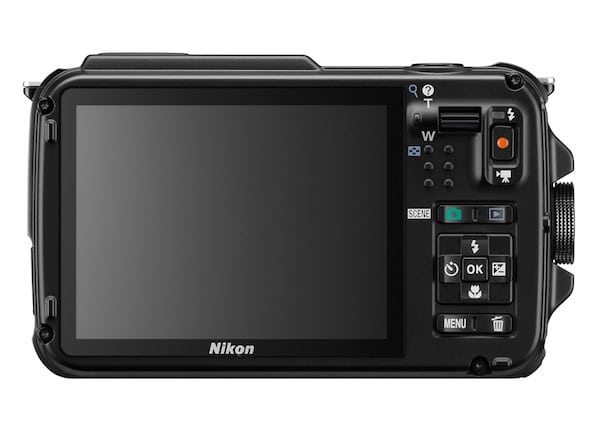 Returning now to the features, it is imperative from the one that is the main feature on the camera, which has already been mentioned. Perfect to take anywhere, the sea or in the mountains, this model has a camera body resistant to dust, frost and shock and underwater up to 18 meters. Among other things, the colors are really eye-catching, especially the blue and camouflage.
But the Nikon COOLPIX AW110 is made perfect even for hiking since it is equipped with the GPS module, which allows you to geotag photos, and an electronic compass, altimeter and a world map, which allows instead to orient perfectly wherever you are.
Thanks to the integrated Wi-Fi connectivity, finally, you can share your location with friends. Among other features more closely related to photography, certainly stands for anti-blur technology hybrid, which also includes the optical lens, and which reduces the possibility of camera shake in that it stabilizes the camera by compensating for unintentional movement.
To meet the most varied needs, the Nikon COOLPIX AW110 offers many other interesting features such as the BSS, which allows you to select the best shot from 10 sequential shots, night portrait and landscape modes, continuous shooting at high speed, the way backlight scene and panoramas, just to name a few.
Something special is then the way underwater pictures. Not missing, finally, the ability to record Full HD movies, so with a maximum resolution of 1,920 x 1,080 pixels, among other things with stereo sound, with the ability to also use the auto focus and zoom during shooting, and make speeded-up or slowed down.
The Nikon COOLPIX AW110 is also showing a maximum sensitivity of ISO 3,200, a USB port, an HDMI output and an internal memory of 21 MB, expandable with Secure Digital, SDHC or SDXC. The package purchase, finally, include the rechargeable battery with terminal cover, adapter for filters, the belt for use on the mainland, the USB cable, the audio / video cable, the brush and the CD with the instruction manual.
Conclusion
The Nikon Coolpix AW110 is a compact camera particular, dedicated to a specific type of user to search for a device sturdy and able to go underwater. There are many features to be highlighted, such as GPS, Wi-Fi, compass and barometer, the full HD movie, the double stabilizer, HDMI output and the many scene modes. The only down sides that can be considered negative optical zoom and feeling a bit low.
Where to Buy Nikon COOLPIX AW110
---

---

---
PROS : Full HD movies with stereo sound, panoramic photos, Underwater, frost shock, Underwater mode; sensor resolution; stabilizer, GPS, Wi-Fi connectivity.
CONS :
Sensitivity is not very high; Optical Zoom low.
Product prices and availability are subject to change. Any price and availablility information displayed on Amazon at the time of purchase will apply to the purchase of any products.