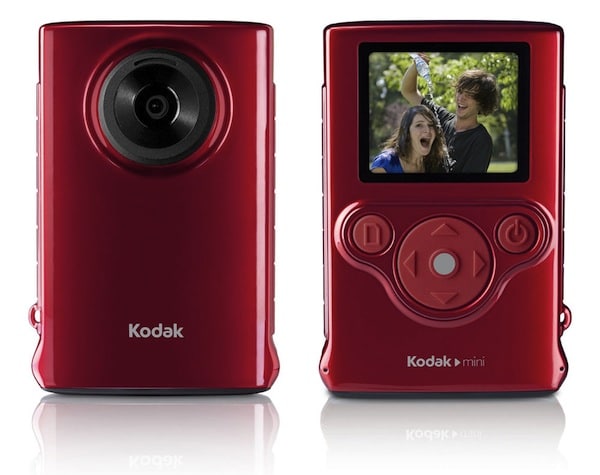 Kodak Mini Video Camera is a compact and versatile for the very low price. The operation is very simple and is based on a single button through Which you can record video in VGA format (640 x 480 at 30 fps) and always take individual photos in VGA format (640 x 480), all thanks to the VGA CMOS sensor from 1/5.
The Kodak Mini Video Camera is devoted to the social side with the ability to share content. Directly to YouTube and Facebook through-out USB arm. The Kodak Mini can be used in extreme situations since it is resistant to rain and bumps. It's very small size, equal to a credit card, can take it with you anywhere and in any situation.
Kodak Mini: Design
The Kodak Mini is a digital camcorder is extremely compact, extremely reduced dimensions and rounded shapes. It has a small color LCD display 46 mm, which counts among its peculiarities a strong contrast of colors and extremely alive. The more interesting aspect of the design of the camera lies in the size comparable to that of a credit card over the rugged side of the same in the fact that it is waterproof and can be used virtually anywhere and in any weather condition.
Kodak Mini: Features and Functionality
The Kodak Mini Digital Video Camera is a compact and modern enclosed in a compact and stylish design. The camera can record VGA video and capture images with a VGA resolution of 640×480 pixels. The camera allows you to use various resolutions to suit your needs: the format VGA (640×480 at 30 fps) and QVGA (320×240 at 30 fps).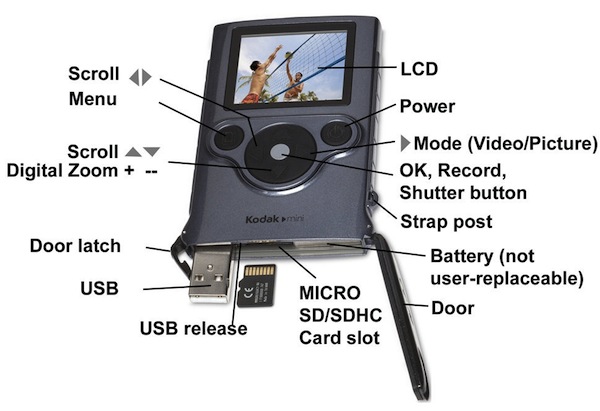 The Kodak Mini offer editing functionality directly at your fingertips that allow you to fine-tune your movies, crop the unwanted details or remove individual pictures from videos. When the edited movie is ready, you can charge it on their favorite social network's thanks to the Share. These are all thanks to the software supplied with the camera that is compatible with both MAC and PC.
The Kodak Mini is a compact camera so that it can really be carried and used anywhere without the need to have with them uncomfortable or other USB cables since it has a USB arm that allows you to connect it to your computer for uploading, sharing, and charging.
Unfortunately, the camera is not equipped with replaceable batteries as it incorporates a rechargeable lithium polymer battery, choice still obligated by the extremely small size of the camera itself. Among the technical features, we will find a decent VGA CMOS sensor 1/5 with 3x digital zoom and a focal range that goes from 50 cm to infinity.
The goal is a 3.1 mm (equivalent to 40 mm in 35 mm format) with open f / 2.4. The mode of focus is obviously fixed and automatic white balance. Clearly, to a camera like this with the target of users to which is dedicated performance cannot be obtained because purely manual would be unthinkable. The internal memory is 128 MB and also present an expansion slot for memory cards MicroSD or MicroSDHC up to 16 GB.
Conclusion
The Kodak Mini is a compact digital camera VGA whose most interesting feature is undoubtedly the price and portability, as well as the rugged side that allows you to use it in virtually any environment. Interesting is the extremely compact design and comparable to the size of a credit card. The camera also has been designed to withstand shocks. Consequently, the rugged side is once again highlighted and preponderant. A great value for money they will make a camera extremely sold.
Where to Buy Kodak Mini
---

---

---
PROS : Dimensions; Ressistente to rain and shock.
CONS :
Battery Pack.
Product prices and availability are subject to change. Any price and availablility information displayed on Amazon at the time of purchase will apply to the purchase of any products.