Guide
How to connect the phone to the TV with cable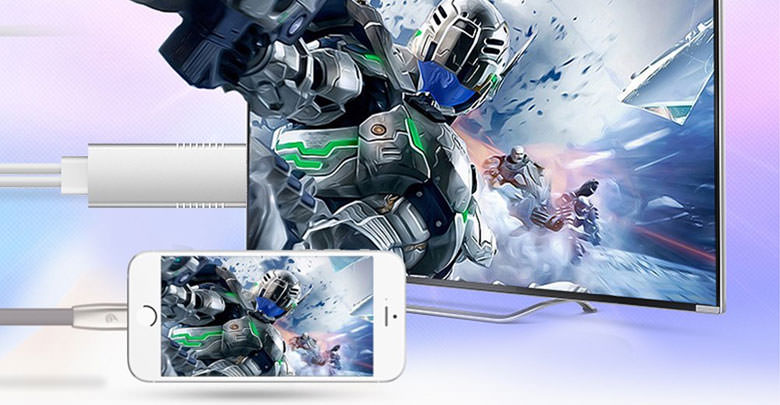 Review photos and videos of past experiences, watch videos on YouTube or maybe play: these are the main reasons why many try to figure out how to connect the phone to the TV with cable. In this article, we will guide you through this, showing you various connection methods based on your smartphone and TV type.
Depending on whether you have an Android smartphone or an iOS device, there are different cables to connect the smartphone to the TV. Obviously, the same is true for tablets and the possibilities increase when, instead of a normal TV, you have access to a Smart TV that allows you to make a wireless connection. Let's see everything in detail:
Connect Android Smartphone to the TV with cable
The Android device ecosystem is so vast that there are several ways to connect the smartphone to the TV, which vary depending on the type of cable supported by the Android smartphone / tablet and, of course, the television to which you want to connect it. There are generally 2 types of cable for connecting the telephone to the TV: Slimport and MHL.
Connect Android to TV with Slimport cable
A Slimport cable allows you to connect the phone to the TV in a simple and immediate way, and is the method preferred by the majority because through this cable, you can connect your device to the vast majority of screens or TVs since this technology supports audio / video transmission on different outputs: HDMI, DVI, DisplayPort and VGA.
The maximum resolution obtainable is 4K (UltraHD), while with the MHL technology that we will see shortly we will be able to reach higher resolutions, but there is the enormous advantage that you will not have to power the cable: with Slimport technology, you will not have to do anything but connect one end of the cable to the smartphone (generally a microUSB or a USB Type-C depending on your smartphone) and the other end to the TV / monitor:
From MicroUSB to HDMI
If you have an Android smartphone or tablet with micro USB input, then this adapter is for you, but to use it, you will also need a monitor or TV with HDMI input. If everything is correct, then you can buy this adapter! Connect the adapter to the smartphone first, then grab (or buy if you don't have it) an HDMI cable and connect one end to the TV and the other to the adapter.
From MicroUSB to VGA
1080P Micro USB MHL to VGA and 3.5mm Audio Adapter MHL Output for Smartphone
Support FULL FD1080P
Connect MHL adapters with VGA cable to TV/monitor, projector
It make a perfect stereo sound by connecting the audio adapter to the 3.5mm...
Charge your device while connecting additional usb-dc cables to the power supply
The built-in MHL receiver can convert MHL signals to VGA video and 2ch analog...
If you want to connect the phone to the TV but in this case, it is a monitor with VGA input, then this is the Slimport cable for you! As before, all you have to do is connect your smartphone – with microUSB input – to this adapter, and then connect the screen to it by taking (or buying if you don't have it) a VGA cable, connecting one end to the monitor and one to the adapter.
From Type-C to HDMI
762021399272 (Grey)
USB-C TO HDMI adapter connects a USB-C enabled smartphone, tablet or computer to...
Compatible with The Newest 13"/15" MacBook Pro 2016/2017 with Touch Bar, 12"...
Plug and play, with no external drivers or power required, this device provides...
Resolution Support 4k x2K @30Hz (3160X2480), down compatible with...
Widely use in conference, classroom, home threater, etc for speech ,teaching,...
If your Android smartphone or tablet has a Type-C input, and your monitor / TV has at least one HDMI input, then this is the cable you were looking for! Not being an adapter you won't even have to buy a cable separately, because you already have a Type-C input and an HDMI to make the connection immediately!
---
Connect Android to TV with MHL cable
With a MLH cable, you can connect your Android smartphone to the TV using the HDMI port of your TV. So before starting, it is absolutely necessary for your TV or monitor to have an HDMI input.
MHL technology is newer and supports 8K resolution (twice as high as UltraHD). It is necessary that your smartphone supports this technology (for this, you can check the list of supported MHL devices).
Another important issue concerns the power supply: some MHL cables do not need an external power source (just like for Slimport), others need an external power supply (a charger like that of smartphones) that helps them to connect the phone to the TV to show pictures and sounds. Let's see these cables:
Best Selling MHL cables on Amazon
These MHL cables are passive, so they don't need an external power supply to work. In order to take advantage of this technology it is important that both devices (smartphone and TV) are compatible with MHL technology. On the contrary, if only your smartphone is compatible, you will have to buy an active MHL cable.
---
Connect iOS to the TV with cable
Just as you can connect an Android smartphone, you can also connect iPhone to the TV with cable. In general, you can connect your tablet to the TV in the same way you connect smartphones, and this guide will be valid even if you want to connect iPad to the TV with cable.
Product prices and availability are subject to change. Any price and availablility information displayed on Amazon at the time of purchase will apply to the purchase of any products.