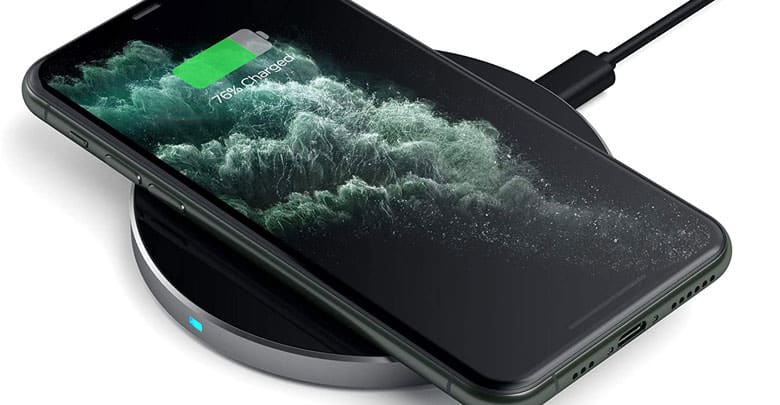 The wireless charger bases are designed for people who own wireless chargers: iPhones, Apple Watches, Airpods, and the latest Android. A similar charger station is handy for those who want a minimal station and want to free themselves from cables and adapters of various kinds.
It is certainly the ideal solution if you are in the office or need to operate comfortably on the phone by repeatedly subtracting it from the charge for a few seconds. However, a downside to a wireless charger is that you can't pick up the phone and use it while charging, unlike a wired charger. The other downside is that a wireless charger is slower than a wired charger.
Cable or Wireless Charger?
The distrust of wireless chargers very often arises from the fact that the mechanisms behind them are ignored. For example, if the cable carries electricity directly, the wireless charger uses coils and the phenomenon of induction (the same at the base of many "induction" hobs).
If there is one thing that can leave you disappointed, it is undoubtedly the charging speed which turns out to be about 25% slower even with advanced smartphone models and extremely sophisticated charger bases.
Although important milestones and notable improvements have been achieved over the years, it is important to underline how traditional refills have also evolved. Thinking of fast charging technologies such as those used by Samsung, Huawei or OnePlus suggests that it is actually worth sacrificing the convenience of a wireless charger for a few tens of minutes. A smartphone can charge halfway, or a little more, with a traditional charger.
Most purchased wireless charger bases.
Before rushing to purchase a product of this kind, it might be useful to know the opinions and opinions of those who have already lived the experience. So let's see the best wireless charger bases that have earned a position in the top 10 bestsellers on Amazon.
---
Our Selection
After observing Amazon's proposal, it is time to take a closer look at some wireless chargers that stand out for their performance and value for money.
Satechi Qi-Certified Aluminum Wireless Charger
The best wireless charger base is currently this product from SATECHI, which has everything you need for a fast, safe, and elegant charger. There is no need to buy separate cables, and everything is integrated into the product and available in the package.
SanDisk Ixpand Wireless Charger
Looking for valid alternatives to Apple's MagSafe, I came across this SanDisk Ixpand Wireless Charger 15W really not bad. Non-slip, 15W recharge like MagSafe, beautiful design, colors that remind me of the Apple style … well, to be considered (since it costs even less) but … it is not magnetic!
CHOETECH Dual Wireless Charger
It does not have a real name on Amazon. It is called " CHOETECH Wireless Charger iWatch MFI," but what matters is that we are talking about a valid product – 2 in 1 – with excellent Wireless support for iPhone, Apple Watch, and Airpods.
Compared to other similar models, it has Apple MFI and qi certification, which means it is ultra-safe and perfect for all your Apple devices. Even if it is a little expensive, know that you will no longer have to use your charger cable!
Spigen ArcField for MagSafe Charger
Elegant, small, magnetic – it looks like a MagSafe. This Spigen charging base supports 7.5W fast charging, fits recently iPhones perfectly, and has a USB-C cable.
Anker 10W Max Wireless Charger
A slim, discreet wireless charging base with a sober design and minimal appearance. Important features that do not overshadow the 10W maximum power can be reached if powered with a charger compatible with Quick Charge.
Product prices and availability are subject to change. Any price and availablility information displayed on Amazon at the time of purchase will apply to the purchase of any products.